People Top 5
LAST UPDATE: Tuesday February 10, 2015 01:10PM EST
PEOPLE Top 5 are the most-viewed stories on the site over the past three days, updated every 60 minutes
Jennifer Garner: New Baby New Joy!
With Two Daughters, a Little Boy at Last and a Hot (and Helpful!) Husband, the Star Is Now Hollywood's Happiest Mom
Jennifer Garner
signed on to star in her new film
Butter
back in 2010, she had a few demands. "She said, 'I need to be able to put my kids to bed and have breakfast with them. I'll do whatever I need to do to work my schedule around it,'" Ben Ormand, a producer on the film, recalls. And while her husband, actor
Ben Affleck
, cared for daughters Violet, 6, and Seraphina, 3, on location in Shreveport, La., while Garner was at work during the three-month shoot, Garner made sure that any downtime she had was reserved for family. "She scouted all kinds of things for the kids to do to make sure they were having fun," recalls producer Alissa Phillips. Between visits to the local children's museum and bass fishing excursions on nearby Caddo Lake, "it was amazing the way she put her kids first, but never at the expense of her work," says Phillips. "The way she balances it all is so impressive."
Garner may have gotten the Supermom role down pat, but her balancing act just got a little bigger: On Feb. 27, Garner, 39, and Affleck, 39, welcomed a son, Samuel Garner Affleck, to the family. "Jen is ecstatic. She is such a natural mother and was totally ready for another baby," says a source close to the couple. Sam's big sisters have been especially delighted with the new arrival. "The girls are so excited to have a little brother," says another source. "They love him so much." With mom and baby now at home with the family in Brentwood, Calif., "they couldn't be happier," says an Affleck pal. "This is a wonderful time in their lives."
Wonderful, sure, but also a little on the crazy side. "It definitely gets a lot more interesting with the more kids you have," says Affleck's friend
Matt Damon
, himself a father of four. "If it's chaos with two children, it becomes chaos squared." Adds the source close to the couple: "They'll definitely have their hands full!"
But friends say for Garner, any upheaval is more than welcome. Raised in Charleston, W.Va., by Bill, a chemical engineer, and Pat, a teacher, Garner cherished her traditional upbringing-and longed to create that environment for her own children. "My mom made our clothes and did the cooking, the cleaning, and the sewing," Garner told
INSTYLE
in January. "At the same time, she managed to do magical things and have a sense of humor."
These days friends say Garner is the one playing homemaker, taking her girls to ballet class and the farmers' market, cooking the family's meals and making baby food. "She wants to give them the family life she grew up with," says childhood dance teacher Nina Denton Pasinetti, who remains in touch with the star. "Jennifer cares very deeply and is involved in her children's lives," adds Rev. Randall Flanagan, who baptized both Violet and Sera (as she's known to Mom and Dad) in Garner's hometown. "She lives out the model that her mother and father gave for her."
Although Garner and Affleck have both continued working since having kids, "Jennifer doesn't rely on the nanny to be the mother," says childhood friend Elizabeth Cary Lantz Brown, who used to babysit alongside Garner. "She wants to be around when they need her," adds Pasinetti. "She doesn't want to miss out on one moment of their formative years." Garner's commitment to motherhood is contagious. Brown, who doesn't have kids, recalls her friend recently saying to her of motherhood, "You need to do this." When Brown expressed fear she wouldn't know how to properly parent, Garner was ready with a pep talk. "She said, 'You know how to do this; your mom and dad have taught you-you don't realize it yet.'"
During her third pregnancy, Garner was able to lean on her husband for support in running the household. "Ben is an amazing dad. The kids idolize him," says a source. "He's always playing games with them and doing special things." Affleck's special gestures extend to his wife as well. "He has been amazing at finding ways of telling me how much he appreciates what I do," Garner told
InStyle
. Affleck has been known to surprise his wife with diamond jewelry at random, and "recently he'd take the girls out on the weekend to the candy store or the farmers' market so Jen could rest," says a source. His help has not gone unnoticed by his hardworking wife. "Honestly, I would do anything for that man," Garner confessed to
INSTYLE
, "because I know it's not taken for granted."
After nearly seven years of marriage, they still make their relationship a priority, friends say. Garner "says Ben is her soulmate," says Brown. "They put work into their relationship. They love each other," says Walter Norton Jr., Affleck's trainer, adding that Garner often times her workouts so they can be together in the gym. They also sneak out for one-on-one dates when they can. Says a source: "They cherish their alone time. He dotes on her."
Now that the couple is in the midst of new-baby bliss, friends say they're happier than ever. "Ben loves his wife and loves his family," says the Affleck pal. "He's really proud, and you can see it in his face." And for her part, Garner is living out her dream of having a regular, if not exactly average, family. "Jennifer is a normal mom," says the Reverend Flanagan, "and there's something wonderful about that."
Contributors:
With Elizabeth Leonard,
Aili Nahas,
Pernilla Cedenheim,
Elizabeth McNeil,
Catherine Kast,
Paul Chi,
Wendy Grossman Kantor,
Anne Driscoll.
Advertisement
Today's Photos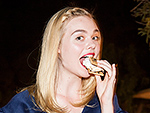 Treat Yourself! 4 Preview Issues
The most buzzed about stars this minute!