People Top 5
LAST UPDATE: Tuesday February 10, 2015 01:10PM EST
PEOPLE Top 5 are the most-viewed stories on the site over the past three days, updated every 60 minutes
Yes, They Dated!
Tom... & Cher? Halle... & a New Kid on the Block? A Look Back at Hollywood's Wildest-and Oddest-Couples
Brad Pitt
Robin Givens
1989 Once, during their six-month romance, Pitt arrived at his
Head of the Class
costar's house-and almost got his face rearranged by her estranged husband, Mike Tyson.
Juliette Lewis
1991 They met on the set of a 1989 TV movie, and as their careers got red-hot, Lewis declared that they were "madly in love" and had a "plan to get married." Not so much: In 1993 they were done.
Gwyneth Paltrow
1997 They began dating on the set of their film
Seven
, and after two years, Pitt popped the question. But six months later, in June 1997, Hollywood's golden couple split.
Christina Applegate
1988 Hard as it is for modern humans to fathom, their date fizzled."We went to the MTV Movie Awards and I ditched him," she recalled. "I left with somebody else!"
Tom Cruise
Cher
ca. 1985 He was a fresh-faced star-in-the-making. She was already a singing legend. Still, "I was crazy about him," Cher later said of her short-term boy toy. "He was just the most adorable man that you can possibly imagine."
Heather Locklear
1982 "I don't think we kissed!" she later revealed of stepping out with Cruise, who called her "ma'am." "He was new in town.... It was more friends."
Sofia Vergara
2005 They went out, but starting a
Modern Family
wasn't to be: Nearly three months later, he began dating now-wife
Katie Holmes
.
Penélope Cruz
2004 She shared his L.A. home, but after three years together, Cruise and "Lupe," as he called her, amicably split in 2004.
Matt Damon
Winona Ryder
2000
Gwyneth Paltrow
, who was dating Damon's best friend
Ben Affleck
, introduced them at a party, which opened the door for double dates. They may have outlasted their buddies but split two years later in 2000.
Minnie Driver
1997 They played lovers in
Good Will Hunting
-and romance bloomed offscreen too. But, after seven months, they "decided it wasn't meant to be," he told
Oprah Winfrey
.
Penélope Cruz
2000 Linked when they filmed
All the Pretty Horses
, they bonded over bowling. "He's a very, very nice, very humble man," she gushed. "He's a very wise man. And I think he's a great actor."
Dude, It Was the '80s
Danny Wood &
Halle Berry
ca. 1989 Somehow, back when she was just a struggling TV actress, Berry thought the New Kids on the Block star had the right stuff, baby.
Robert Downey Jr.
&
Sarah Jessica Parker
1987 That suit! Those curls! The '80s It Couple looked the part-but fizzled after seven years due to Downey's substance abuse.
Scott Baio &
Heather Locklear
ca. 1982 Extra points for the matching outfits. "
Heather Locklear
was the first girl I was ever in love with," Baio said of their romance.
Charlie Sheen
& Kelly Preston
1989 Their brief engagement ended after she was shot with Sheen's gun. (Both said it was an accident.) Yeah, that's a deal breaker.
Whoa! Random Couples of the '90s
Seal &
Tyra Banks
1996 At the peak of his popularity, the singer couldn't stop smizing (that's Tyra-speak for smiling with your eyes) at the model. But the hot duet cooled after a few months.
Joey Lawrence & Jennifer Love Hewitt
1996 They were a match in teen-heartthrob heaven-for a while, anyway. "There's a lot more to him than the 'whoa' stuff!" Hewitt later said.
Michael Bolton & Ashley Judd
1996 "I felt so completely and deeply loved," Judd has said of their short courtship. She starred in his "The Best of Love" video-and endured his mullet.
Funny Valentines
Sheryl Crow
&
Owen Wilson
2000 The singer and the quirky thespian lasted four years and eventually moved on to Lance Armstrong and
Kate Hudson
, respectively. (Later, Lance and Kate dated!)
Kathy Griffin & Jack Black
"I thought he was a weirdo, and was therefore attracted to him," she wrote of their brief romance. Well, at least she knows her type.
David Arquette &
Drew Barrymore
1991 Before they costarred in
Scream
and
Never Been Kissed
, the two young stars (she was 16, he was 20) cuddled their way down a few red carpets.
Cougars & Cubs
Dweezil Zappa & Sharon Stone
1996 Gotta try everything once: Stone spent a long weekend with Frank Zappa's guitarist son before deciding their 11-year age gap was too great.
Val Kilmer & Cher
1983 Thirteen years apart, they hit it off at a party thrown by Meryl Streep-but waited a week to smooch. "When we did kiss," Cher later reflected, "I thought my head would shoot right off my body."
Madonna
& Vanilla Ice
1991 He posed for her
Sex
book. Then they had an eight-month fling. Nine years her junior, the rapper later said it never could have worked because "she would change personalities a lot." (You think?)
Advertisement
Today's Photos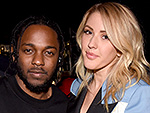 Treat Yourself! 4 Preview Issues
The most buzzed about stars this minute!