On Newsstands Now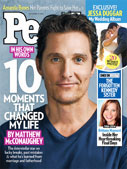 Matthew McConaughey: In His Own Words

Jessa Duggar's Wedding Album

Brittany Maynard's Final Days
Pick up your copy on newsstands
Click here for instant access to the Digital Magazine
People Top 5
LAST UPDATE: Tuesday February 10, 2015 01:10PM EST
PEOPLE Top 5 are the most-viewed stories on the site over the past three days, updated every 60 minutes
Picks and Pans Main: TV
That Other Thing I Do...
HBO, March 10, 9 p.m. ET/PT |




DRAMA
No one doubted that Julianne Moore would nail the physical details playing Sarah Palin in Game Change, about the Alaska governor's astonishing explosion on the political scene in 2008 as John McCain's running mate. So, yes, she does "the voice," which is flat yet nasal. But that's just the starting point. Moore is an unusual actress: At her best-and she is here-she's completely empathetic but also mysteriously remote. Her Palin from moment to moment is absolutely real-but always open to interpretation. Members of the "lamestream media," as Palin famously labeled them, will enjoy the satirical touches that glint like light off her spectacles. (When Palin finally pronounces Ahmadinejad correctly, the campaign staff applauds.) But you don't have to be a Tea Partier to sympathize as Palin comes close to a breakdown after being mocked nationally for her ignorance: In Change's best scene, Palin watches in mute despair and disgust as Tina Fey impersonates her on TV. The point, of course, is that we believe Moore is Palin. The movie itself isn't great-Ed Harris is given a white comb-over and little to do as McCain-yet it plausibly lays out Palin's path from unsteady candidate to confident (or arrogant) rogue player. Comparisons to The Iron Lady, a sloppy movie that has Meryl Streep in roaring good form, are inevitable. Is Game Change better? You betcha.
Bethenny Ever After
Bravo, Mondays, 9 p.m. ET/PT |




REALITY
Bethenny Frankel is going to roll out a trial-run talk show this summer. If that means an end to Bethenny Ever After, fine. This third season is feeling like a big step toward the dreaded Warholian void. Frankel has managed and marketed her reality career with exemplary skill, from The Real Housewives of New York City on to her books and products. She knows how to play to the camera, whether being drippingly sarcastic or misting up, usually over the joys of raising daughter Bryn or out of concern for her husband, Jason. But apart from watching the upcoming boating incident that was so widely reported on last summer, I don't know if I'm interested in any more of her validations and vexations. This is a Bravo show, not a Norse saga.
Awake
NBC, March 1, 10 p.m. ET/PT |




DRAMA
Jason Isaacs, minus the Harry Potter wig that made him look like a blond iguana, is a detective whose life alternates between two realities-both tragic-after he survives a car accident. If the detective ends the day at home with his wife, they're grappling with the aftermath of his son's death in that same accident. Then in the morning he wakes to a world in which the son lives, but his wife has died. The detective also sees alternate therapists (B.D. Wong and Cherry Jones), who each try to determine if he's fit for duty after his trauma. Isaacs is excellent: We sense the wheels in his head turning slowly, and slowly accelerating-all within greater wheels of fate and conspiracy. A tricky show with serious potential.
YOU'VE GOTTA SEE THIS...
FASHION POLICE
Joan Rivers and her Taser tongue review the faux pas that paraded the Oscars red carpet. E!, Feb. 27.
PARENTHOOD
Season 3 of the sweet, scruffy drama ends as Peter Krause makes a career decision. NBC, Feb. 28.
AMERICA'S NEXT TOP MODEL: BRITISH INVASION
Tyra Banks adds U.K. girls to the mix for season 18. Pippa is not among them. CW, Feb. 29.
A SIDEKICK STEALS THE SPOTLIGHT
IT WOULD APPEAR THAT YOU JUST DROVE UP IN A GOLD STATION WAGON.
Not just a gold station wagon-a gold Saturn station wagon. They don't make 'em like that anymore. Truly. This may be one of the last Saturns on the road.
YOUR SUPER-SARCASTIC CHARACTER, NOLAN, HAS THE BEST LINES IN EACH EPISODE.
The day I got to say, "Blackmail's not just for breakfast anymore" was a good sign that Nolan wasn't going to be, like, the Jar Jar Binks of Revenge. I had hope that people were going to like him more and more. And it's a good thing too. After all the years I've been doing this, I was close to giving up before this part came along.
YOU'RE GOING TO TURN 40 THIS YEAR, BUT YOU LOOK LIKE YOU'RE...
Twelve? For most of my 20s, I looked like I was 12. Now that I'm pushing 40, I guess I look closer to... 15? It must be my macrobiotic diet. Oh, wait, except that I don't have one of those.
ONLINE SEARCHES REVEAL LITTLE ELSE ABOUT YOU. WHAT'S THE DEAL?
Yeah, no amount of digging is gonna turn anything up. I'm really content to leave my private life private. I'm happy to disappear into my character. I am single, though. You can say that.
WELL, WITH A SWEET RIDE LIKE YOURS...
Right? The Saturn is going to help me score, I'm sure.
IDINA MENZEL
1 SHE MIGHT HAVE SUNG AT YOUR WEDDING
I was a wedding singer for about eight years. I was 16 and lied about my age to get the job. I sang everything from "Celebration" to "I'm So Excited."
SHE WRITES LULLABIES
My husband [actor Taye Diggs] and I record songs we write for our son [Walker, 2]. We see a children's album in our future!
SHE'S READY FOR MORE KIDS
We're talking about it. We're having so much fun with Walker! I'm 40 now, so I don't like to jinx it, but we'll see what happens.
Billy Crystal returns to host the Oscars (ABC, Feb. 26) under trying conditions: Eddie Murphy, who promised some live-wire excitement, bailed on the gig, and the Best Picture race is ho-hum. Be brave, good man. Be funny. If all else fails, do push-ups.
BACK IN THE SADDLE
THIS WAS YOUR FIRST JOB SINCE ADOPTING BABY GEMMA ROSE LAST YEAR.
All mothers know, when you have to work you're so torn. I had my dark days where I thought, "My daughter is not going to know who I am!" But now I have time off.
THE FILM DEALS WITH SCHIZOPHRENIA. WERE YOU LOOKING FOR A TOUGH ROLE?
This was very different from Charlotte [on Sex and the City]. It did make me think about doing more drama. I'd love to do a western because I love to ride.
SO RIDING IS A HIDDEN TALENT?
Well, I did fall once. I was worried about my costar Tammy Blanchard, so I tried to show that dismounting wasn't that hard-and I fell on my butt!
PATRICK WILSON
There are Van Halen fans-and then there's Patrick Wilson. "It's always been this hilarious passion," says the star of A Gifted Man, who as a kid was turned on to the rock group by his older brothers Paul and Mark. After attending countless shows and meeting lead guitarist Eddie Van Halen, Wilson, 38, and his two siblings formed their own cover band: Van Wilson. ("Somebody thought it was too obvious!" he says, laughing.) When the Broadway musical vet plays drums and sings with the band at fund-raisers and parties, "I tell my wife, 'You don't have to stay the whole time,' " says Wilson, whose CBS drama ends its season March 2. "At the end of the night, she's still there! And my sons like seeing Daddy, Uncle Paul and Uncle Mark act like children. We love it."
Game Change
Advertisement
Treat Yourself! 4 Preview Issues
The most buzzed about stars this minute!