People Top 5
LAST UPDATE: Tuesday February 10, 2015 01:10PM EST
PEOPLE Top 5 are the most-viewed stories on the site over the past three days, updated every 60 minutes
Ricki Lake's Surprise Wedding!
With Three Pages of Handwritten Vows, Two Canine Guests and One Custom Gown, the Dancing with the Stars Alum Marries Christian Evans on a California Ranch
Dancing with the Stars alum Ricki Lake slowly made her way out of a private cottage at the San Ysidro Ranch in Montecito, Calif., and ventured down a garden path toward a floral arch. There Lake, 43, exchanged vows with her boyfriend of 18 months, jewelry designer Christian Evans, 40, in an intimate outdoor wedding that was secret, secluded and, says Lake, "something just for us."

Well, almost. The only guests (outside of Lake's glam squad and Evans's hairstylist pal) invited to share in the April 8 nuptials were the couple's beloved dogs-Jeffie, a Goldendoodle, and Pacha, an English bulldog-each sporting a lavender boutonniere on their collar. "It was exactly what we wanted," says Lake, who slipped into a size-6 custom chiffon gown created by DWTS designer Daniela Gschwendtner that perfectly fit her still-slim dancer's body. At the 20-minute nondenominational ceremony, the bride read through three pages of "very personal" handwritten vows filled with "how he is an inspiration to me." As for the groom? "I just went off-the-cuff!" says Evans. An approving Lake adds, "It came out perfectly."

The scaled-back affair was the opposite of what Lake originally had in mind. "We talked about a big wedding at first. We hired a wedding planner, but I broke out in hives thinking about who I'm going to invite and who I'm going to insult by not inviting," says Lake, who, in the end, didn't have her two sons from her marriage to artist Rob Sussman or Evans's 6-year-old son Taylor from a previous relationship in attendance. "At the end of the day," says Evans, "the best solution was to have our moment of being together and getting married."

Lake never expected to say "I do" again after her messy 2005 divorce. "I was a cynic," she says. But in 2010-after her house burned down and her dad fell ill-Lake's luck in love improved when a mutual friend introduced the pair to each other. Evans instantly knew "she's my soulmate," he says. Lake-who launches her new talk show this fall-also never looked back. "I'm so happy," she says. "It feels like the most joyous time in my life."

RICKI'S NEVER SAY NEVER

In an exclusive excerpt from her new memoir, Lake chronicles a lifetime of weight ups and downs."The hours I spent hating my body was a lot of wasted time," Lake says. "I wish I'd learned to love myself earlier." Still, she never let size get in her way: "I've had a great career despite not fitting into the cookie-cutter mold."

I've gone on crash diets. I've tried crazy exercise regimens. Once, while working on a film, I ate so little in my effort to appear skinny that I became anemic and was forced to check into the hospital. The experience of measuring my own value inversely-the less I weigh, the more I am worth-[is] one [I've repeated] throughout my life.

Lake's weight battle started in childhood, leading to a lifelong struggle.

As I inched my way toward puberty, my mother became openly concerned about my weight. It came through in the bitter way she looked at me each time I reached for a cookie or a second helping. Sometimes to spite her, I stuffed my face.

Finally, my mother opened her own pinched mouth, seething-Do you really think you need that, Ricki?-in the hopes that I'd learn to shut mine. When, after seeing Annie on Broadway, I told her I wanted desperately to audition, she quickly squashed my hopes, rolling her eyes and saying, "You're not exactly the starving orphan type."

Landing the lead as Tracy Turnblad in Hairspray at age 18 both helped and hurt Lake's self-esteem.

I came to feel so comfortable with my size that I allowed myself to gain even more weight. I claimed to be a size 12 or 14 when I was actually at least a 20, too embarrassed to admit that my girth extended way beyond "normal" sizes and into the realm of "plus," "x," "queen." There's never been a point in my life-no matter what crisis or joy I'm going through-that I haven't been totally aware of how much space my body is taking up.

Lake's weight fluctuated wildly over the years: She reached her high at 260, lost 100 lbs. on a crash diet in the early '90s, packed on pounds after two pregnancies, lost 35 lbs. thanks to a meal-delivery plan in 2007, and then gained some 15 lbs. after falling in love with Christian in 2010. She decided to do Dancing With the Stars last year in part to get into shape once and for all.

Why would I subject myself and my body to unbridled criticism from a panel of judges, as well as an audience of millions? And the costume fittings! I shuddered to even think about them.

My heartbeat quickened every time I saw the girls with perfect bodies at rehearsal, fearing that no matter how hard I tried, or how well I danced, my plump physique would never look as good as theirs did on the dance floor. In comparison to them, I saw myself as a dancing hippo.

"Can you believe I lost eight-and-a-half inches already, Baby?" I asked Christian just a little over halfway through my time on DWTS. I could hear the vulnerability shake through my own voice. My man smiled back at me with sweet encouragement, but he didn't say a word. I felt a little bit nervous about his silence. Maybe he hadn't heard me?

"Do you prefer me smaller?" I continued, trying to elicit a response. He just smiled. I kept prodding. "Are you more attracted to me now that I'm smaller?" Finally, Christian broke his silence and, squeezing my feet, said, "I just want you to be happy with your body, Ricki. I love you, no matter what size you are." As I thought about it, I realized that I was really asking myself, not Christian. It was time for me to acknowledge how judgmental I was-and had always been-about my own weight. Thankfully when pressed, the man I'd chosen to spend the rest of my life with answered "correctly," even though I hadn't realized I was testing him.


Advertisement
Today's Photos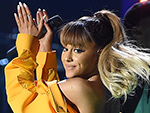 Treat Yourself! 4 Preview Issues
The most buzzed about stars this minute!