People Top 5
LAST UPDATE: Tuesday February 10, 2015 01:10PM EST
PEOPLE Top 5 are the most-viewed stories on the site over the past three days, updated every 60 minutes
Khloé Kardashian Odom: 'My Marriage Comes First'
As Her Husband, Lamar, Tries to Get His NBA Career Back on Track Amid Tabloid Rumors, the Reality Star Puts Their Show on Ice
Khloé Kardashian Odom
. After all, her husband, Lamar Odom, is unexpectedly sitting out this season's NBA playoffs (after a difficult trade to the Dallas Mavericks in December, the team placed him on the inactive list April 9), and they've moved back home to Los Angeles after his ill-fated four-month stint in Texas. Still the couple seem busier than ever. "Lamar is up for the Olympics this summer, so right now we're training," his wife says proudly, before realizing her error. "We? Oops. He is training for the Olympics!" she adds with a laugh. "I'm definitely his cheerleader!"
And, when needed, his fiercest defender. Over the last six months Khloé has had ample opportunity to prove that when it comes to her marriage, her man comes first-even before the televised attention she and her siblings seemingly crave. With Lamar, 32, suddenly benched and working to rebuild his confidence (see box), the 27-year-old reality star has pulled the plug on filming a new season of the couple's reality series
Khloé & Lamar
(the spinoff to her family's wildly successful E! show
Keeping Up with the Kardashians
) until her husband's career issues are resolved. "I think what makes a marriage work is honesty, loyalty and prioritizing," she says. "And we just wanted to prioritize a little. Life is short."
Though the couple will continue to make appearances on
Keeping Up
(and Khloé, along with her family-including sisters
Kim
and
Kourtney
, mom Kris Jenner and stepdad Bruce Jenner-just signed a reported $40 million deal with E!), cameras will no longer be capturing the ins-and-outs of the newlyweds' life at home. "We just want a little pause," she explains. "Now there's less pressure on us."
That pressure had certainly been building. With Odom's career woes playing out onscreen, "it was stressful," says Khloé. "With the NBA lockout [last summer], then the short season and all eyes on Lamar because of the attention that surrounds our family, it almost felt like there was no right way he could have [handled things]." Add to that nonstop speculation about when the couple would start a family-one tabloid report said that Khloé had started in vitro fertilization in a desperate attempt to get pregnant; another claimed she miscarried earlier this year-along with other rumors that their marriage was in trouble, and Khloé says it was time to draw the line. "If she has your back, she's going to follow through," a soft-spoken Odom says of his wife. "There's not a tough time or any situation that's going to deter her. She loves unconditionally." Adds Khloé: "I'm very protective of Lamar. I hold our relationship sacred."
Her intense devotion to Lamar has been surprising to those who thought their relationship would quickly fizzle-as well as those who might compare her life to that of her sister Kim, who also famously had a whirlwind engagement and marriage to an NBA star, Kris Humphries. Khloé and Lamar were engaged just nine days after their first date in 2009 and married in a lavish, televised ceremony within a month. Shades of Kim and Kris, to be sure, but while Kim notoriously split after just 72 days, Khloé says, "I have old-fashioned marriage values. Nowadays people don't take marriage as seriously as they should, but when you share bank accounts and homes and assets, it is serious. For me, I like to think that divorce is not an option." She adds matter-of-factly, "I'm a modern girl, but you should put your husband first. And you need a partner who will do the same for you."
For Khloé and Lamar, that give and take has proven the key to their marital success. "We are each other's priorities," she says, pausing, "and I feel like we have both sacrificed for our marriage." Khloé has turned down endorsement deals and has taken time off from the family's business dealings in order to stay home with her husband, while Lamar often passes on high-paying overseas gigs in the off-season so he can remain close to his wife. Though Khloé concedes that the sudden move to Dallas and Lamar's resulting struggles there were hard to handle, the rough patch "brought us closer together," she says. "Life is full of unexpected things, so I want my relationship to come first."
Now their focus is on enjoying married life off-camera-and, yes, trying to start a family. While admitting that Lamar "already has names picked out," Khloé, who is stepmom to Lamar's kids Destiny, 13, and Lamar Jr., 10, from his previous relationship, explains, "I'm not desperate to have a baby like everyone likes to say." But the constant speculation about the state of her fertility "put a lot of pressure on me," she admits. "I thought, 'I'm 27. Am I supposed to be pregnant by now?' " Though she denies miscarriage reports and using IVF treatments, "if it doesn't happen in a few years, I'll look at other options," she says. "We're trying, but I'm not writing down my ovulation dates or anything. We're just not using any birth control. Too much information!"
That's usually par for the course for the Kardashians, a surname synonymous with oversharing. But as Khloé prepares to pull away from some of the spotlight, she makes it clear where her allegiance lies. "I'm still a Kardashian-it's my middle name," she says. "The last name is Odom."
Advertisement
Today's Photos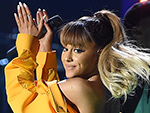 Treat Yourself! 4 Preview Issues
The most buzzed about stars this minute!