Archive Page - 12/1/12 39 years, 2,079 covers and 53,260 stories from PEOPLE magazine's history for you to enjoy
On Newsstands Now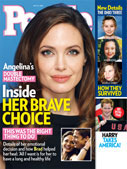 Angelina: Inside Her Brave Choice

New Details on the Ohio Three

Prince Harry Takes America!
Pick up your copy on newsstands
Click here for instant access to the Digital Magazine
People Top 5
LAST UPDATE: Sunday May 19, 2013 04:10AM EDT
PEOPLE Top 5 are the most-viewed stories on the site over the past three days, updated every 60 minutes
Picks and Pans Main: TV
Emily Maynard Bachelorette Party
USA, May 11, 10 p.m. ET/PT |




DRAMA
In this frisky, undemanding crime show-the sort that routinely floats downriver from the USA sawmill-Michael Ealy and Warren Kole are ace detectives whose partnership has become so frayed they're in couples counseling. This framework is cute but irrelevant: You don't need an analyst piecing together the relationship when that's the audience's job. Ealy (Think Like a Man) has quiet fun with the jokier, more relaxed role, while Kole does what he can playing the square, fastidious one. Which is not all that much.
These ratings lightweights are a toss-up for renewal. If I were deciding ...
COUGAR TOWN ABC
After three seasons, Courteney Cox's sitcom about friends and family in a Florida town has accelerated the rhythm of the jokes and pumped up the chipper absurdity. One wants to reward good, hard work. And yet, frankly, the cast still feels more like a mash-up than an ensemble. I wish ABC would just give fizzy, silly Busy Philipps her own series.
CANCEL
GCB ABC
This satiric soap about Dallas socialites who worship bling and Bible might have worked as a sitcom. Only Miriam Shor, as eternally peeved Cricket, has the firm crispness to withstand wilting after an hour of Texas froth. GCB defeats even Kristin Chenoweth. That's a sin!
CANCEL
AWAKE NBC
Jason Isaacs, so bone-tired he should issue an APB for espresso, is a cop trying to deduce why his life switches from one reality to another day to day, and why clues slip between universes. The show creeps along with a cold stealthiness-its strong point, but maybe that's what scares off viewers.
KEEP
ALCATRAZ FOX
A mix of Lost, The Fugitive and maybe Seven, this fantasy about vicious killers on the loose from the long-vacant Alcatraz prison couldn't get arrested in the ratings. But it has intriguing twists and, best of all, sour-faced Sam Neill as a government agent who knows the score. Give it one more go-round.
KEEP
UNFORGETTABLE CBS
Poppy Montgomery is a detective with super memory skills. These play out as fancy flashbacks that are less interesting than Columbo chomping on his cigar. But I've gotten to like Montgomery's committed performance: She acts with all her heart-and most of her red hair.
KEEP
Is Benedict Cumberbatch the best-ever Sherlock Holmes? I think so. In season 2 of PBS's richly clever Sherlock, the Victorian tales have been refitted to our century, but the actor hasn't sacrificed a whit of the original's neurotic, mannered virtuosity-and he's added modern sex appeal.




AS A CLASSICAL SINGER, YOU PERFORM ALL THE TIME. EVER GET NERVOUS ON DANCING?
It's petrifying. When I sing, I am so calm. But when you're dancing it's a whole different ball game. The first day, I had a meltdown before we went onstage.
WHAT'S BEEN THE TOUGHEST PART?
I really struggled with the sexy dancing. Singing, I stand in one place. Going out and shaking my bits has gotten me over that.
HAVE YOU LOST WEIGHT DANCING?
I had lost weight before the show anyway after I broke up with my fiance [Gethin Jones] last year, so what I found is that the dancing tones me up. I am aching in the craziest places.
READY TO DATE AGAIN?
I am still very much mending. It's been nice to find something that I can throw myself into and give me something to make me laugh again.
Wiser after her split with Brad Womack, the mom looks for love on TV again
As the new Bachelorette, Emily Maynard says she's open to finding love-as long as she doesn't have to spend time in a Jacuzzi to do it. "I'm hoping the hot tubs have been completely phased out," she says of the show's notorious hook-up spot. It's not the only Bachelor/Bachelorette staple Maynard plans on avoiding. "I don't want to be kissing every guy," she says. "I want to still be a lady." After all, she adds, "I'm a mom first."
Yes, things will be a little different when Maynard, a single mother to daughter Ricki, 6, begins her Bachelorette run on May 14. Returning to the ABC franchise was the last thing Maynard, 26, expected when she accepted Texas bar owner Brad Womack's proposal on the March 2011 Bachelor finale-and even less so when she broke things off months later. But after months of rebuffing producers, Maynard eventually changed her mind, she says, because, "I know it can work. I fell in love the first time."
While the show is currently in the headlines for who its stars haven't been-a class action lawsuit was recently filed against the franchise alleging a bias against casting minorities-Maynard takes no issue with the program. "I would love to see a diverse Bachelor or Bachelorette," she says. As the woman currently holding all the roses, however, Maynard says she signed on this time (with Womack's blessing) resolved to have more fun. "I'm all about girl power. What better way to take charge than to call the shots?"
While staying mum about her Bachelorette suitors, Maynard says highlights from the still-filming season include meeting Dolly Parton ("one of my idols!") and touring London with Ricki (named after Maynard's late fiance, NASCAR driver Ricky Hendrick, who died in a 2004 plane crash). Another plus: Production relocated from L.A. to her Charlotte, N.C., hometown so she could stay in the three-bedroom suburban home she shares with Ricki.
"[The show] has been so good at making sure there's time scheduled for the two of us," says Maynard, noting that Ricki's grandparents and a nanny hired by the show are watching her when Mom has to travel solo. "She has so much fun with them." Sometimes too much. "When I got back [from The Bachelor] I had a house full of new toys and she was drinking Coke and watching SpongeBob," Maynard groans.
While Charlotte is close to her heart, Maynard insists it won't be a dealbreaker if her Bachelorette Mr. Right lives elsewhere. "I'm a hopeless romantic. I'd live on a sailboat in the middle of the ocean if that's where the person I loved wanted to be."
Common Law
Advertisement
Treat Yourself! 4 Preview Issues
The most buzzed about stars this minute!