On Newsstands Now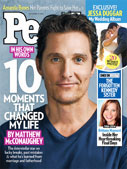 Matthew McConaughey: In His Own Words

Jessa Duggar's Wedding Album

Brittany Maynard's Final Days
Pick up your copy on newsstands
Click here for instant access to the Digital Magazine
People Top 5
LAST UPDATE: Tuesday February 10, 2015 01:10PM EST
PEOPLE Top 5 are the most-viewed stories on the site over the past three days, updated every 60 minutes
Picks and Pans: Books
The Last Book I Loved
by Carol Rifka Brunt |




REVIEWED BY HELEN ROGAN
NOVEL
Remember how it felt to be 14? In this lovely debut novel set in the 1980s, Carol Rifka Brunt takes us under the skin and inside the tumultuous heart of June Elbus. Lonely at school and tormented by her older sister, June habitually vanishes into the woods near her suburban New York home to pretend she's living in the Middle Ages. "I look at everything-rocks, fallen leaves, dead trees-like I have the power to read those things. Like my life depends on understanding exactly what the forest has to say." Like most 14-year-olds, June is full of secret emotions too powerful to reveal-in particular, her "wrong" love for Finn, her uncle and godfather. An artist who has introduced his goddaughter to a world of beauty, Finn is gay, and dying of AIDS. Once he's gone, the grief-shattered June recklessly embarks on a new relationship that's just as obsessive, just as secret, and ends up shaking her family to its core. Distracted parents, tussling adolescents, the awful ghost-world of the AIDS-afflicted before AZT-all of it springs to life in Brunt's touching and ultimately hopeful book.
Beautiful Ruins
by Jess Walter |




REVIEWED BY MEREDITH MARAN
NOVEL
The characters in this energetic, entrancing novel-living everywhere from an isolated Italian village to the backstabbing back lots of Hollywood-grapple with major life crises. A dying movie star seeks seclusion. An Italian innkeeper yearns for his long-lost love. A World War II veteran hopes the movie version of his memoir will change his life. Walter's turns of phrase are as brilliant as his plot twists, making for a compelling, fun read.
Heartbroken
by Lisa Unger |




REVIEWED BY ELLEN SHAPIRO
THRILLER
An idyllic island retreat, a family rife with secrets, creepy bad guys and lousy cell phone reception: Heartbroken has all the makings of a high-wire thriller. But it's the twisted psyches of its main characters that really unsettle. Birdie Burke, the spectacularly passive-aggressive matriarch, lords over Heart Island, where her good-girl daughter stirs up old scandals, and they fatefully cross paths with a waitress drawn to the dark side. Unger expertly shows how quiet betrayals can rupture a life as deeply as an act of violence.
BORN TO RISE
by Deborah Kenny
The inspiring story of a visionary educator and her accomplishments at Harlem Village Academies.
A SONG IN THE NIGHT
by Bob Massie
Born with hemophilia, the author braved huge challenges to become an activist and environmental leader.
MRS. ROBINSON'S DISGRACE
by Kate Summerscale
A Victorian wife's scandalous divorce trial, with excerpts from her remarkable diary.
THE SHAPE SHIFTER
The personal trainer gained and lost 75 lbs.-on purpose!-to experience life on the other end of the scale
WHY GO FROM FIT TO FAT?
I needed a better understanding of my overweight clients. Taking this journey gave me a way to relate, and I wanted to inspire them.
HOW DID YOU PACK ON THE POUNDS?
I stopped working out, had fast food once a week, ate stuff like Cinnamon Toast Crunch and drank non-diet sodas. It was fun eating whatever I wanted.
HOW DID YOUR BODY RESPOND?
My blood pressure shot up and my doctor said I had the kidneys of an alcoholic. And I lost my self confidence. It was humbling.
WAS IT HARD TO GET IN SHAPE AGAIN?
I learned what it's like for my clients, wanting to give up sometimes and having doubts.
ANY REGRETS?
No. I have some stretch marks, but I can live with that.
We all are, says author Dan Ariely. His new book, The (Honest) Truth About Dishonesty, explores the pervasiveness of dishonesty-and how we can stop it
WE'RE ALL MORE DISHONEST THAN WE THINK
The big cause for dishonesty is rationalization. We can be dishonest, and on the other hand, quickly rationalize it as good: When you say, "Honey, you look great in this dress," you're acting in their best interest.
CHEATING IS CONTAGIOUS
When we see somebody bootlegging a movie, or jaywalking, we think it's more okay than we thought before, and we do it. And the people who see us think it's okay.
WE RATIONALIZE TO FOOL OURSELVES
Rationalization is about thinking of ourselves in good terms. It's hard to function in the world if you think you're a lying bastard!
BUT WE CAN CHANGE
Having stricter rules is important, and also awareness: reminding ourselves of who we want to be and making pledges.
MICHELLE OBAMA
"I did a lot of rereading of old classics with Malia because Barack was trying to get her out of the Gossip Girl books. The Grapes of Wrath was my favorite. I hadn't read it since high school, and it felt very timely."
ANN ROMNEY
"I enjoy reading the classics. My most recent favorite is Anna Karenina. It was a moving book, and I was so impressed with Tolstoy's ability to capture such deep feelings and emotions, especially those of a woman. "
Tell the Wolves I'm Home
Advertisement
Today's Photos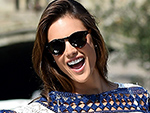 Treat Yourself! 4 Preview Issues
The most buzzed about stars this minute!