On Newsstands Now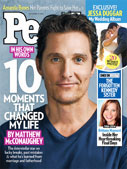 Matthew McConaughey: In His Own Words

Jessa Duggar's Wedding Album

Brittany Maynard's Final Days
Pick up your copy on newsstands
Click here for instant access to the Digital Magazine
People Top 5
LAST UPDATE: Tuesday February 10, 2015 01:10PM EST
PEOPLE Top 5 are the most-viewed stories on the site over the past three days, updated every 60 minutes
Picks and Pans Main: TV
True Blood's Christopher Meloni
FX, June 28, 9 p.m. ET/PT |




COMEDY
The Warlock is gone. Charlie Sheen, the comic actor with a squint in his eye, gravel in his voice and sarcastic toxicity seeping from his marrow, has resurfaced-and he's probably smart enough to know that Anger Management, his first show since last year's chaotic departure from Two and a Half Men, is bad. It's not even as funny as the self-mocking ads he did for Fiat and DIRECTV. But it's a sitcom, and for Sheen that's terra firma. He plays a therapist, Charlie Goodson, who specializes in anger issues-yeah, yeah, we get the cheap irony-and in the premiere we meet the patients in his group. They're neither threatening nor funny, and Sheen barely seems interested in them. They could be lichens in a jar. There's greater potential for Sheen's deadpan humor in Charlie's sex life: He's not a rancid playboy like Men's Charlie Harper, but there are comic tensions in how he handles relationships that include a friendship with his ex-wife (Shawnee Smith) and a weird romance with his therapist, sullenly beautiful Selma Blair. For now, it's a mess.
Awkward
MTV, June 28, 10:30 p.m. ET/PT |




COMEDY
One of MTV's best-reviewed shows in years, the high-school comedy starts season 2 with heroine Jenna (Ashley Rickards) still not totally sure she's in love with a boy named Jake or one named Matty. This is conventional enough, but Awkward-which began season 1 with the student body mistakenly thinking Jenna had tried to kill herself-plays like a lower-budget Suburgatory: snarky, silly. If it doesn't have the ABC sitcom's satiric sheen, it captures some of those glum patches that strike in adolescence. And adulthood. The most pathetic characters are the grown-ups, especially Jenna's mom (Nikki Deloach). You sense she'd give anything to relive those unhappy days of awkward youth.
The Newsroom
HBO, June 24, 10 p.m. ET/PT |




DRAMA
TV and film writer Aaron Sorkin thinks big. Probably too big. The West Wing, a classic, was about the political establishment. Studio 60 on the Sunset Strip, a failure, was about the TV industry. His latest, falling somewhere in between, is not only about the news business but its role in a democracy. Here's a show the Founding Fathers (if no one else) would DVR. Jeff Daniels is Will McAvoy, a complacent cable anchor who suddenly snaps and becomes a liberal firebrand, roaring his disdain for talking heads, politicians and journalists who fail to report the truth as he sees it. He's Keith Olbermann in IMAX. Daniels is great, biting clean through clotted dialogue that's twinkly yet sanctimonious. But having to speak Sorkinese defeats just about everyone else, including Emily Mortimer as a producer.
COMMENTS? WRITE TO TOM: TomsReviews@peoplemag.com
YOU'VE GOTTA SEE THIS ...
WIPEOUT
Once more, with bruising! Return engagement of the physically daunting extreme-challenge competition. ABC, June 28.
BURNING LOVE
Nicely done online send-up of The Bachelor. Ken Marino is the reality Romeo and Kristen Bell one of his wanna-brides. screen.yahoo.com
CRAFT WARS
If you're a Mod Podge maniac, you'll be glued to Tori Spelling's new reality contest. TLC, June 26.
FOX's new Thursday-night reality competition The Choice is basically NBC'S The Voice reimagined as a dating game. Eligible celebrities (Pauly D! Taylor Hicks!) are ensconced in enormous revolving chairs while potential dates stand behind them and quickly spell out their romantic potential. Chairs are swiveled, teams assembled, questions fired, answers shot back-it's speed dating accelerated to a free-for-all. And it's dumb, yes, but that miracle of reality TV named Cat Deeley hosts: She charms, flirts, laughs and almost makes you clap for those stupid chairs.
A SCREEN LEGEND'S SECRETS
HOW DID YOU SURVIVE SEVEN DECADES IN HOLLYWOOD?
I've always been able to find the positive attributes of trouble, pressure and suffering.
EVER FALL FOR YOUR COSTARS?
With movies, the name of the environment is truth telling. There's nothing on this earth more attractive than "telling the truth" to a handsome man while he's doing the same thing to you. So of course you fall in love with them!
ANY TRICKS TO AGING GRACEFULLY ONSCREEN?
It has everything to do with how you relate to life. I still think of acting as an avocation. I have so much else going on that has nothing to do with acting: my search, my questions-that's my vocation.
YOU FACE OFF WITH DAME MAGGIE SMITH NEXT SEASON ON DOWNTON ABBEY.
It will be very gentle, like, "Oh, that's how they did it." Don't expect the gunfight at the O.K. Corral.
The Soul Man, which airs Wednesdays on TV Land, isn't great, but it's the best sitcom yet developed for that cable network. The reason? It stars Cedric the Entertainer and Niecy Nash, two unblinkingly confident performers who would press on through a snowstorm to get a laugh. He's a former R&B star who returns home to St. Louis as a minister. She's his wife, adjusting to their less glamorous lifestyle and not sure whether the female churchgoers envy or disapprove of her having met Beyonce. In some ways it's like Green Acres but moved on to greener, more spiritual pastures.




SPECIAL VAMPIRE UNIT
WHAT'S IT LIKE WEARING VAMPIRE FANGS?
I nicked myself. I was like a vampire with training wheels. You can't talk too much when you're wearing your fangs; they're very sharp.
WILL YOUR KIDS-SOPHIA, 11, AND DANTE, 8-BE WATCHING?
I don't think so. I do a lot of cursing. I have enough of a potty mouth at home: The swear jar's full of my quarters. I don't need them busting me for any more saucy language!
ANY REGRETS ABOUT LEAVING LAW & ORDER: SVU LAST YEAR?
I couldn't be happier. I left SVU exactly how I wanted to. It was time. It was a great 12 years. Everything was right.
AFTER ALL THE VIOLENCE ON SVU, DID YOU THINK, "OH NO, MORE BLOOD"?
I looked forward to it. I couldn't wait to stake somebody. I knew it was going to get messy. I [nailed my first] in one take. It was a one-take stake!
Anger Management
Advertisement
Today's Photos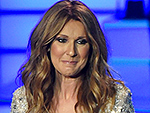 Treat Yourself! 4 Preview Issues
The most buzzed about stars this minute!