On Newsstands Now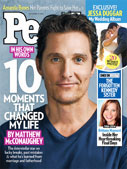 Matthew McConaughey: In His Own Words

Jessa Duggar's Wedding Album

Brittany Maynard's Final Days
Pick up your copy on newsstands
Click here for instant access to the Digital Magazine
People Top 5
LAST UPDATE: Tuesday February 10, 2015 01:10PM EST
PEOPLE Top 5 are the most-viewed stories on the site over the past three days, updated every 60 minutes
Picks and Pans: Movies
Why I'm Excited for ...
Sylvester Stallone, Jason Statham, Bruce Willis| R |




REVIEWED BY LESLEY MESSER
ACTION
Unlike its predecessor, The Expendables 2 gave me what I wanted almost immediately after I took my seat: impressive explosions, a frying pan used as a deadly weapon and an airborne motorcycle crashing into a helicopter. In a sequel that doesn't take itself too seriously, Barney Ross (Sylvester Stallone) and his band of muscle-bound misfits are ordered by the mysterious Mr. Church (Bruce Willis) to break into an explosive-rigged safe-which should be a cakewalk. However, after a member of the group is killed by the villainous-wait for it-Vilain (delightfully played by a preening Jean-Claude Van Damme), the gang sets out for revenge, joined for the first time by a butt-kicking female (Chinese actress Yu Nan). Thankfully, by now, everyone seems to be in on the joke, keeping the audience alternately on their toes and in stitches (most of the time intentionally). Some of the best laughs come from the film's minor players, Arnold Schwarzenegger and, most impressively, Chuck Norris, a self-described "lone wolf" who saves the day single-handedly. Twice. No, this script isn't going to win cowriter Stallone an Oscar ("Rest in pieces"? Really?), but on a hot summer's day, it's as satisfying as a cold beer.
Cosmopolis
Robert Pattinson, Paul Giamatti | R |




WEIRD
I hate to kick a guy when he's down, but Pattinson is in dire need of career counseling. Frankly, the man hasn't been in a good movie since Harry Potter and the Goblet of Fire, and that includes this impenetrable forest of idiocy. But he's not really the problem with Cosmopolis, a misfire from director David Cronenberg based on a novel by Don DeLillo. Pattinson gamely tries to find his way as Eric Packer, a financial guru who takes his stretch limo on an odyssey across town to get a haircut. We're mostly trapped in the car as employees filter through, spouting ridiculous babble about art, time and commerce that's so artificial it takes two scenes to realize that one of the minions (Sarah Gadon) is Packer's wife. (Don't ask why Packer's urologist hitches a ride.) The climax is a showdown with a nutcase (Giamatti) who's decided that Packer should die for his sins. At that point it hardly matters what happens to either of them-it's just so good to get out of the bleepin' car.
COMMENTS? WRITE TO ALYNDA: alyndasreviews@peoplemag.com
JORDIN SPARKS
DID YOU HOLD IT TOGETHER WATCHING SPARKLE?
I was until I saw Whitney sing. I lost it. I let myself cry and feel everything I was feeling.
YOU'VE DATED JASON DERULO A YEAR. DID YOU CELEBRATE?
He was on his way to Australia, and I was working. But when I got to my hotel, he said, "Check the concierge desk." He bought me really nice earrings. They haven't come out of my ears since!
WOULD YOU MAKE IT AS AN IDOL JUDGE?
Could not do it! It'd be hard to tell someone they aren't good enough. But I'd love to be a mentor and give them kisses!
BUMMER FAMILY FILMS
A boy springs to life from a garden, but there's no magic in The Odd Life of Timothy Green, with Joel Edgerton and Jennifer Garner as parents of freshly picked Timothy (CJ Adams). The plot is tedious and the ending cruel-but not as harsh as ParaNorman. From the folks who made Coraline, it's about a boy who can talk to the dead. It's exquisitely animated, but a nightmarish plot twist is way too disturbing for kids.
TIMOTHY GREEN




PARANORMAN




Hungry for More
The Hunger Games heartthrob talks about mastering the fame game-and going back to Panem
HOW HAS THE MOVIE CHANGED YOUR LIFE?
People built it up, so I thought everything would be turned upside down, but it's not all that different. I get recognized more now, but my life has really maintained the same path.
SO YOU'RE USED TO THE SCREAMING FANS?
I'm getting more used to the feeling, but every time it still surprises me. Like, "Whoa, I'm just Josh. What are you so excited about?"
WHAT'S YOUR FAVORITE FAN ENCOUNTER SO FAR?
I was in New York, and this girl gave me a letter all about how she'd gone through this hard time, but the books and film made her happy. It made me realize this was about more than just making a movie.
THE DVD IS OUT AUG. 18. HAVE YOU CHECKED OUT THE BEHIND-THE-SCENES FEATURES?
Not yet, but the die-hard fans are going to be thrilled. It's just cool to see the whole process.
YOU START FILMING THE SEQUEL, CATCHING FIRE, NEXT MONTH. EXCITED?
I literally cannot wait. I'm looking forward to more conversations with everyone. I've missed them so much.
ANY HINTS OF WHAT TO EXPECT?
All I can say is that the script is so good, and it's so close to the book. You know, Let's go, let's do it, I'm ready!
THE NEXT HUNGER GAMES
1 Catching Fire is reeling in a dream cast, with Philip Seymour Hoffman (inset) as gamesmaker Plutarch Heavensbee (Jena Malone, pictured at far right, and Meta Golding, right, also signed on as lethal tributes). Oscar winner Hoffman was genius in Capote and morally suspect in Doubt-perfect preparation for the craftiest role in the November 2013 sequel.
2 The new games take place in a diabolical tropical arena (it'll film in Atlanta and Hawaii). The wilder locale should mean killer effects.
3 Panem is a powder keg. I'm already growing my nails long so I have something to bite as the situation gets seriously combustible in District 12. If you thought President Snow (Donald Sutherland) was a psychopathic menace in the Capitol, wait till you see him in Katniss's house.
The Expendables 2
Advertisement
Today's Photos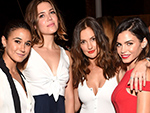 Treat Yourself! 4 Preview Issues
The most buzzed about stars this minute!