People Top 5
LAST UPDATE: Tuesday February 10, 2015 01:10PM EST
PEOPLE Top 5 are the most-viewed stories on the site over the past three days, updated every 60 minutes
Picks and Pans: Books
Disses from Suri
by Michael Chabon |




REVIEWED BY ROBIN MICHELI
People PICK
NOVEL
Telegraph Avenue is home to Brokeland Records, the vintage LP emporium owned by Archy Stallings (easygoing, black) and Nat Jaffe (high-strung, Jewish), the anchor of a neighborhood straddling Oakland and Berkeley, Calif., and the center of Chabon's exuberant new novel. It's August 2004, and proposals to build a giant music store up the block bring the hope that it would revitalize the community but also fears that it could destroy its character and run Brokeland out of business, a prospect that mirrors other painful challenges imposed on the partners and their intertwined families. While pop culture nostalgia abounds with an emphasis on comic books (a Chabon favorite) and '70s movies, music on vinyl, and a reverence for it, also play a steady groove in the narrative, and the writing-stylized, humorous and often dazzling-is inflected with tones of jazz and funk. But it's Chabon's ear for the sounds of the human soul that make this book a masterpiece, as his vividly drawn characters learn to live at the intersection of disappointment and hope.
Laura Lamont's Life in Pictures
by Emma Straub |




REVIEWED BY MEREDITH MARAN
NOVEL
Born in 1920s Wisconsin, Elsa flees to Los Angeles as a teen and is reincarnated as Laura Lamont by a powerful studio exec who molds and then marries her. Movie stardom follows, along with complications both personal and professional. Straub makes masterful use of the golden age of Hollywood to tap contemporary questions about the price of celebrity and a working mother's struggle to balance all that matters.
No Easy Day
by Mark Owen |




REVIEWED BY KRISTEN MASCIA
MEMOIR
When Navy SEALs took down Osama bin Laden in May 2011, Americans rejoiced. But according to a member of that elite squad, Matt Bissonnette (pseudonym Mark Owen), we didn't know the real story. Frustrated by inaccuracies and descriptions of SEALs as "egomaniacs," Bissonnette here tries to set the record straight, describing the raid in riveting, sometimes shocking, detail: the look of bin Laden's body (his beard was dyed), even the contents of his bureau (neatly folded tees). The Department of Defense may take legal action against Bissonnette, now retired, for allegedly breaching nondis-closure agreements, but he has given us a brave retelling of one of the most important events in U.S. military history.
Mortality
by Christopher Hitchens |




REVIEWED BY KYLE SMITH
MEMOIR
Even as he lay dying of esophageal cancer last year, noted essayist Hitchens remained a wit and bon vivant. During his painful extended exit, he says, there were "so many tributes" that it seemed as if "rumors of my life have also been greatly exaggerated." Dealing unflinchingly with bodily ravagement, reflecting on life's beauty and remaining rakish about his ideological foes, Hitchens proves that great writers are truly immortal.
Those We Love Most
by Lee Woodruff |




NOVEL
Woodruff knows all too well that life can change "in an instant"-also the title of the book she wrote with her husband, ABC News anchor Bob Woodruff, about the injuries he sustained in Iraq. In this debut novel she mines that experience, creating a wrenching tale about a wife keeping guilty secrets, a husband carrying his grief to the local bar and a family whose deepest truths are laid bare by tragedy. Can their bonds survive? Woodruff proves herself as a novelist by keeping us turning pages to find out.
The Time Keeper
by Mitch Albom |




REVIEWED BY SUE CORBETT
NOVEL
In his newest book, Albom conjures a backstory for Father Time (here called Dor), who must help a man dying of cancer and a teen considering suicide make peace with the lives they've been given. There are no new ideas here-immortality isn't all that, God limits our days, so we must make each one precious-but the dose of inspiration Albom's (mercifully short) sermon delivers is heartfelt.
COMMENTS? WRITE TO KIM HUBBARD: bookseditor@peoplemag.com
INA GARTEN
Guest of Honor by Deborah Davis "It's about when Theodore Roosevelt invited Booker T. Washington to the White House-the first time an African-American had eaten dinner there."
JONNY LEE MILLER
No Angel by Jay Dobyns and Nils Johnson-Shelton "It's a really interesting biography of an undercover ATF agent who infiltrated the Hells Angels."
OLIVIA WILDE
Half the Sky by Nicholas D. Kristof and Sheryl WuDunn "I've been rereading it for this documentary we made. After traveling to Kenya, I have a totally new appreciation for it."
"Suri's been able to roll her eyes since about age 2," says political consultant Allie Hagan. So when Hagan started a tongue-in-cheek blog critiquing star offsprings' style choices, who better to voice it than Tom and Katie's kid? Suri's Burn Book and the blog that spawned it are snarky, but Hagan's had no complaints. "I think everyone knows," she says, "it's all in good fun."
Kingston Rossdale
"Did he get this from the Game of Thrones rejected costumes dumpster?"
Shiloh Jolie-Pitt
"Messy hair and menswear are her most well-known features."
Moi
"I would describe my style as 21st-century Audrey Hepburn, except that I use all of the colors."
Willow Smith
"She thinks she is the Lady Gaga of the celebrity-child red carpet ... It's making my eyes tired."
Telegraph Avenue
Advertisement
Today's Photos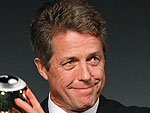 Treat Yourself! 4 Preview Issues
The most buzzed about stars this minute!