People Top 5
LAST UPDATE: Tuesday February 10, 2015 01:10PM EST
PEOPLE Top 5 are the most-viewed stories on the site over the past three days, updated every 60 minutes
Picks and Pans Main: TV
Miami's Not-So-Hot Housewives
NBC, Wednesdays, 8:30 p.m. ET/PT |




COMEDY
Three guys walk into a bar ... wearing baby carriers, carrying babies! Are you laughing yet? The opening gag of this new series is not just contrived but also uncomfortable-at one point divorced dad Chris (Jesse Bradford) asks a comely bar patron if he and his infant son can buy her a drink. Ick. But the show improves from there. When stay-at-home dad Gary (Anthony Anderson) and his wife, Marny (The Cosby Show's ageless Tempestt Bledsoe), try to sneak in a make-out session only to have the kids pound on the bathroom door, Anderson's shout of "This is all we have!" rings true. The kind of pained-funny true that parents who have been there, shouted that, will relish.
Oddly quiet for years, the star is poised to intrigue on The X Factor
Back when Demi Lovato was a zygote in a Disney Channel laboratory and Simon Cowell had yet to introduce his clavicle to America, Britney Spears had a voice. She used it to make jokes, answer questions, order Frappuccinos and even sing. But then came her epic 2008 flameout, and the bubbly pop star went mute. Yes, she slowly came back to performing, but her stage appearances in the years since have been so detached that they seem to be executed by an optical-illusion twin, like Hayley Mills in The Parent Trap. Offstage she's barely made a peep beyond a few canned interviews. Which is why her debut as a judge on The X Factor (season 2 premieres Sept. 12 on FOX) is so tantalizing. Can she possibly hold her own against Simon? Doubtful. But she brings a jolt of unpredictability to the show, which suffered last year from dead-eyed judge-bot Nicole Scherzinger. Of course Steven Tyler was zanily electrifying on American Idol during its taped early weeks, only to repeat "That was beautiful ... beautiful ... beautiful," like a snagged pull toy as soon as the show switched to a live format. (X Factor shifts about a month in.) Let's hope Britney finds her voice well before then.
YOU'VE GOTTA SEE THIS ...
THE VOICE
While The X Factor snags all the buzz, Cee Lo and his fellow red chairs gear up for fall's other big singathon. NBC, Sept. 10.
KATIE
The Queen of Perk is back in daytime-finally. First on her new syndicated talker: giggly Jessica Simpson. It's a perk-off! Sept. 10.
GLEE
So what happens after graduation? Guest star Kate Hudson shows off her talent-and gams-as a dance teacher. FOX, Sept. 13.
GLAD SHE HAD THAT TIME
THE COMPLETE DVD BOX SET OF THE CAROL BURNETT SHOW COMES OUT SEPT. 25. COULD A SHOW LIKE THAT BE DONE TODAY?
No. It would be too expensive. We did a Broadway-type musical revue a week. We had 12 dancers, at least 2 guests each week, a 28-piece orchestra, and Bob Mackie designed everything, maybe up to 70 costumes a week. We really did it like a live show.
WHAT SHOWS DO YOU WATCH THESE DAYS?
Once All My Children went off, I was bummed. That was my appointment show. I watch The Newsroom, Political Animals, Parks and Recreation, Glee.
WHO'S THE FUNNIEST WOMAN ON TV?
You'll get me in trouble here! I can't say just one. Definitely Tina Fey, Amy Poehler and Jane Lynch. They're comedic actresses.
ARE YOU STILL IN TOUCH WITH THE OLD GANG?
Yup. We're still buddies. When I go out to dinner with [Tim] Conway, I feel like I should teach myself the Heimlich maneuver! You have to be careful and tell him not to do a bit while you're chewing.
Remember those sherbet push-up pops from childhood? Orange, top-heavy and prone to sloppy meltdowns? Well, The Real Push-Up Pops of Miami are ready to be taken out of cold storage for their second season (premiering Sept. 13). Cosmetically frozen and emotionally infantile-as if Bravo would have it any other way-the Housewives wobble in stilettos, whine about real estate and pretend to be friends. Me, I'm a hot-fudge sundae kind of gal.




Guys with Kids
Advertisement
Today's Photos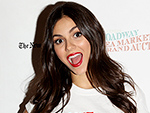 Treat Yourself! 4 Preview Issues
The most buzzed about stars this minute!