On Newsstands Now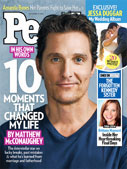 Matthew McConaughey: In His Own Words

Jessa Duggar's Wedding Album

Brittany Maynard's Final Days
Pick up your copy on newsstands
Click here for instant access to the Digital Magazine
People Top 5
LAST UPDATE: Tuesday February 10, 2015 01:10PM EST
PEOPLE Top 5 are the most-viewed stories on the site over the past three days, updated every 60 minutes
Picks and Pans: Movies
Jenna Dewan-Tatum
Joaquin Phoenix, Philip Seymour Hoffman, Amy Adams R |




DRAMA
To say that Naval officer Freddie Quell (Phoenix) survived World War II would be to overstate the matter. While Freddie did not die, the bent, feral man who squints out of his right eye and talks out of the left side of his mouth is far from whole. Sexually rapacious and a blistering drunk, Freddie is a lost sheep in need of a flock. As it happens, Lancaster Dodd (Hoffman) is a shepherd.
Personable and generous to Freddie when the young man stows away on his boat, Lancaster seems every bit Freddie's opposite. He's also the founder of the Cause, a religious movement with clear parallels to Scientology. But this is not a movie about Scientology. Director Paul Thomas Anderson is far more interested in the dynamic between the men than he is in investigating religion. Fortunately, Hoffman and Phoenix know just how to make that dynamic riveting. Hoffman is remarkably subtle in revealing Lancaster's spiteful ego, and Phoenix is just...remarkable. His turn as a man drained and broken is so powerful, I'm afraid to imagine what he had to do to deliver it. Adams is riveting too as Lancaster's steely wife.
Still, The Master is challenging in its slow pace and its moral caginess. It leaves Freddie with nothing but wrenching choices: Either he can save himself by clinging to a man who may well be a false prophet or he can wither alone.
10 Years
Channing Tatum, Rosario Dawson, Chris Pratt PG-13 |




COMEDY
Like many a teen, 10 Years has an awkward phase and parties too much, but it rights itself in the end. The high school reunion film's overstuffed cast includes Jake (Tatum), his girlfriend Jess (Jenna Dewan-Tatum), his former love Mary (Dawson) and their buddy Cully (Pratt), who hilariously spends the entire night bullying his old victims into forgiving his prior bullying. There are more, but who can keep up? 10 Years is at its best when the party's nearly over, and the not-quite-thirtysomethings realize that, like it or not, they're adults. Not Cully, though-that dude's too drunk for epiphanies.
Liberal Arts
Josh Radnor, Elizabeth Olsen, Allison Janney NR |




COMEDY
At 35, with a job he hates and no personal life to speak of, Jesse (Radnor, who directed and wrote the funny script) is adrift. So when he returns to his alma mater to toast his mentor (Richard Jenkins), he falls for Zibby, Olsen's luminescent, witty student. (I get it-Elizabeth Olsen went to my high school, and I'm besotted with her too.) While Jesse figures out whether falling for a teenager makes you one, he communes with a dippy hippie (Zac Efron), tangles with a professor (Janney, gin-on-the-rocks icy) and gets an education all over again. At least this time it's free.
THE TORONTO FILM FESTIVAL
Alynda went north to see some of the fest's best movies in years-and a few noble near-misses.
ARGO
Director and star Ben Affleck delivers a great thriller about a real CIA agent who spirited U.S. embassy staff out of Iran during the '79-'81 hostage crisis. It's a study in tension-building-and in pitch-perfect humor.
SILVER LININGS PLAYBOOK
My favorite film of the fest pairs Bradley Cooper, as a newly sprung mental patient, with Jennifer Lawrence as the craziest woman in his nabe. Every scene is awkward, hilarious joy.
LOOPER
Joseph Gordon-Levitt and Bruce Willis are gripping in a time-travel film that's deeper than it needs to be. They play the same man, 30 years apart, until the older one is sent back to be killed by his younger self. It all makes sense...sort of.
THE COMPANY YOU KEEP
I love seeing Robert Redford onscreen again (and Susan Sarandon), even if his film about '70s radicals being sniffed out by a reporter (Shia LaBeouf) is uneven.
ANNA KARENINA
This stylized spin on Leo Tolstoy's tale of a society wife (Keira Knightley) and her lover (Aaron Johnson) won me over with sumptuous costumes and exquisitely arty staginess.
HYDE PARK ON HUDSON
Bill Murray is a hoot as FDR, hosting a visit from the British royals, but Laura Linney, as his cousin-lover, Daisy, gets lost in what's supposed to be her story.
CHANNING'S LEADING LADY
HOW WAS WORKING WITH YOUR HUSBAND IN 10 YEARS ?
Chan is the perfect costar. I met him doing Step Up so there's a natural working chemistry. He's patient, supporting and a hard worker. He makes things easy.
WHAT WERE YOU LIKE IN HIGH SCHOOL?
It's embarrassing enough to say I was a Texas cheerleader, but to say I was a Texas cheerleader prom queen is so cliche! In my yearbook I was labeled prom queen and most friendly.
DID YOU ATTEND YOUR HIGH SCHOOL REUNION?
I didn't go because I was filming. But I've done my fair share of Facebook stalking. I've looked up every guy I've dated and every guy I used to think was cute to see what they've been doing.
YOU'VE BEEN MARRIED THREE YEARS. WANT TO START A FAMILY?
I've always wanted to be a mom. When life can slow down a little bit, we'll do it. Now my dogs Meeka and Lulu are my kids.
The Master
Advertisement
Today's Photos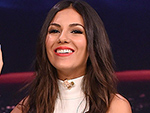 Treat Yourself! 4 Preview Issues
The most buzzed about stars this minute!