On Newsstands Now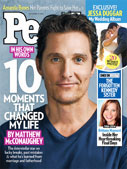 Matthew McConaughey: In His Own Words

Jessa Duggar's Wedding Album

Brittany Maynard's Final Days
Pick up your copy on newsstands
Click here for instant access to the Digital Magazine
People Top 5
LAST UPDATE: Tuesday February 10, 2015 01:10PM EST
PEOPLE Top 5 are the most-viewed stories on the site over the past three days, updated every 60 minutes
Men of the Year
A TV Favorite Who Gets His Groove Back, Homeland's Heartthrob and Other Red-Hot Stars of 2012


3 Great Things About Being Sexy in Your 40s

1 Finding peace of mind.

"I really have never been more comfortable in my own skin," says the 43-year-old star of Go On.

2 Becoming wise to the wily ways of Hollywood.

"If I've put on a few pounds, people will come up to me and say, 'Hey, your hair looks great.' Then I know I've got to watch what I'm eating."

3 Achieving your goals.

"I used to be very concerned about having no chin," he says. "I've thought that way since I was like 18 years old. But now that I'm the healthiest I've ever been, I do have more of a chin because I'm eating better and exercising."

GIANCARLO ESPOSITO

The first thing women notice about the 54-year-old star of Revolution: "My eyes," he says. "They're like a mirror reflecting how much I love women-physically, intellectually and spiritually."

JASON SUDEIKIS

"I think funny people are very sexy and alluring," says the 37-year-old SNL star. So what would he list as his most distinctive attributes? "A little too loud, maybe. Pale. Left-handed. Those would be the three biggest."

Damian LEWIS

He plays a traitor on Homeland, but offscreen the British actor is sticking to his roots. "I like my red hair," says Lewis, 41. "I'd never change it just for me. I'm a redhead all over, so it would be weird to have a shock of dark hair."

JACK DAVENPORT

He's a lothario on Smash, but the 39-year-old Brit is more of a family guy in real life. "The best compliment I've ever received was when my 2-year-old son Harry was deeply impressed with a toolbox I have," he says. "He's a fan of all the drill bits I never use. That made me feel like I was providing."

Adam SCOTT

3 Reasons He's Irresistibly Sexy

1 He's humble.

"Being sexy is something I had no idea I was doing a good job at," says the Parks and Recreation star, 39.

2 He likes to protect young minds.

"I'm not telling my kids [daughter Frankie, 4, and son Graham, 6] that I'm in this issue, because I don't want to find myself trying to explain 'sexy' to them."

3 He's not afraid to reveal his flaws.

"I don't do facials or manis or pedis, but my wife [writer Naomi Scott] would probably argue that I should have something done with my toes-because they're disgusting."

ERIC CHRISTIAN OLSEN

The NCIS: LA star has a secret weapon for staying in shape. "My brother, who's also my stunt double and an ex-Navy SEAL, designed a workout for us. We run laps, do push-ups, pull-ups, sit-ups," say Olsen, 35. "Plus, I surf-that's better than any workout because your body gets completely shredded."

CHRIS MESSINA

These days you can't avoid seeing the 38-year-old actor's handsome mug. He plays a doctor on The Mindy Project, a network exec on The Newsroom and a CIA agent in Argo. Says Messina: "Growing up, I wanted to be Gary Oldman, because he's a chameleon-unrecognizable from role to role."

ALEX KARPOVSKY

ANDREW RANNELLS

ADAM DRIVER

Guys OF GIRLS

3 Strange Side Effects From Starring On TV's Raunchiest Show

1 Weird fan interactions.

"A lot of guys feel the need to proclaim their sexuality to me," says Driver, 29. "They say, 'I'm straight, I'm 40, and I watch the show.' I'm like, 'Okay, great.'"

2 You're unfazed by nudity.

"I get to be naked in season 2, and the longer you do it, the more you forget you're naked," says Rannells, 34, who also stars in The New Normal. "I found myself on-set in just a modesty sock, and I'm like, 'I should probably put on some pants.'"

3 You learn to be okay with body quirks.

"I have no pecs," says Karpovsky of his shirtless scenes. "But even if I did, I have such a hairy chest, you wouldn't see them. They'd be like two little huts in a forest."

MAX GREENFIELD

As the jerky, frequently shirtless Schmidt on New Girl, Greenfield, 32, has mixed feelings about disrobing on-camera. "It depends on how tired I am," he says. "I'll see next week's script and I'll go, 'Oh man, I'm so naked!' That determines how often I get to the gym."

JOSH HOPKINS

On Cougar Town, Hopkins, 42, has showcased his knack for writing and playing comedic songs-but don't try to get him to strum you a more heartfelt number. "I'm so afraid of the sensitive guitar-player cliche that when I play a serious song, it's always alone," says Hopkins. "Never for anyone else!"

Luke BRYAN

The country singer provides three reasons why good ol' boys are sexy.

1 "Women will always be attracted to the jeans and boots deal," says Bryan, 36.

2 "Women associate a country boy with being a gentleman."

3 "We've got our romantic ways."

MATT BOMER

The White Collar star was game to moonlight as a stripper in Magic Mike. "In drama school I took movement classes, but nobody perfects gyrating in a thong," says Bomer, 35. "They made it look like I knew what I was doing."

JOHN CHO

What was the most romantic night of the Go On star's life? "My wife [actress Kerri Higuchi] and I were in Paris years ago," recalls Cho, 40. "It must have been like 2 in the morning, and we got lost. There's just something about that city at night that makes me nuts in that way. That walk was the best-I just remember being wonderfully lost."

Nacho FIGUERAS

Life isn't always easy for the man who's both a Ralph Lauren model and a professional polo player. "Right now I have a black eye—I got hit with a polo mallet last week," says Figueras, 35. "But I don't worry too much about my face. I'm an athlete, so the sport comes first over modeling."

SKYLAR ASTIN

The Pitch Perfect hottie is loving being in his mid-20s. "At 25, I'm much more confident, which is the key," says Astin. "I know what I want, and I know what I can offer in dating, in my career and in life in general."

TERRY CREWS

The Old Spice hunk has wrestled with his inner sexy beast. "I was always insecure as a kid, and I didn't feel like I was handsome," says Crews, 44, who also appeared in The Expendables 2 this year. "But you learn that sexy is more about being a good person. I'm just so happy to be included in this honor. If I can be sexy, anybody can be sexy! For real."

Paul RUDD

When does the This Is 40 star feel at his best? "When I'm completely cracking up with my kids," says Rudd, 43. "When we're on a huge laughing tear, that's the best."

OSCAR PISTORIUS

The South Africa native, who went from having his legs amputated when he was 11 months old to running in the London Olympics, now has a world-wide fan base. "I had thousands of messages on Twitter during the Olympics," says Pistorius, 26, who works hard at keeping his body in top shape but isn't keen on stuff like getting facials. "I'd rather just put mud on my face and hope for the best."

HOLDEN NOWELL

The model from the "Call Me Maybe" video wants you to know that he's way more than just a pretty face. "I'd love to be a multiplatinum recording artist," says Nowell, 23. "I really love to act too, and I genuinely have the passion and talent to back it up."


Advertisement
Treat Yourself! 4 Preview Issues
The most buzzed about stars this minute!