On Newsstands Now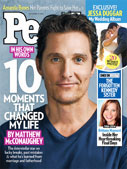 Matthew McConaughey: In His Own Words

Jessa Duggar's Wedding Album

Brittany Maynard's Final Days
Pick up your copy on newsstands
Click here for instant access to the Digital Magazine
People Top 5
LAST UPDATE: Tuesday February 10, 2015 01:10PM EST
PEOPLE Top 5 are the most-viewed stories on the site over the past three days, updated every 60 minutes
Picks and Pans Main: TV
A Very Good Bet
PBS, check local listings |




DOCUMENTARY
Director Ken Burns, whose calm, slightly wistful approach to history was practically robust in last year's Prohibition, now bows his head and trudges into the woeful desolation of America's Dust Bowl. What began as a rush to uproot the Great Plains' deep-rooted grasses and create farms-an agricultural boom-turned into a disaster in the 1930s as crops died beneath rainless skies. Winds churned the landscape into towering dirt clouds, some of which left deposits even in the East. The heartbreak here—especially the cases of poor children who died of "dust pneumonia"-is tremendous.
The Good Wife
CBS, Sundays, 9 p.m. ET/PT |




DRAMA
Now in its fourth season, Julianna Margulies's law-firm drama is like Caesar's wife: Because it so scrupulously observes the highest standards, to find fault with it is very serious business. There have been small but justified grumbles, for instance, about the British thug married to cunningly self-protective investigator Kalinda (Archie Panjabi). You just don't expect to find some Clockwork Orange creep defiantly slumped down in the expensive office furniture. But the show this season is full of brilliantly cast guest stars, including Maura Tierney as a gazillionaire who's too principled for her own good, and a buttoned-down Nathan Lane as a financial overseer with something up his cuff-linked sleeves. They're delightful.
COMMENTS? WRITE TO TOM: tomsreviews@peoplemag.com
The X Factor's got Britney Spears, but rival The Voice has everything else.
Watching the two music shows currently throwing down in prime time, I couldn't tell you whether a legitimate singing talent will ever emerge-I won't live that long-but NBC's The Voice is the clear winner over FOX's The X Factor. With Christina Aguilera, CeeLo Green, Adam Levine and Blake Shelton as coaches, The Voice has a noisy, raw gladiatorial energy that makes the competition a sort of musical WWE. It just rips along. The X Factor, presided over by Simon Cowell, is a more lavish pop production-contestants perform on an enormous set that reduces them in scale to a dog act. The X Factor has bet heavily on bringing in powerhouse judges like Britney Spears and Demi Lovato (with whom Cowell bickers) and hiring Mario Lopez and Khloé Kardashian Odom as cohosts. In his smiling smoothness, Lopez seems to regard her much as a magician might a woman to be sawed in half. The show's Big Kahuna is Spears. She generates such on-camera star presence that I wait on her every word. And most of those words are really boring. The X factor—she's it. THE VOICE:




THE X FACTOR:




YOU'VE GOTTA SEE THIS...
INVENTING DAVID GEFFEN
An American Masters portrait of the producer mogul (right), whose achievements include records, movies and an affair with Cher. PBS, check local listings.
OPRAH'S FAVORITE THINGS: 2012
It's beginning to look a lot like Winfrey, as she revives her gift-happy tradition. OWN, Nov. 18.
BAD25
Director Spike Lee's behind-the-scenes documentary about Michael Jackson's landmark 1987 album. ABC, Nov. 22.
REBOOT BABY
Up All Night-about two new parents (Will Arnett and Christina Applegate) and the wife's talk- show-diva boss (Maya Rudolph)-had a nice if underwhelming first season. This, someone reasoned, was not eliciting enough viewer goo-goo-gagas. So season 2 was tweaked. The diva, now jobless, is more like an eccentric neighbor, and the wife has a chummy Neanderthal brother. It's still a great cast, but there's a whiff of baffled frustration. And a second reboot using a different shooting technique is expected. Let's just call it a day, hey?




When a critic gives a thumbs-up to a fall pilot, that's a pact with the devil. There's no guarantee future episodes won't be Satan's weaker spawn, limping and sniveling. But ABC's Sunday horror show 666 Park Avenue remains good Gothic trash. The story, about an apartment that gobbles up tenants, is satisfyingly lurid, and there are evil real-estate schemes that would make Donald Trump's hair fly off like the witch's broom it is. The one surprise so far is that Vanessa Williams, the wife of sinister building owner Terry O'Quinn, is touchingly vulnerable. When have you ever been scared for her?




DEAD MAN WALKING?
FANS ARE SPECULATING THAT YOUR CHARACTER DECLAN PORTER IS THE ONE TO BE KILLED OFF THIS SEASON.
It's been set up to make people suspect that it would be me or Nick [Wechsler]. But I honestly don't know. I'm as curious as anyone else!
DO YOU WORRY FOR YOUR JOB SECURITY?
Not particularly. The show is what it is. The majority of us are fair game. We could all die. If it were to be me, I'd be the first principal character to bite the dust, but I would be honored.
HAVE YOU EVER SOUGHT REVENGE YOURSELF?
Whenever I get cut off on the freeway, I pretend to think of ways to cream them, but it's all in my mind!
Father (Figure) Knows Best
REVOLUTION TAKES PLACE IN A FUTURISTIC SOCIETY WITHOUT ELECTRICITY. WOULD YOU BE ABLE TO HANDLE THAT?
I'm not an outdoorsy guy at all, but I could do fine except for when it comes to recorded music. From age 15 to about 25, I was playing in rock bands. Not being able to have music would be killer.
IS YOUR DAUGHTER BLUESY, 4, MUSICAL LIKE YOU?
She is showing signs. I'm trying to harness that without being pushy. I want her to do what she wants. If she wants to be a scientist that'd be great too.
YOU PLAYED KRISTEN STEWART'S DAD IN TWILIGHT. DID BEING A DAD PREPARE YOU FOR THAT?
[My wife and I] were expecting during the first film, so I had no idea what being a father was about. I had to go on instinct. When I met Kristen, I treated her like a human being; we have a mutual respect. That is how I would look to treat my daughter as time goes on.
One of fall's best new dramas, CBS's Vegas is a '60s period piece set amid the swank casinos of the rising gambling capital-and there, speaking with a cranky huskiness that suggests Clint Eastwood arguing with a chair, is rancher and sheriff Dennis Quaid. Solving crimes, he's destined to stick his nose into the activities of crime boss Michael Chiklis. There'll be fireworks-and neon!




The Dust Bowl
Advertisement
Today's Photos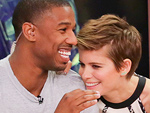 Treat Yourself! 4 Preview Issues
The most buzzed about stars this minute!