On Newsstands Now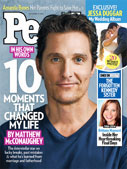 Matthew McConaughey: In His Own Words

Jessa Duggar's Wedding Album

Brittany Maynard's Final Days
Pick up your copy on newsstands
Click here for instant access to the Digital Magazine
People Top 5
LAST UPDATE: Tuesday February 10, 2015 01:10PM EST
PEOPLE Top 5 are the most-viewed stories on the site over the past three days, updated every 60 minutes
Picks and Pans Main: TV
Ben & Kate's Dakota Johnson
A&E, Dec. 2, 10 p.m. ET/PT




REALITY
In times as economically tough as these, Be the Boss is employment porn. Each week two contestants, both working for the same company, vie for a promotion that turns out to be-ta-da!-their own franchise outlet. (Participating companies include Auntie Anne's, maker of soft pretzels, and the cleaning service Molly Maid.) The premiere, with a Complete Nutrition franchise as the prize, is full of soft, unexciting face-offs that belong in a corporate-orientation film. I have never so longed for Donald Trump and his pompous squint.
Killer Karaoke
truTV, Fridays, 9 p.m. ET/PT




REALITY
Extreme-sport karaoke apparently is an idea whose time has come-someday maybe we'll have opera baritones on Wipeout. Jackass star Steve-O hosts this idiotic but highly watchable show on which contestants sing pop songs in the midst of Fear Factor obstacles. My favorite challenge on the premiere had a young man forced to wear vision-distorting goggles and balloons while walking through a garden of cacti. (His musical selection: "You Are So Beautiful.") There was a python too. Asked by Steve-O how he liked the trip, he answered, "It was [bleeping] terrible, man!" Exactly as it should be.
COMMENTS? WRITE TO TOM: tomsreviews@peoplemag.com
WHAT'S STILL WORTH WATCHING?
You won't go wrong with country queens or Sherlock Holmes, but steer clear of that blackout
STOP WATCHING
REVOLUTION
NBC's fantasy about an America without electric power will soon go on hiatus, which gives me an excuse to pull the plug. Ratings are good, yes, but when an episode's heart-stopping drama focuses on preventing an old train from going to Philadelphia, you've got one puny postapocalypse.
KEEP WATCHING
ELEMENTARY
Jonny Lee Miller plays a modern Sherlock Holmes just out of rehab for CBS's new crime show, and he brings just the right amount of rattled, rattling intelligence. You can sit back and chill out: Miller will supply all the thinking.
KEEP WATCHING
NASHVILLE
This fine-tuned drama about the circles surrounding two country-music queens (Connie Britton and Hayden Panettiere) doesn't have the desperate glamour of other ABC series like Revenge, but it's much more serious about creating a real sense of place. Heck, just stay for the music.
KEEP WATCHING
THE MINDY PROJECT
If the pilot of Mindy Kaling's FOX sitcom about an OB/GYN was overrated-too much adorableness-it hasn't gotten enough attention since. At its heart is Kaling's friendly antagonism with fellow doctor Chris Messina. Their duel of words is glancingly, sharply sexual: insults as seduction.
STOP WATCHING
THE NEW NORMAL
The pilot of this NBC sitcom about gay fathers-to-be was promising but busy-and the show remains a big, ungainly baby as it tries to fit in an undereducated surrogate mother and her bigot grandmother (Ellen Barkin in an unpleasant role). So this half-hour comedy is tackling both gay rights and class issues. That's a lot.
STILL BLAZING-LY FUNNY
YOU JUST TURNED 86. HOW DO YOU STILL HAVE SO MUCH ENERGY?
I eat two or three bananas a day. I try to stay away from sugary drinks because you get a high, but you get a low when the sugar goes away. I think the bananas are working.
THE HBO SPECIAL BRINGS UP A LOT OF SURPRISING DETAILS. I DIDN'T KNOW YOU WERE IN THE MILITARY.
I was short, so a lot of things went over my head.
AND YOUR NEW DVD RETROSPECTIVE, THE INCREDIBLE MEL BROOKS, HAS WONDERFUL SCENES OF YOU WITH YOUR LATE WIFE, ANNE BANCROFT.
Sometimes it's hard to watch because I miss her so much, but it's so joyful to hear her singing. She could sing and dance better than anybody. I miss her a lot.
WHAT TV MAKES YOU LAUGH THESE DAYS?
Saturday Night Live. The boys and girls are terrific. I never fail to watch it.
DO PEOPLE ASK YOU FOR ADVICE?
I tell everybody, "Don't pay full price. Say you're a student!"
The season 3 premiere of Downton Abbey-Jan. 6 on PBS-is just a month away. Here's how to prepare:
DON'T GOOGLE!
You may stumble on spoilers posted by viewers who already watched the season in Britain, where it just aired. I made this mistake and I cried.
KNOW YOUR ABBEY
How did Bates's wife die? If you answered, "Stabbed by Maggie Smith," you need to rewatch.
MOVE TO BRITAIN
If you must have it now, hop across the pond: Rent a manor, settle in and watch the Christmas special.
YOU'VE GOTTA SEE THIS ...
BOARDWALK EMPIRE
Steve Buscemi's portrayal of a crime lord has grown more monstrous-also more human. End to a strong third season. HBO, Dec. 2.
BLAKE SHELTON'S NOT-SO-FAMILY CHRISTMAS
Surely it's not that irreverent. The Voice judge and country star gets a holiday special. NBC, Dec. 3.
THE WALKING DEAD
Time-out, zombies! Season 3, which brought us sullen, sword-swingin' Danai Gurira, pauses until February. AMC, Dec. 2.
ANIMAL INSTINCTS
HOW DO YOU TRAIN FOR YOUR EXPEDITIONS?
If I'm dealing with lions or doing something inherently dangerous, my trainer and I watch tape of the animal attacking things so we can design those movements into workouts. For Frontier Earth you just make sure you don't look fat on-camera!
IS IT ODD TO BE WITH HUMANS AFTER A LONG TIME IN THE WILD?
Dating is tough. I'm gone almost the whole year, and if I meet somebody, my job is a weird discussion. People look at you like, "Are you for real? You're creepy."
WHAT DO YOU BRING ON YOUR TRIPS?
A head torch, my knife, coffee and some kind of Clif bar. And I always make sure to pack a clean set of clothes.
WHY?
One time I had to quarter a dead zebra for lions and my flight to L.A. was pending. I went to the airport covered in blood and guts, sat down, and the guy next to me goes, "I need to be moved." Luckily they gave me pajamas from first class, but ever since then-clean clothes!
FX's American Horror Story: Asylum has opened a sluice gate and let all kinds of gunk pour out, from Nazi surgeons to skin-peeling serial killers. It's way too much. But the show has also given viewers a gift: Lily Rabe. She plays Sister Mary Eunice, a pert young nun who-since her demonic possession-is about as sexually inhibited as Jessica Rabbit. Rabe's clipped, comical style makes Mary Eunice stand out like a beacon of-well, insanity. But still a beacon.
MY FAVORITE TV SIBLINGS
WAYNE & KEVIN ARNOLD
THE WONDER YEARS
That's the quintessential brotherly relationship. My two older brothers [Jesse and Alexander] were like that: beating each other up and rolling around the house.
On her FOX sitcom, Johnson, 23, plays a single mom with an offbeat brother (Nat Faxon).
DEE DEE & DEXTER
DEXTER'S LABORATORY
The best ever! Dexter is pissed all the time and Dee Dee is crazy and annoying him. That's very realistic for what sibling relationships are like.
MARCIA & JAN BRADY
THE BRADY BUNCH
I always loved Marcia and Jan because they fight all the time, but they are completely different people. Jan was always planning Marcia's demise. I can relate to that.
STEPHANIE & D.J. TANNER
FULL HOUSE
Sisters are not this sweet in real life. They were like, "Let me teach you a lesson, but I love you." Only maybe on Keeping Up with the Kardashians do they do that!
FERGUSON & CLARISSA DARLING
CLARISSA EXPLAINS IT ALL
The annoying each other is very realistic. In real life my brothers and I don't fight, but my sister [Stella] will come steal my clothes, so we fight about that!
Be the Boss
Advertisement
Treat Yourself! 4 Preview Issues
The most buzzed about stars this minute!