On Newsstands Now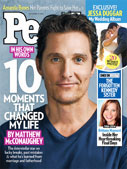 Matthew McConaughey: In His Own Words

Jessa Duggar's Wedding Album

Brittany Maynard's Final Days
Pick up your copy on newsstands
Click here for instant access to the Digital Magazine
People Top 5
LAST UPDATE: Tuesday February 10, 2015 01:10PM EST
PEOPLE Top 5 are the most-viewed stories on the site over the past three days, updated every 60 minutes
Picks and Pans: Movies
Behind the Seams
Bradley Cooper, Jennifer Lawrence, Robert De Niro | R | 4 Stars
COMEDY/DRAMA
If Silver Linings Playbook were a person-a loud, pushy, manic, funny, neurotic rage monster-you'd mow down old ladies to get away from him. But as a film? You won't want to budge. Based on Matthew Quick's '08 novel about a man fighting to rebuild his life in the face of mental illness, Silver Linings bursts with so much charm, energy and wit, it's a miracle the film knows what to do with it all.
Cooper stars as Pat Solatano, a teacher sprung (too?) early from a mental facility after, well, let's call it an understandable psychotic break. Moving in with his folks could lead to another. Pat's mom, Dolores (Jacki Weaver), means well, but his dad, Pat Sr. (De Niro), is so obsessed with the Philadelphia Eagles and good-luck charms, it's fair to question his sanity too. Then there's neighbor Tiffany (Lawrence), a damaged young widow who knows her pharmaceuticals as well as Pat does, but who also might be the straightest arrow in this warped quiver.
Cooper grounds the film with an assured, likeable performance (no easy trick with a character this explosive), but the standout is the Oscar-worthy Lawrence. She veers from hilarious to haunted in a flash, flaunting a range only hinted at in Winter's Bone and The Hunger Games. But then, the entire film is masterful, from the bold script to David O. Russell's kinetic direction to the wonderful supporting cast. It might be the best-and most unlikely-date movie of the year.
Anna Karenina
Keira Knightley, Jude Law, Aaron Taylor-Johnson | R |




DRAMA
Don't yawn yet. Granted, after a century of adaptations, we have a right to be tired of Tolstoy's Russian society wife, Anna (Knightley), who ditches her life for playboy Vronsky (Taylor-Johnson). But surely there's room in our hard, literary hearts for a film this audacious? To emphasize the artifice of Anna's world, director Joe Wright and writer Tom Stoppard set much of the film onstage, the actors gliding as if choreographed. It's like a musical, minus the singing. The gimmick-and at bottom, that's what it is-makes Anna's stiff husband, Karenin (a fantastic Law), more relatable, even as it blunts the emotional impact of Knightley's fine turn. But perhaps the best thing about this Anna is that it plays up the novel's other couple, Kitty (Alicia Vikander) and Levin (Domhnall Gleeson). They're the true romantics.
COMMENTS? WRITE TO ALYNDA: alyndasreviews@peoplemag.com
SKYFALL' S NAOMIE HARRIS
1. SHE'S A NEW KIND OF BOND GIRL.
"Eve is a Bond girl like no other in the sense that she's an equal to Bond," the British-born actress, 36, says of the crafty MI6 field agent she plays opposite Daniel Craig in Skyfall. Like her character, "I will use my charm and accent in getting what I want," says Harris, who broke out in the Pirates of the Caribbean films. "And now that I discovered I have a taste for guns, you don't want to mess with me!"
2. SHE LOOKS LIKE THAT WITHOUT THE GYM.
"For someone who doesn't do any exercise, having to do physical work for two months, five days a week of combat training and running, was hell," Harris says of preparing for the role. "Once I got past the pain, I started to love the benefits. I still hate exercising though."
3. SHE AND DANIEL CRAIG BONDED.
"Daniel is really hot, but he's also a nice guy. Whenever I would mess up, he'd say, 'Actually it was me! I didn't hit my mark.'"
4. she's a reformed bad driver.
For the opening action sequence, Harris went to driver's school. "I can parallel park and do three-point turns," she says. "Before, I had six car accidents. I'm much better now, I promise!"
MACKENZIE FOY
HOW DID YOU FIND OUT YOU WON THE ROLE OF RENESMEE?
I had just finished schoolwork, and I flopped down on the bed like, "Ugh! Done!" Then I got the phone call, and I was like, "Are you serious?" I was superhappy. My mom and I celebrated with bananas and graham crackers.
YOU GET TO BE HALF-VAMPIRE!
It was really cool. It was fun wearing the wig because I got to have superlong hair. I've always wanted that hair.
DID YOU HANG WITH THE CAST?
I had American Idol night with Miss Nikki [Reed]. And Taylor [Lautner] taught me to play football, kind of. I wasn't good at it.
DRESSING LINCOLN
"Every emotion Mary ever felt was right there on her face," says Sally Field, who plays the First Lady in the new historical drama. "Lincoln showed least what he felt most." For costume designer Joanna Johnston, that idea extended to their clothes. Says Johnston: "He was utilitarian. Mary was elaborate and over-futzed."
Played by Daniel Day-Lewis, Lincoln was no fashion plate. "They considered him sloppy," says Johnston. "Clothes for him were something to hold off the weather." For Day-Lewis, Lincoln's signature frock coat "became a type of armor," says Johnston. "Putting it on every day became part of his process."
Just getting to wear the Union blues was a battle for oldest son Robert Lincoln, played by Joseph Gordon-Levitt. "His parents didn't want him to enlist," says Gordon-Levitt. Re-creating the uniforms for Lincoln was an exacting process for Johnston. "I'm a daughter of a military man," she says. "I was very keen to get the uniforms as accurate as possible."
To create this cream-colored evening gown, Johnston took elements from three separate historical dresses worn by Mary Todd Lincoln. "She over-decorated herself to compensate for the fact that she wasn't a great beauty," she says.
Silver Linings Playbook
Advertisement
Treat Yourself! 4 Preview Issues
The most buzzed about stars this minute!