People Top 5
LAST UPDATE: Tuesday February 10, 2015 01:10PM EST
PEOPLE Top 5 are the most-viewed stories on the site over the past three days, updated every 60 minutes
Picks and Pans Main: TV
Barbara's Favorite Word
Discovery, Dec. 11, 10:30 p.m. ET/PT |




REALITY
It's hard to imagine a reality concept that could top one about Amish enforcers who help their community fight crime and sin. Maybe Amish SWAT or Extreme Barn Makeover? Lebanon Levi and his team, who all seem to be under the impression that Lancaster County exists somewhere in the mind of Quentin Tarantino, go after reckless drivers from the outside and Amish leaders with a taste for hookers. The music is full of confrontational dread, and the guys own hit-man-caliber rifles, but most scenes (which a credit note informs us involve re-creations) aren't much worse than what you see when a consumer reporter shames a business on the local news. It's more shoofly than pie, but amusing.
Six Little McGhees
OWN, Dec. 15, 10 p.m. ET/PT |




REALITY
The McGhee sextuplets gained Internet fame (and an appearance on Oprah) after their mother posted a sweet family portrait on Facebook in 2010. In this new reality show, they're on the cusp of the Terrible Twos and still adorable. Their parents, Mia and Rozonno, fell in love in high school and treat each other with friendship, respect and love: They're adorable. In short, there's nothing wrong with the show other than the fact that, even in a household that has to conform to the needs of six little children-especially in such a household-routine will take shape amid all the chaos. So the whole thing left me kind of sleepy.
COMMENTS? WRITE TO TOM: tomsreviews@peoplemag.com
The political soap Scandal is so much fun, it's delectable-even electable
Heading to the halfway mark in season 2, Scandal (ABC, Thursdays, 10 p.m. ET/PT) has lucked into a bit of synchronicity with the crazy Petraeus affair. It no longer seems unlikely to me that a high-level cabal-including the First Lady!-would sit around in lordly power, like a bunch of Thundercats, and pull most of the strings in Washington, D.C. Created by Shonda Rhimes (Grey's Anatomy), Scandal has come into its own, passionate, wild and, like Joe Biden, unafraid to be ridiculous. Political fixer Olivia Pope (Kerry Washington) has invested a great deal of emotional effort into ending a fling with President Fitzgerald Grant (casually, flawlessly handsome Tony Goldwyn). The Dec. 6 episode practically swoons its way through their backstory. Olivia's crack team of crisis managers should probably be of more interest, but the power elite-including Jeff Perry as a hard-headed Chief of Staff, occasionally flummoxed by having to run interference-are having too good a time throwing their weight around. And Washington is a wonderful figure of romance. Strong in an emergency, she no sooner turns a corner than her delicate mouth crumbles and her eyes well up over the pain in her heart. Obviously this isn't The West Wing. It's lighter, smaller-West Condo!-but still a pleasure.




YOU'VE GOTTA SEE THIS...
VEGAS
A casino showgirl is murdered, and Dennis Quaid can be expected to grumble, squawk and swing his long legs through to the case's solution. CBS, Dec. 11.
NEW GIRL
Zooey Deschanel and her friends hit a string of lousy holiday parties, one involving a cranberry stuck in an ear. FOX, Dec. 11.
MODERN FAMILY
Julie Bowen and Eric Stonestreet, whom you wouldn't trust to flip a pancake together, try to do just that with a house. ABC, Dec. 12.
GETS INTO THE HOLIDAY SPIRIT
YOU'LL HOST OUT OF NEW YORK CITY FOR A WEEK. ANY PLANS WHILE YOU'RE IN TOWN?
I never have enough time to do all the stuff I want to do. My friends and I will go to Bryant Park to have cocoa and skate, and I always eat at Balthazar. I'm a huge Francophile. I speak French, I've been to France three times, and for me, it's the closest to the bistro experience.
HOW WILL YOU SPEND THE HOLIDAYS?
After we wrap, I'll spend two weeks focusing on volunteerism and taking it easy. I'll put on sweatpants and won't take them off until January.
NO WILD NEW YEAR'S PARTY?
My husband [lawyer Jeff Tietjens] and I have a sleepover with friends. We put on Sinatra and have steaks and martinis. The next day we all watch football. Sleepovers are wasted on kids. They're so much more fun when you can drink!
Fascinating adjective 1. Generating sufficient buzz to be snagged by the ABC News veteran for her year-end special, Barbara Walters Presents: The 10 Most Fascinating People of 2012. Examples: Argo director/star Ben Affleck; boy band One Direction; New Jersey governor Chris Christie. 2. Descriptive of (a) Walters's relentless drive after such stars-this is her 20th Fascinating special-when by now anyone else might say, "Let's farm it out to Whoopi this time" or woolgather ("If I had a time machine, I could do a sit-down with the historically fascinating. It would be easy to make Mary Todd Lincoln cry!") (b) Walters herself-at least for all that contact buzz. On to 2013, Barbara!
Amish Mafia
Advertisement
Today's Photos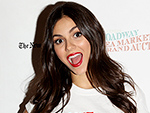 Treat Yourself! 4 Preview Issues
The most buzzed about stars this minute!