People Top 5
LAST UPDATE: Tuesday February 10, 2015 01:10PM EST
PEOPLE Top 5 are the most-viewed stories on the site over the past three days, updated every 60 minutes
Picks and Pans Main: TV
Rizzoli & Isles' Sasha Alexander
Lifetime, Nov. 25, 9 p.m. ET/PT |




DRAMA
Completely miscast as Elizabeth Taylor, Lindsay Lohan makes a reckless but brave dive into a pool that anyone can see is empty. And yet she survives. The Liz showcased in this unrevealing bio is Taylor in the years of her stormy, world-publicized life with Richard Burton (Grant Bowler). By this point in her career, nearing 40, the legendary beauty was giving way to the gauzy celebrity who sailed through decades on a golden barge rowed by paparazzi. Lohan suggests this Taylor in a few carefully lit close-ups: She's gorgeous, full-faced, worn. But she has none of La Liz's generously displayed voluptuousness, none of the sloppy good humor that endeared her to the public ... not even that glass-scratching voice. This is not Julianne Moore as Sarah Palin. But Lohan, despite all her career troubles, is still a star, and one star playing another makes for a fascinating performance, if not a great or even good one. Lohan attacks the part with a relentless, huffing-and-puffing determination that rivets attention-it's an approach not much different from Taylor's own performances. And while Bowler (Ugly Betty) is a flawless Burton, Lohan's single-minded fierceness obliterates him. Jack Black could have played Dick, and I wouldn't have noticed.
Go On
Tuesdays, 9 p.m. ET/PT |




WORTH ANOTHER LOOK!
COMEDY
When Go On premiered in August, I wrote that this show about a grieving sportscaster and his eccentric support group wasn't the right vehicle for Matthew Perry. Surrounding such a subtle comic actor with a cast of zanies, it seemed, was like sending a man on stilts out onto a floor of bumper cars. But I was wrong. Go On has become a gently silly, exceptionally kind comedy about overcoming the blows of life. Even Perry's conversations with the spirit of his dead wife politely fade in and out without being mawkish. And the zanies, like Perry, are just lost souls trying to latch onto happiness. When two of them danced in honor of old musical star Cyd Charisse, I sort of melted.
COMMENTS? WRITE TO TOM: tomsreviews@peoplemag.com
YOU'VE GOTTA SEE THIS ...
THE REAL HOUSEWIVES OF ATLANTA
NeNe (left) is involved in a snafu over a non-invite. Bravo, will we never know peace? Nov. 25.
DANCING WITH THE STARS: ALL STARS
Finale to a season in which judge Carrie Ann Inaba, overexcited by a rumba, accidentally flung herself to the floor. ABC, Nov. 27.
CHRISTMAS IN ROCKEFELLER CENTER
Mariah Carey will sing in front of a 10-ton, 80-year-old tree. How's that for holly jolly? NBC, Nov. 28.
Nuclear arms, crime, neofascism-such headlines drive season 2 of The Hour, the clever British drama about a news team struggling to cover the grim, ragtag 1950s. It doesn't help that their star anchor (Dominic West) is drinking too much. I'll take Hour's rather sour worldview-deadlines in deadly times-over the grand uplift of HBO's The Newsroom. In a nanosecond.




WHAT I'VE LEARNED FROM MY KIDS
MANNERS ARE A MUST
I was raised having respect for people, and I want that for my kids [Lucia, 6, and Leonardo, 23 months]. You're the mother, not their buddy. You can't let a 2-year-old run your household!
FAMILY IS EVERYTHING
My kids are spoiled with kisses and hugs. My mother-in-law [Sophia Loren] loves music. We'll have a dance party, and she'll sing along.
THEY'LL TRY TO OUTSMART YOU
My kids speak Italian with their father [director Edoardo Ponti], English with me and French with their nanny. Lucia said to her friend once, "Let's talk in French so my mom can't understand!"
IT'S OKAY TO TAKE A TIME OUT
My husband and I have standing weekly massages on Sundays. Or I just flop on the bed and watch The Walking Dead.
WHEN ALL ELSE FAILS, TRY CHOCOLATE
When I go to Europe, I always bring back their favorite thing: Kinder Egg chocolates. I call them the ultimate bribe.
Liz & Dick
Advertisement
Today's Photos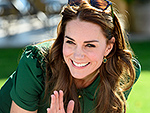 Treat Yourself! 4 Preview Issues
The most buzzed about stars this minute!