On Newsstands Now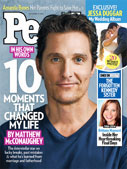 Matthew McConaughey: In His Own Words

Jessa Duggar's Wedding Album

Brittany Maynard's Final Days
Pick up your copy on newsstands
Click here for instant access to the Digital Magazine
People Top 5
LAST UPDATE: Tuesday February 10, 2015 01:10PM EST
PEOPLE Top 5 are the most-viewed stories on the site over the past three days, updated every 60 minutes
Picks and Pans: Movies
Quvenzhane Wallis
Hugh Jackman, Anne Hathaway, Russell Crowe, Amanda Seyfried PG-13 |




MUSICAL
I admit to nothing. I will not confess to sobbing-twice-during director Tom Hooper's adaptation of the hit musical. That never happened. I certainly did not gasp when Hathaway, broken and degraded as Fantine, forced to sell her teeth and her body to feed her child, utterly crushed her solo, "I Dreamed a Dream," by beckoning the audience in instead of belting. There is no evidence that I said that Jackman and his glorious tenor could rival Daniel Day-Lewis for an Oscar. And I emphatically do not support the notion that Les Miserables is one of the year's most satisfying films. That giddiness is reserved for "Les Mis" nerds, devotees of Jean Valjean (Jackman), the ex-con who finds God, saves Fantine's child Cosette (Seyfried) and becomes a hero of the Paris uprising of 1832.
No, what a clear-eyed observer like me must note is that, at 160 minutes, the film is too long, with music that doesn't always live up to the story's grandeur. (For a musical that's almost entirely sung through, it's quite talky.) A cynic such as myself might also neglect to mention that My Week with Marilyn's Eddie Redmayne, playing rebel Marius, has a startlingly fine voice, and that while we're talking Oscars, Hathaway damned well better lead that conversation. But I would never, ever gush.
The Hobbit: An Unexpected Journey
Martin Freeman, Ian McKellen, Cate Blanchett | PG-13 |




ADVENTURE
The elegance of The Hobbit, J.R.R. Tolkien's rousing tale of Bilbo Baggins helping a passel of dwarves reclaim their mountain home, is that the epic spans just a few hundred pages. Moviegoers, on the other hand, could have first breakfast, second breakfast and elevenses in the nearly three hours it takes director Peter Jackson to deliver the first third of this trilogy. (Part 2 is slated for next year.) It helps that the cast is so engaging, particularly Freeman as Bilbo, a kind, fussy sort torn between the comforts of his divinely cozy hobbit hole and the promise of adventure. And what adventure it is! Bilbo, wizard Gandalf (McKellen) and the dwarves take on Middle-earth beasts in glorious 3D battles. (Note: Viewers prone to vertigo should see the film in the old-school 24 frames-per-second format.) Like The Lord of the Rings, The Hobbit is violent, but there are sillier bits meant to appeal to kids. Whether they can stick it out through elevenses is another matter.
The Guilt Trip
Barbra Streisand, Seth Rogen PG-13 |




COMEDY
Putting aside the fact that being trapped in a car for a week with anyone is a clear violation of the Geneva Conventions, you really don't want to ride shotgun with Joyce Brewster (Streisand). She's a pushy noodge, needling her son Andy (Rogen), who's on a cross-country quest to sell his miracle cleaning product to stores. Trip ends just the way you want, but it takes too long to get up to speed and is potholed with buddy-comedy cliches. Oy. Here's hoping Streisand gets a better script to lure her back to the big screen again.
Jack Reacher
Tom Cruise, Rosamund Pike, Robert Duvall PG-13 |




THRILLER
To hear Jack Reacher fans tell it, Cruise is too small to play the 6'5", 250-lb. hero of Lee Child's thriller series. I say he's too big-too big a star, that is. The actor never disappears into the role of the military policeman turned drifter who heads to Pittsburgh after hearing about a mass shooting connected to an old case. Reacher soon finds himself working for defense lawyer Helen Rodin (Pike), but the movie seems to be-pardon the pun-on cruise control, with Reacher rotely beating up bad guys in a forgettable plot that strays from One Shot, the novel on which it's based. That's too bad. Jack Reacher deserves a great movie franchise.
This Is 40
Paul Rudd, Leslie Mann, Megan Fox | R |




COMEDY
Director Judd Apatow is running quite the racket. His latest film is a comedy about a family in which his real-life wife (Mann) and daughters (Maude and Iris Apatow) scream at a guy who's not him for more than two hours.
It's not that This Is 40, which advances the story of the sidekick family in Apatow's '07 hit Knocked Up, isn't funny-it has moments of true hilarity. But the gems surface in streams of whiny, toxic arguments between privileged parents Debbie (Mann) and Pete (Rudd, gamely taking the hits). They can't keep up with the mortgage on their posh house, have two beautiful, healthy kids and fun jobs they can't seem to do all that well, but we're supposed to feel for them because-poor things-they're middle-aged and not ready for it. (Who is?!) Still, Albert Brooks and John Lithgow are great as Debbie and Pete's awful fathers. (At least we know where they get it from.)
COMMENTS? WRITE TO ALYNDA: alyndasreviews@peoplemag.com
OSCAR SEASON'S 'IT' KID
BRAVE BREAKOUT
Quvenzhane (pronounced Qua-VEN-ja-nay), 9, has been stunning audiences with her fierce portrayal of Hushpuppy, a bayou girl facing down storms and ancient creatures in Beasts of the Southern Wild. "She's the most fearless person you'll ever meet," says director Benh Zeitlin. "She just comes in a little package."
RED CARPET CHARMER
The Louisiana native, who was just 5 when she landed the role-her first acting gig-is now an awards season darling. "My favorite part is when they take my picture," she says. When the photographers call her name, "I laugh a little in my head."
LOUD AND PROUD
Wallis flaunts a powerful set of lungs in Beasts. She's had plenty of practice. "I screamed like that when my brother was playing basketball," she says. "Every time the other team was about to shoot a free throw, I would scream!"
AND WATCH THIS KID!
In The Impossible, out Dec. 21, Tom Holland, 16, shines as the oldest son of a family torn apart by the 2004 tsunami in Thailand. Already a star of British theater, Holland was named breakthrough performer alongside Wallis by the National Board of Review.
Les Miserables
Advertisement
Today's Photos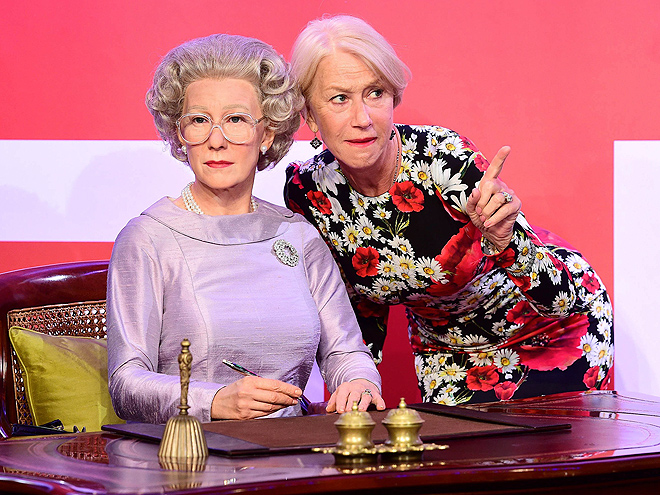 Treat Yourself! 4 Preview Issues
The most buzzed about stars this minute!