People Top 5
LAST UPDATE: Tuesday February 10, 2015 01:10PM EST
PEOPLE Top 5 are the most-viewed stories on the site over the past three days, updated every 60 minutes
Picks and Pans: Books
Catching Up with ...
by Cathy Marie Buchanan |




REVIEWED BY ROBIN MICHELI
NOVEL
Edgar Degas first exhibited his celebrated sculpture Little Dancer Aged Fourteen in 1881. Depicting one of the Paris Opera's "petit-rats," the very young working-class girls of the ballet, the work was hailed as groundbreaking by some and reviled as ugly by others. This deeply moving and inventive historical novel tells the story of the girl who modeled for Degas, Marie van Goethem, as she and her family struggle to survive crushing poverty and cruel prejudices. Buchanan's evocative portrait of 19th-century Paris brings to life its sights, sounds and smells, along with the ballet hall where dancers hunger for a place in the corps and the wages it would bring. But nothing is more real or gripping than the emotions of Marie and her older sister Antoinette, who have to grapple with sexual predation and punishing choices as they fight to endure both physically and psychologically. While their reality is often wrenching, their bond provides sustenance; their tale is ultimately a tribute to the beauty of sisterly love.
People
PICK
Farewell, Fred Voodoo
by Amy Wilentz |




REVIEWED BY ROSS DRAKE
NON-FICTION
Mired in corruption and poverty, Haiti might seem a hard place to love. Not for Wilentz, author of this provocative account of life in the ruins after the 2010 earthquake. Knowing Haiti well, she has no patience with the one-dimensional reporting of journalists who once dismissed natives as so many Fred Voodoos or with celebs who confuse disaster relief with a photo op. She reserves her highest regard for people like the doctor who daily ministers to hundreds and for the Haitians so often presented merely as victims.
She Matters
by Susanna Sonnenberg




REVIEWED BY MEREDITH MARAN
MEMOIR
In her stunning second memoir, a collection of linked essays, Sonnenberg (Her Last Death) finds universal truths in her experiences of female friendship. "Reliable ballast in my daily life," she calls one ex-bestie. About a far more difficult relationship she writes: "Our furious fires had burned everything to the ground." Close bonds between women, she reminds us, may be easy or painfully complex-but they're as necessary as air.
Elimination Night
by Anonymous|




REVIEWED BY JOANNA POWELL
NOVEL
This send-up of American Idol is narrated by an exploited assistant producer at Project Icon. The fictional show (which airs on the Rabbit Network-get it?) has two new judges, aging rocker Joey Lovecraft and diva Bibi Vasquez, known for her hit "Bibi from the Hood"-and egos are clashing in spectacular fashion. It's not clear whether the book's unnamed author is an actual Idol employee, but who cares? Her (his?) faux tell-all rings deliciously true.
The One I Left Behind
by Jennifer McMahon|




REVIEWED BY ELLEN SHAPIRO
THRILLER
Reggie Dufrane was 13 when her mother was abducted by the Neptune serial killer. Her severed hand (Neptune's signature) turned up, but her body never did. Then, 25 years later, she's found alive in a homeless shelter. Reggie, who's tried to outrun her past, returns home to see her mom—and discovers that Neptune may be killing again. McMahon expertly ratchets up the suspense, but it's her full-blooded characters that make this thriller stand out from the serial-killer pack.
COMMENTS? WRITE TO KIM HUBBARD: bookseditor@peoplemag.com
NEW IN PAPERBACK
HOME
by Toni Morrison
In Morrison's brief, powerful latest, a Korean War veteran battling his own demons sets off on a quest to find his fragile younger sister.
ONCE UPON A SECRET
by Mimi Alford
The Kennedy revelations just keep coming. Here, a former intern for JFK describes their affair and its corrosive effect on her life.
THE UNINVITED GUESTS
by Sadie Jones
An effervescent comedy of manners set in an Edwardian country house. Perfect for Downton Abbey season.
In his hotly anticipated new book Fat Chance, Dr. Robert Lustig explains the sweet stuff's evils-and its role in our obesity epidemic.
DOES SUGAR MAKE US FATTER THAN OTHER HIGH-CALORIE FOODS DO?
Potato chips, French fries, etc., can all cause weight gain. But because of its unique metabolism, sugar is what takes obesity to metabolic syndrome, which includes type 2 diabetes and heart disease. And because of sugar's effect on the brain, it causes us to consume more.
SO IT'S ADDICTIVE?
It can be. It's like alcohol. Can you drink a glass of wine a day? How about two? Three? Four? But not everyone becomes addicted. Everyone's threshold is different.
HOW DID OUR SUGAR PROBLEM GET SO OUT OF HAND?
Of the 600,000 packaged foods available in America, about 80 percent have added sweeteners. There are 56 names for it. The food industry hides it.
HOW CAN WE PROTECT OURSELVES?
The best way is to eat real food, which doesn't need a label. The more labels you're reading, the more junk you're buying.
WHAT DO YOU DO AT HOME?
No soda or juice. Dessert is once a week. Also, my wife likes to bake, and she has learned she can adapt any recipe to use one-third less sugar than the recipe calls for. And her cookies and cakes taste better!
VALERIE HARPER
YOUR MEMOIR'S TITLED I, RHODA, AFTER YOUR ICONIC '70S TV ROLE. DID YOU EVER FEEL TYPECAST?
Maybe, but I never stopped working. I just said no to roles that felt like Rhoda. I did play a Jewish New Yorker on Broadway, but she was a very snooty girl. Rhoda would have raked her over the coals.
STILL GET ASKED ABOUT THE SHOW?
Little old Jewish ladies grab my cheeks and say, "I read you're not Jewish. Tell me it's not so." "It's true," I tell them. "But Rhoda Morgenstern will always be Jewish."
DO YOU AND MARY TYLER MOORE KEEP IN TOUCH?
She is a darling. We talk on the phone and laugh all the time. When we last spoke, she filled me in on how her hound dog has been trying to train her four other dogs how to howl. They don't do it very well.
YOU HAD LUNG CANCER IN 2009-HOW'S YOUR HEALTH NOW?
My health is excellent. What I had was isolated, so I didn't have chemo or radiation. I turn 73 in August. I've had a long life and I plan to go on.
GOALS FOR THE FUTURE?
I still don't know how to tweet. But I'm going to in 2013.
The Painted Girls
Advertisement
Today's Photos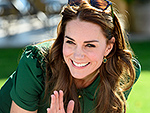 Treat Yourself! 4 Preview Issues
The most buzzed about stars this minute!