People Top 5
LAST UPDATE: Tuesday February 10, 2015 01:10PM EST
PEOPLE Top 5 are the most-viewed stories on the site over the past three days, updated every 60 minutes
Tragedy in Newtown: Remember Forever
Shattered Townspeople Honor Lost Loved Ones and Describe Moments of Bravery After a Gunman Kills 20 First Graders and 6 Adults at a Connecticut Elementary School


I SLEPT WITH JESSE EVERY SINGLE NIGHT. I got a lot of flack for that, but we did it anyway. I knew at some point he wouldn't want to sleep with Mom. We had an evening ritual. I would read Jesse a book. Then I would go read to my 12-year-old son JT. Then I would come back and snuggle up to Jesse. I would always say the same prayer: "Dear Jesus, Thank you for this heartbeat. I know he is a gift from you and you could take him from me, but please don't." Every morning we tickled each other. It was his favorite thing to do.

The last time I saw Jesse was Thursday morning, when his father picked him up. He had written on my car on the side window-it had frost on it-"I love you," and I said, "Oh, Jesse, I have to take a picture of that." Thank God.

On Friday I was going to leave work early to go to school to make gingerbread houses with Jesse. He knew I was coming and was all excited. One of my girlfriends sent me a message saying, "There's been a shooting." I thought, "Oh my God, that's horrible." But you never think it's your child. Jesse's father, Neil [Heslin, of Shelton, Conn.], called to say he was going to the school, so at first I wasn't too concerned.

When Lewis decided she, too, would see what was happening, she found the two-lane road leading to the school clogged with police cars and ambulances.

So I parked on the side of the road and went to the firehouse. They were bringing the kids out, and I was looking for Jesse, saying, "I don't have my child." Police said, "All the parents who have their kids, go over there." And I said, "Where are the other children?" They said, "We don't know, we're doing another sweep of the building. They could be hiding." Somebody said, "I think they took some kids next door." While I ran there, Neil ran to the day-care center. He came back and said, "They're not there." So we came back to the firehouse and waited. But I just kind of knew. All the other kids are gone; we're just sitting there.

An hour or two later, we still don't have our kids. By then my whole family was by my side: my three brothers and three sisters-in-law, my mom and stepfather, with my dad on the way from Arkansas. Around 12:30 p.m., JT texted me from school: "Can you pick me up?" I sent my stepfather, who brought him to me. JT was devastated, just so afraid. I knew I had to remain strong for him, and of course there was still that little shred of hope you have in your mind. So I sat there, literally for hours, hugging JT while he cried. As I cried on and off, I said to JT, "You know what? If Jesse passed, he's with Jesus, and it's okay." And JT would say, "It's not okay." And I would say, "It is okay. We're going to be fine." I don't know where the strength came from. It's like walking through fire. You have to get to the other side. What other choice do you have?

As day gave way to night, Connecticut governor Dannel Malloy assigned each waiting family a state trooper.

You know that's not a good sign. Then the state trooper asks for details about what Jesse looked like, any identifying marks, what he was wearing. He was wearing dark jeans, a long-sleeve shirt with horizontal stripes and slip-on tennis shoes. Very handsome. His hair was brown and cut very short. Then they asked me for a picture. You just have to do it. So we were sitting there, and some doctor came up to us and said, "There's no easy way to say this, but of the children who are missing there are no survivors." JT started crying harder, and I said, "We know where he is, and he is in a better place." JT is having a hard time.

State troopers told Neil that instead of running away from what happened, Jesse ran to it. Something about the positioning of the body, that he was in the hall, not the classroom. He had been helping kids, trying to get them away. With Jesse, I have absolutely no regrets. I loved him to pieces, he knew it, and I knew he loved me to pieces. That is a blessing. Jesse was a gift.

I'm staying at my mom's right now. I can't go back to the house. I'm not capable right now, not strong enough. I had already bought Jesse all his Christmas presents. Often I used to read him Rose's Foal, a children's book I wrote about a mother's love for her child. The very last sentence is, "Love never ends."


Advertisement
Today's Photos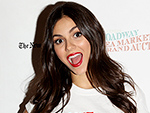 Treat Yourself! 4 Preview Issues
The most buzzed about stars this minute!