People Top 5
LAST UPDATE: Tuesday February 10, 2015 01:10PM EST
PEOPLE Top 5 are the most-viewed stories on the site over the past three days, updated every 60 minutes
Happily Ever After
She'd Never Been in Love-and Never Thought She'd Be a Bride. Grammy-Nominated Singer Kelly Clarkson Dishes on How She Fell for Brandon Blackstock, All Her Plans for Their Fall Wedding (She Has a Dress!) and Why She Can't Wait to Be a Mom
Kelly Clarkson
was about to experience a dream moment for any bride: trying on wedding dresses at Vera Wang's chiffon-and champagne-filled boutique in West Hollywood on Feb. 1. "I was in the changing room, and I looked at my armpits, and I was like, 'Are you kidding me? I look like a cave woman!' " recounts the singer, relaxing a day later in jeans and a hoodie-covered Willie Nelson T-shirt in her adopted hometown of Nashville. "And then I took my pants off, and I was like, 'Oh my God, my legs match!' My nails looked like a hot mess; my eyebrows looked like bushes. I was so not a girl. I started tearing up because I'm like, 'This is not me. I'm usually not this gross. I'm just so busy!' And then on top of that, my friend got incredibly ill like in the movie Bridesmaids. She's like, 'We are totally not going to get asked back here.' "
So things didn't quite go as planned at Vera Wang, but by day's end, the bride-to-be did score the dress of her dreams. And a Grammy dress. And even a Jane Austen-inspired frock for an upcoming family portrait. (More on that in a bit.) The wedding gown "is my personality in a dress," she says. "It's sweetly damaged. A little rock and roll. A little tattered. Nothing like a princess thing!"
And yet, at 30, there is no question that the blunt-talking power-anthem singer-and patron saint of Miss Independents everywhere-is having a major Cinderella moment: Fresh off her triumphant performance at the Presidential Inauguration, Clarkson is nominated for three Grammys at the Feb. 10 ceremony, working on two albums, prepping for a summer tour, renovating a house in Nashville-and, oh yeah, in love for the first time ever and planning a fall wedding with her fiancé, Brandon Blackstock, 36. "I didn't know life could be this happy," she says, moments after showing off her canary yellow diamond engagement ring. In the past, notes the original
American Idol
star, "if somebody would've sent me 'Don't Rush' "-her loved-up new country single with Vince Gill-"I would've laughed in their face. I would've been like, 'That fairy-tale song you just sent me? I can't sing about that. It doesn't exist.' "
She says she had no interest in kissing many frogs along the way. "I've only had three other boyfriends that I dated, and not really seriously," says the Burleson, Texas, native, who first spotted Blackstock-a manager for country star
Blake Shelton
-at a rehearsal for the American Country Music awards seven years ago. "My friend and I had just gotten out of horrible relationships," she recalls. The problem? "I was dating skinny jeans and I needed Wranglers," she says. Soon after, Clarkson spotted Blackstock: "This guy walks by, and I said, 'Like that guy-hot, normal, funny,' because he was making everybody laugh. I said, 'I'm gonna end up with him. I know it.' "
But, as she soon learned, Blackstock was married at the time. (He also turned out to be the stepson of Reba McEntire, who later became her mentor and whose husband, Narvel, now manages her career. Got that?) For the next six years, "I'd go on dates and be like, 'Man, I didn't get that feeling I got that one time [with Brandon]," she says. Then, at last year's Super Bowl, the pair reconnected. "He'd been divorced for a year, and it was kind of like, 'Is this too soon?' But it just worked." A "Mr. Manly Hunter Pilot Guy," Blackstock, says Clarkson, "is everything I ever wanted in a guy." He has even inspired her to face one of her biggest fears and take her first flying lesson recently. "The first 15 minutes I was like, 'I'm never doing this again!' I had a Vulcan death grip on this joystick-looking thing." But by the end, "I was sold," she says. "My whole thing for 2013 is to do something every month that I never thought I'd do."
That includes becoming a stepmom to Blackstock's two kids with his ex-wife Melissa, with whom he shares custody: Seth, 6, and Savannah, 11. "I wasn't really into kids, but Savannah and Seth are so awesome," says Clarkson, who counts homework helper among her favorite new duties. "We're gonna wait a bit, obviously, but we'll totally have a kid."
First, though, comes the wedding, an outdoor affair that the couple are planning for early fall at their Nashville home (see box, page 82). It was there that Blackstock proposed in December. "We have this amazing downstairs basement-pool table, darts, Mario Bros., movie theater. We always play darts and drink beer and listen to vinyl," she says. "That's our thing." Blackstock had intended to pop the question during a darts game, "but out of nowhere I just said, 'Thanks for being an awesome guy,'" she recalls. "I've never been loved properly by a man, and I was just like, 'I thank you so much for that.' Then all of a sudden he leans in and kisses me and he's on his knee. Still at this point I'm like, 'Did he drop something?' Not a damn clue! If I did I would have worn something besides Uggs and a sweatshirt with no bra." When she finally realized what was happening, "I was like, 'Are you gonna put the ring on?' And he looked up and was like, 'Well, usually at some point the girl says yes or no.' And I'm like, 'Oh! Obviously yes!' "
The big moment-minus the darts and Uggs-brought to life the sort of swoon-worthy romanticism that Clarkson had long believed existed only in her favorite Jane Austen novels. She's such a superfan that she's planning an upcoming family photo session in period-inspired garb at the Temple of Apollo on an estate in England where the 2005 film adaptation of
Pride and Prejudice
was shot. "We're getting decked out. Brandon's gonna look like Mr. Darcy!" Clarkson gushes. For the self-described "hopeless romantic," it's the ultimate happy ending. "I don't even know how to not be cheesy about it," she says. "I finally feel like for once, I don't have to be so independent. He's someone who looks out for me. I always wanted that in a man. It's the most exhilarating feeling. And the most safe feeling too."
Advertisement
Today's Photos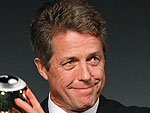 Treat Yourself! 4 Preview Issues
The most buzzed about stars this minute!