People Top 5
LAST UPDATE: Tuesday February 10, 2015 01:10PM EST
PEOPLE Top 5 are the most-viewed stories on the site over the past three days, updated every 60 minutes
Picks and Pans: Music
The Grammy® Grapevine
My True Story |




POP
If ever there was an album that Aaron Neville was born to make, it's this collection of doo-wop classics. The crooner's fluttery, buttery tenor-just as rich as it ever was-fits tunes such as "Be My Baby," "Tears on My Pillow" and "Under the Boardwalk" like a crushed-velvet glove. This labor of love was produced by Don Was and Keith Richards, who also sits in on guitar, and while there are no real surprises here, it's all so tenderly rendered that it doesn't matter. And with Neville having started his career in the '60s, it serves to bring the now-72-year-old's story full circle.
CATCH THE 55TH ANNUAL GRAMMY AWARDS SUNDAY, FEB. 10, 8 PM EST ON CBS
COMMENTS? WRITE TO CHUCK: chucksreviews@peoplemag.com
WHY POP NEEDS JUSTIN BACK
Justin Timberlake has announced his return to music-and we can all do a happy dance. He's already released his first new song since 2006-the debonair "Suit & Tie," which comes decked out in '70s-soul horns and loverman lyrics, topped off with some hip-hop swagger courtesy of Jay-Z-and his third solo album, The 20/20 Experience, is to follow later this year. His voice has been missed-not just as a singer but as a superstar. With Michael Jackson gone, the original Justin (sorry, Biebs) is the closest thing we have to a King of Pop. Whether he ever wins an Oscar as an actor, there are surely many more Grammys to come for JT.
1. "CRY ME A RIVER" (2002)
The revenge song that was meant to reduce Britney to tears was a sinister killer.
2. "MY LOVE" (2006)
Those spacey beats put the future in FutureSex/LoveSounds.
3. "ROCK YOUR BODY" (2002)
Hipped up his 'N Sync sound with a bumping bass line for a groovier generation.
4. "LOVESTONED ... I THINK SHE KNOWS" (2006)
A two-part epic with Timberlake at his most experimental.
5. "LIKE I LOVE YOU" (2002)
This hip-hop-funk throwdown totally Justified his solo debut.
DESTINY'S CHILD
"Nuclear"
It's great to hear those beautilicious harmonies again on the trio's first new song since '05. This is a lush, sensual affair for the grown and sexy.




BON JOVI
"Because We Can"
As far as anthems go, this is no "Livin' on a Prayer." From the upcoming What About Now, it shows that these headbangers have mellowed in middle age.




ATOMS FOR PEACE
"Judge Jury and Executioner"
Radiohead's Thom Yorke keeps the trippy beats coming on this haunting, hypnotic track from his side project.




ED SHEERAN
YOU PERFORMED AT THE QUEEN'S DIAMOND JUBILEE LAST YEAR. ANY HIGHLIGHTS?
I got to introduce my dad to Paul McCartney. That was quite cool. And I met Grace Jones just before I went onstage. She said I looked like her granddaughter!
YOU COWROTE "LITTLE THINGS" FOR ONE DIRECTION. SO WHICH 1D MEMBER IS YOUR FAVORITE?
Harry [Styles]. He's the one I'm closest to. I made friends with him before I knew who the band was.
YOU'VE ALSO WRITTEN FOR TAYLOR SWIFT AND WILL BE OPENING ON HER RED TOUR STARTING IN MARCH. HOW DID YOU TWO MEET?
Just being fans of each other and reaching out. Then we just started hanging out. We have the same kind of work ethic. But I don't know if I'm her type [to date].
SO WHO WOULD BE YOUR DREAM GIRL?
Emma Stone. But she's all taken, so I need to find someone else. If you know a country girl in cowboy boots who says "y'all" and can lasso a bull, you can hook me up. I'm down!
-JESSICA HERNDON
JOSE JAMES
No Beginning No End
Given that this is traditionally a slow period of the year for new music from the big guns, it's a perfect time to discover an artist like James, who mixes Bill Withers and D'Angelo vibes into his smooth cocktail of R&B and jazz.




A$AP ROCKY
Long.Live.A$AP
This Harlem rapper boasts one of the hottest hip-hop jams of the moment in "F**kin" Problems" featuring Drake, 2 Chainz and Kendrick Lamar. But the rest of his debut album, with its eclectic beats and moods, shows that he has staying power.




RANDY HOUSER
How Country Feels
On his third album, this country singer can go from breezy to blustery. It makes for some uneven terrain along the way, but tunes like the title-track hit-a feel-good rocker that Jason Aldean would steal-help make up for the forgettable moments.




TEENA MARIE
Beautiful
Two years after Lady T's death, this album-featuring contributions from daughter Alia Rose-gives us another chance to appreciate her sumptuous soul. Although a bit heavy on ballads, it's hard to resist gorgeous ones like "The Perfect Feeling."




PINK
Up for Best Pop Vocal Album, the three-time Grammy winner, 33, shares the secrets behind her music
YOU'RE NOMINATED FOR THE TRUTH ABOUT LOVE. SO HOW DOES THE MAGIC HAPPEN?
When I start a record, I'm like, "God, I wonder if I can even sing." But I write poetry and keep a journal, then the first day I go into the studio, I'm like, "Here we go, I'm turning the faucet on!" I bottle it up for so long that the inspiration is always there.
HOW'D YOU GET EMINEM TO BE ON "HERE COMES THE WEEKEND"?
He wanted me to be on his last record [2010's Recovery], so I said, "Yeah, let's swap." I'm a die-hard Eminem fan. I think he's awesome.
YOU VENT ABOUT YOUR HUSBAND, CAREY HART, IN MANY SONGS. HOW DOES HE FEEL ABOUT THAT?
He's like, "Look, I know you, we have a good sense of humor, and I know what I signed up for. I only listen to half of what you say anyway!" When he starts listening to me too much, we have problems!
WHAT DOES YOUR 20-MONTH-OLD DAUGHTER WILLOW THINK OF MOMMY'S MUSIC?
The first time she heard my music, she kind of looked at me and got the weirdest expression on her face. I wondered, "God, what's going on in there for her?"
MANY PEOPLE WILL BE PARTYING HARD GRAMMY NIGHT, SO WHAT'S YOUR BEST HANGOVER CURE?
Drink a beer as soon as possible! I used to be able to drink a bottle of wine and not get a hangover. Now, after two glasses I have a headache.
-MARISA LAUDADIO
Aaron Neville
Advertisement
Today's Photos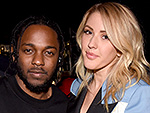 Treat Yourself! 4 Preview Issues
The most buzzed about stars this minute!