People Top 5
LAST UPDATE: Tuesday February 10, 2015 01:10PM EST
PEOPLE Top 5 are the most-viewed stories on the site over the past three days, updated every 60 minutes
Picks and Pans Main: TV
Why I'm Obsessed with Burning Love
ABC, March 3, 9 p.m. ET/PT |




DRAMA
Red Widow, with Radha Mitchell as a woman under the delusion that she can turn a blind eye to her Russian family's Mob life, is the sort of female-dominated melodrama that does pantingly well on ABC. But Widow is no Scandal. It's a tempest in a samovar. The title is full of luscious dread, and Mitchell (Finding Neverland) has a wonderful look as heroine Marta Walraven, grief- and panic-stricken after her husband, who married into the family's black-market activities, is killed-presumably by rival drug lord Nicholae Schiller (Goran Visnjic). As Marta tries to repay Schiller for the missing shipment that sparked the murder—and may spark more-Mitchell is fine-boned yet unflinching, like an Olsen twin fortified by many scraps of meat. But only Visnjic, immaculately groomed and vaguely Continental, seems to understand that this over-the-top story requires not only a constant flame to boil the plot but a flirtatious sense of fun. He and Mitchell should already be seducing each other, mixing thoughts of revenge and sex into a loopy cocktail. Hurry up.
The Bible
History, March 3, 8 p.m. ET/PT |




DRAMA
Executive-produced by Mark Burnett (Survivor) and his wife, actress Roma Downey (Touched by an Angel), The Bible covers both Old and New Testaments in 10 hours and five parts. This requires unusual tricks of compression. I don't think anyone ever thought to have the fall of Adam and Eve told as a flashback by Noah in the company of two giraffes on the ark. The plagues visit Egypt in a snappy montage. Overall, though, the tone is dutiful, reverent and circumspect, neither historical nor religious-"This program," as we are told, "is an adaptation of Bible stories that changed our world." This is like dramatizing War and Peace without commenting on war or peace. There are a few strong performances, notably Greg Hicks as Pontius Pilate and Gary Oliver as Abraham. (Downey appears briefly as Jesus' mother, Mary.) The rest is togas, breastplates and beards.
L.A. Shrinks
Bravo, March 4, 10 p.m. ET/PT |




REALITY
The first few moments of LA Shrinks will create goosebumps of anticipation for Bravo fans. As we meet Venus Nicolino, Gregory Cason and Eris Huemer, the stylish, let-it-all-hang-out counselors of the title, the show promises to be some great trash mix of Freud, Jung and The Real Housewives of Beverly Hills. Unfortunately, apart from one female patient whose terrifying rage issues seem to have been triggered simply by having to live in L.A., these people are all much more ordinary and much less fabulously neurotic than you might have hoped.
Cason, a cognitive therapist who describes his long-term gay relationship as "monogamish," is still working out issues with his father. Huemer, a relationship coach, is frustrated with a sex life gone dead and a husband who isn't ready for kids. She tries to arouse him with a specially prepared menu of libido-tripping foods. Seriously, doctor? And yet you do come away with the occasional pearl of wisdom: "Expectations are premeditated resentments." Doesn't this show prove it?
COMMENTS? WRITE TO TOM: tomsreviews@peoplemag.com
YOU'VE GOTTA SEE THIS ...
FASHION STAR
Jessica Simpson, along with John Varvatos and Nicole Richie, is back for the reality competition that elevates young designers into retail heaven. NBC, March 8.
THE FOLLOWING
Serial-killer James Purefoy wants to be moved to a different prison. Ah, but why? Better cafeteria? Evil, duplicitous man! FOX, March 4.
ENLIGHTENED
As season 2 ends for this brilliant comedy, Laura Dern prepares to flatten the corporation that mistreated her. HBO, March 3.
Omarosa still knows how to play the villain. On NBC's All-Star Celebrity Apprentice (premiering March 3) she happily badmouths and undercuts everyone. Someone has to. Otherwise Donald Trump's boardroom is crowded with glum C-list mugs from past seasons: Gary Busey, La Toya Jackson, Dennis Rodman. They got game the way Trump got hair.




FAMILY ROUNDUP
IT TOOK A VILLAGE OF SCHRODERS TO MAKE THIS FILM, NO?
Yes! All my kids, Holden, Luke, Cambrie and Faith, appeared on-camera, and my wife, Andrea, cowrote the movie.
CAMBRIE HAD A MAJOR ROLE. ANY ADVICE FOR HER GOING IN?
It was her first job, and she is in practically every scene. My advice was to lead by example: Be prepared, know your lines, and show up with a perspective or point of view for each scene.
ARE YOU A HORSEMAN LIKE YOUR CHARACTER?
I'm about 65 percent cowboy. I identify with the Western culture, the lifestyle, the work ethic, the landscape of the West. I'm a city boy, but I feel more comfortable in a pair of boots than in a pair of penny loafers.
ARE YOUR KIDS SILVER SPOONS FANS?
My girls kind of love everything Dad has been in. But I don't think I've made a movie where my boys have been like, "Wow, Dad is the bomb." Maybe it's the age they are at or maybe it's because I haven't been in The Lord of the Rings.
-MONICA RIZZO
SISTER, SISTER
WHY DO A REALITY SHOW LIKE BEING MANDELA?
Swati Dlamini: Our family is iconic, but we are down-to-earth. We're not like Prince William and Prince Harry. We consider ourselves normal people, mothers and daughters, and we wanted to show that.
DID YOU WATCH ANY REALITY TV BEFORE SIGNING ON?
Zaziwe Dlamini-Manaway: We've watched Toddlers & Tiaras. It keeps the kids entertained.
DOES NELSON MANDELA APPROVE OF YOUR SHOW?
Zaziwe: He said, "Do as you please, just don't tarnish the family name."
WHAT'S HE LIKE AS A GRANDDAD?
Swati: He's sweet, but he can be tough on us. He's very time conscious. Dinner is at 7, and if you're not at the table, you will get yelled at.
-PAUL CHI
My love for The Bachelor is my secret shame, but it's also given me a deeper appreciation for Burning Love, originally a parody Web series now airing on E! on Mondays. Michael Ian Black's take on Chris Harrison is spot-on, while Ken Marino (right) kills it as a fireman looking for love. But the ladies (Jennifer Aniston, Kristen Bell) are the real reasons to watch. At last: a dating show I can be proud to DVR.
-LESLEY MESSER
Red Widow
Advertisement
Today's Photos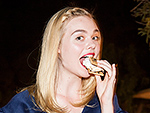 Treat Yourself! 4 Preview Issues
The most buzzed about stars this minute!