On Newsstands Now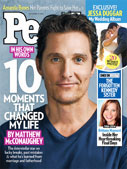 Matthew McConaughey: In His Own Words

Jessa Duggar's Wedding Album

Brittany Maynard's Final Days
Pick up your copy on newsstands
Click here for instant access to the Digital Magazine
People Top 5
LAST UPDATE: Tuesday February 10, 2015 01:10PM EST
PEOPLE Top 5 are the most-viewed stories on the site over the past three days, updated every 60 minutes
Valerie Harper: Ready to Say Goodbye
Facing a Terminal Cancer Diagnosis with Humor and Courage, the Iconic TV Star Opens Up About Preparing for Her Final Bow
Rhoda, her four Emmys, and nine neatly stacked piles of well-worn scripts from Rhoda and its television forerunner, The Mary Tyler Moore Show. "I'm just putting them in order," she says, pointing to the scripts, many of which are filled with personal scribbles. "This is the very first one-the pilot. Look at how cute this is. There are notes like, 'dinner with Betty'"-i.e., Betty White, her MTM costar. "They were in the garage and I just got them out. I don't know what I should do with them."

Until just seven weeks ago, the unsentimental actress-who hasn't even watched most of her own shows-rarely looked to the past. But now she is eager to reflect on a life well-lived and impart the lessons she has learned along the way. "All my life, people have had a connection to me because of Rhoda," Harper, who seems decades younger than her 73 years, says of her beloved TV alter ego, working gal Rhoda Morgenstern. "Now there are things I want to share." What Harper calls her "transformative moment" would be catastrophic news for most people: On Jan. 15 doctors informed the star that she has a rare and incurable form of brain cancer that can prove fatal in as little as three months (see box). The disease, which accounts for less than 2 percent of all cancers, "progresses quickly," says Harper's oncologist Ronald Natale. "It is a terminal diagnosis." The grim finality of it "hit me like a sledgehammer," says Harper, who until now has only shared the news with a handful of close friends and family members. "'Incurable' is such a concise word," she says, her eyes brimming with tears. "I was terrified."

And yet in the weeks since, Harper-a nonsmoker who successfully beat lung cancer in 2009-has resolved to tackle what little time she has left with the same wry humor, grace and plucky pragmatism that has endeared her to generations of fans. "Cancer makes real what we try to obscure from ourselves," says the candid star, who is fond of peppering her conversation with Rhoda-esque wisdom (see box). "We spend our lifetimes thinking, 'I'm never going to die.' But cancer says, 'Hey, not so fast.'"

In fact, the showbiz veteran had recently been revving up her career. At work on her new memoir I, Rhoda and preparing to take her Tony-nominated one-woman show Looped on the road, "every thing was going so smoothly for her," says Tony. "I thought we were all set." But in August she began noticing a strange tingling in her midsection. "I felt this funny little band moving around from my back to my waist," she recalls. Then in December she was driving between errands in Santa Monica when she suddenly became violently ill. "My windshield was obliterated with vomit, and I hadn't felt sick," she says. "Later I found out that is a benchmark for a seizure."

She visited several doctors and underwent a battery of tests, but the results were inconclusive. On Jan. 11 she was rehearsing for Looped when "the right side of my jaw felt like I had Novocaine in it," she says, pausing to review the scrupulous notes-including dates, medical information and important phone numbers-she has been keeping in a three-ring white binder since her diagnosis. "I asked the director, 'Do I sound funny?' Tony came and took me to the hospital. They thought I had a stroke." But after running more tests, doctors detected cancer cells in her spinal fluid, ultimately leading to the terminal diagnosis. "I held it in, but I broke down later," Tony says of his reaction. "I didn't want to show her I was angry and hurt. I didn't want to believe it. It's like a cleaver in your heart."

Harper herself toggles between moments of hope, grief and no-nonsense realism. She has opted to undergo chemotherapy with a drug that has limited success in killing cancer cells because "I have a fighting chance until I'm gone," she says. Still, "I'm well past my expiration date already," she concedes, given that the onset of her symptoms was more than eight months ago. With the cancer concentrated in her brain, an obstruction of spinal fluid is likely and can lead to severe headaches and seizures, as well as a loss of bodily functions and difficulty walking. Ultimately, "the total burden of cancer gets to such a high volume that the body sort of begins to shut down," says Dr. Natale.

It's a bleak prospect, but one that Harper refuses to dwell on. "I don't think of dying," she says. "I think of being here now." Famous for her chronic onscreen dieting as Rhoda, she laughs at the fact that her doctors have been encouraging her to gain weight: "Men have never said that to me!" Harper also has finalized her will and is planning final arrangements, which may include scattering her ashes in the Pacific. "I've been worried about getting stuff done before this starts affecting my thinking and clarity," she says. Last week she telephoned a local crematory and learned that "if I booked it by Thursday I could save $150," she says brightly. "I was thrilled!"

At the same time, she admits to grappling with floods of deep sadness. The past few mornings she has awoken at 4 a.m. and "cried a bit. It can be frightening," she says. "I think, 'I don't want to go.' But I give myself room to grieve. I give myself the space to be sad or angry and then it passes and I can get back to eating ice cream, which I've been doing by the pint." One question upon which she refuses to focus: Why me? "Why not me?" she exclaims. "I don't get why I should be exempt. After all, I have so many resources-fabulous insurance, the greatest husband. I've had a good run. What more can I ask for?" It's an outlook she has long maintained, says Harper's only child, daughter Cristina Cacciotti, 29. "My mother has always embraced life, no matter how bad things have gotten," she says. "I know what's going to happen, but I'm not going to focus on the end until it becomes reality."

For the most part, her mom is taking a similar stance. "You can prepare yourself and your family, but none of us know when we're going to go," she says. Born in a New York suburb and raised Catholic by a Canadian-bred mother and a lighting salesman father, Harper studied ballet in New York City and began her career as a Broadway dancer in 1959. While doing theater in L.A. in 1970 she was spotted by a casting agent and asked to audition for the Mary Tyler Moore Show role of brash New Yorker Rhoda, the comic foil and best friend to Moore's midwestern Mary Richards. The show rocketed her to stardom and led to her own smash spin-off in 1974. "People still stop me on the street and ask, 'How's Mary?'" says Harper of the show's enduring popularity. She also has maintained her long friendship with Moore, 76. "We're very much like Rhoda and Mary," Moore told PEOPLE in 2000. "There's no big turnaround when the camera is off." Harper had yet to tell her dear friend of her diagnosis but planned to do so in the coming days. "She is a darling," she says of Moore. "We talk on the phone about her dogs and laugh all the time."

As a little girl, "I had a picture of heaven," says Harper. Today she describes herself as agnostic and says that when it comes to her view of the afterlife, "I see death as a passage. I don't have a lot of certainty about reincarnation, but I have a lot of interest in what lies ahead." She is still looking forward, noting, "I just got a letter from a friend who's getting a Congressional Medal of Honor on April 17. I hope I'm around then." As for any bucket-list trips, she says she'd prefer to spend her remaining time close to home. "The garden sounds good," she says. "I have plants I always want to pull the yellow leaves off of, but I haven't done it because so many things have taken precedence. But I think I'll give it one last whack."

On a deeper level, "I think one of the many blessings in my life is that I've learned how to drop bitter resentment," says Harper. She worries most about Tony, breaking down when she talks about him. "He's a strong guy, but I don't want him to suffer," she says, lamenting that he can't stop replaying the brutal diagnosis in his head. Not Harper. "She's always been such a positive force," says Cristina.

As another day draws to a close, the indefatigable actress stops on the edge of her lawn to gaze up at the stars glowing overhead. And for the longest time she just stands there in silence, her mouth open, almost in awe, almost as if she's seeing them twinkle for the first time. "Life," Harper whispers, "is amazing. Live it to the fullest. Stay as long as you can."


Advertisement
Today's Photos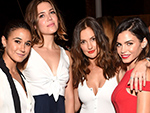 Treat Yourself! 4 Preview Issues
The most buzzed about stars this minute!