On Newsstands Now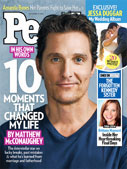 Matthew McConaughey: In His Own Words

Jessa Duggar's Wedding Album

Brittany Maynard's Final Days
Pick up your copy on newsstands
Click here for instant access to the Digital Magazine
People Top 5
LAST UPDATE: Tuesday February 10, 2015 01:10PM EST
PEOPLE Top 5 are the most-viewed stories on the site over the past three days, updated every 60 minutes
Picks and Pans Main: TV
Person of Interest's Jim Caviezel TV's Tough Guy
History, Sundays, 10 p.m. ET/PT |




DRAMA
By the hammer of Thor! History's first scripted series is a headlong tumble into an irresistible and surprisingly neglected genre, Viking adventure. Back in the 8th century, a young Norseman named Ragnar Lothbrok (Travis Fimmel, who looks like Sons of Anarchy star Charlie Hunnam with a barbarian mullet) realizes that whole new worlds to explore-and plunder-might be discovered if he and his tribesmen sail west. His chieftain, Earl Haraldson (Gabriel Byrne), is more conservative: Marauding has always been conducted east, and that's that. When disobedient Ragnar has a high old time looting and slaughtering on the English coast, Haraldson appreciates the new revenue stream-but decides Ragnar is too potent a rival. The story doesn't get much more complicated than that. If you were expecting Game of Thrones without dragons, this is a much more primitive story of conquest (Ragnar, in fact, is an important figure in Norse legend). Isn't that enough? The sight of the old prows is stirring, and Byrne plays the chieftain with quiet, crabby indignation, as if he had requested bread that the waiter never brought. He's excellent.
Body of Proof
ABC, Tuesdays, 10 p.m. ET/PT |




DRAMA
Back for a third season, Dana Delany's Body of Proof has been recast as a slightly older Bones-amatory forensics for the middle-aged. Brilliant but bristling medical examiner Megan Hunt (Delany, with her head of luxurious autumn foliage) is now teamed up with a new detective: Tommy Sullivan, who happens to have been Dr. Hunt's lover many years ago. He's played by the always dependable Mark Valley (Fringe), whose square face is so handsomely chiseled he could pose on monuments in his spare time. If sparks (and ratings) weren't flying in the first two episodes, what matters most is Delany's satisfyingly forthright portrayal of a woman who trusts her intellect and instinct. If her lips are more pursed than kissed, maybe that's how it should be.
COMMENTS? WRITE TO TOM: tomsreviews@peoplemag.com
YOU'VE GOTTA SEE THIS ...
DALLAS
It's the end of an era at Southfork-and everywhere-as Sue Ellen and the rest assemble for the funeral of J.R. Ewing (Larry Hagman, who died Nov. 23). TNT, March 11.
THE MINDY PROJECT
Mindy Kaling (with Chris Messina) skips out on her awful birthday party and falls into an even worse celebration. FOX, March 12.
THE BACHELOR
Sean, the time has come. You're standing there, ready to bestow a final rose. Is it Lindsay? Catherine? Neither?! ABC, March 11.
Among the temptations that can lead one from the righteous path, surely getting a reality show is code orange. But Preachers' Daughters, focusing on three families headed by ministers, has its heart in the right place. A degree of cynicism is inevitable-what drama is there unless these girls (one of them a single mom) fail their Scripture-quoting folks?-but you root for them. Maybe even pray for them.




POLITICAL ANIMAL
WHICH FIRST LADIES INSPIRE YOUR PORTRAYAL OF MELLIE GRANT?
Jackie O is so physically iconic. While I don't share her features, I do share her coloring! I'm humbled to have watched Hillary Clinton bring substance to the role, and Michelle Obama is the greatest marriage of form and function.
ARE YOU WARNED IN ADVANCE ABOUT SCANDAL'S WILD TWISTS?
Sometimes we don't get the scripts until the table read. You see some people flip to the end to see if [their character is] still talking-if you're talking, you're breathing!
YOUR GIVEN FIRST NAME IS AMY. HOW DID IT BECOME BELLAMY?
My dad died when I was 15, and his best friend-my "Uncle" Bill-did all the dad stuff. It's sort of an homage-a mushing of our names.
HOW IS IT FILMING IN NEW YORK CITY?
We're in these great neighborhoods and may have 50,000 people watching us. Someone will walk up and go, "I can't believe I'm talking to you right now." And I'll say, "Yeah, I know, but you're in the take!"
YOU PLAY EX-CIA OPERATIVE JOHN REESE. HAVE YOU BEEN INJURED ON-SET?
Aside from a separated shoulder, a busted nose, a kneecap here and there and punch to the face, no. [Laughs] The injuries do come in handy because [the writers] just work it in. Viewers will think, "Great makeup work." Oh, yeah, it's great.
DO YOUR THREE KIDS WATCH THE SHOW?
I guess they would a lot more if I was a starfish or a squeaky-voiced sponge. Sometimes the little one might see it on when my wife [Kerri] is home, and he'll go, "Papa!"
ARE YOU RECOGNIZED MORE NOW THAN AFTER THE PASSION OF THE CHRIST?
Yeah, I love what I do, and I'm glad people are enjoying it. It's kind of interesting when people start calling out "Mr. Reese!" over "Jesus!"
-JULIE JORDAN
Vikings
Advertisement
Treat Yourself! 4 Preview Issues
The most buzzed about stars this minute!