On Newsstands Now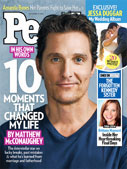 Matthew McConaughey: In His Own Words

Jessa Duggar's Wedding Album

Brittany Maynard's Final Days
Pick up your copy on newsstands
Click here for instant access to the Digital Magazine
People Top 5
LAST UPDATE: Tuesday February 10, 2015 01:10PM EST
PEOPLE Top 5 are the most-viewed stories on the site over the past three days, updated every 60 minutes
Picks and Pans: Books
Rita's Romances
The Still Point of the Turning World
by Emily Rapp |




REVIEWED BY HELEN ROGAN
MEMOIR
Emily Rapp's little boy Ronan died last month, just before his third birthday. It was devastating, but no surprise. At 9 months old, he'd been diagnosed with Tay-Sachs disease, a rare, fatal illness that rapidly dismantles its victims. This memoir of life with Ronan promises to be the saddest book imaginable, so why would you want to read it? Because Rapp writes with such radiant honesty and intelligence, pulling you close, making you care. She searches for solace in literature, religion and friends, joining forces with other "dragon mothers" and finding the strength to protect and honor Ronan while preparing to let him go. As her sweet, chubby-legged child inexorably fades, Rapp fights to redefine the meaning of parenting-and of life itself. Living in the moment is something we're told to aim for; she does it, finding profound joy in the pure expression of love. "We made him, we loved him, end of story."
The Accursed
by Joyce Carol Oates |




REVIEWED BY DANIELLE TRUSSONI
NOVEL
Another month, another book from prolific powerhouse Joyce Carol Oates-or at least that's how it sometimes seems. But don't let Oates-fatigue keep you from picking up The Accursed, her most accessible and absorbing novel since Blonde (2000). Set in the early 1900s, the book follows the fate of Princeton, N.J.'s elite as a supernatural presence descends upon them. With appearances by historical figures such as Woodrow Wilson and Upton Sinclair, this is a brilliant Gothic mystery that has the punch of historical fiction. Currents of race, class and academic intrigue swirl under the surface, but it's the demonic curse that propels the action. A master of sharp dialogue and vibrant descriptions, Oates casts a powerful spell. You'll close The Accursed and want to start it all over again.
Gods and Beasts
by Denise Mina |




REVIEWED BY ELLEN SHAPIRO
NOVEL
A grandfather is murdered by a gunman he inexplicably helps in a robbery; a once-inspiring politician denies an affair despite irrefutable evidence; two cops worried about layoffs find a trunkload of dirty money. Welcome to Denise Mina's Glasgow, where the streets are paved with carnage and corruption and the inhabitants are all too human. At the center of this particular storm is exhausted detective Alex Morrow, who wonders if she can still be hard-nosed months after giving birth to twins. But hers is just a voice among the chorus: Victims, mental cases and thugs all have their say as three seemingly disconnected storylines converge. The result is a piercing tale that should cement Mina's rep as one of crime fiction's finest.
COMMENTS? WRITE TO KIM HUBBARD: bookseditor@peoplemag.com
JANE LYNCH
Outliers
by Malcolm Gladwell
"It tells you that to do something well, you have to put in, like, 10,000 hours. That's exactly what I did! I was calling agents when I was 12."
PATRICK WILSON
Born to Run
by Christopher McDougall
"I'm an ultramarathoner, so ... You caught me at a good time. I never read anything. Except my wife's book The Lullaby of Polish Girls, out in June!"
EMMY ROSSUM
The Devil in the White City
by Erik Larson
"It's really scary but also very informative about the time [the late 1890s] and about Chicago. I work there a lot, so I was very interested."
Wonder why you can't eat just one? In Salt Sugar Fat, journalist Michael Moss reveals how the food industry gets us hooked on empty calories.
WHAT'S SPECIAL ABOUT SALT, SUGAR AND FAT?
The perfect combination of these three ingredients sends us over the moon, so we buy and eat more. Companies spend a lot of time trying to get blends that will be irresistible.
WHICH FOODS HIT THAT SWEET SPOT?
Potato chips are a good example-one study showed they're the single largest contributor to weight gain. And Cheetos melt in your mouth. The signal sent to your brain is that you're not eating anything!
HOW ABOUT SODAS?
Coca-Cola is blended so you don't experience "sensory specific satiety." You'll want another.
HOW CAN WE RESIST?
Be aware. My two boys loved Froot Loops, but we engaged them in conversation about sugar, and now they totally love plain Cheerios.
-JANINE RAYFORD
In her spicy new tell-all, the legendary West Side Story star, 81, opens up about the famous men in her past.
MAKING EYES AT JFK
At a glitzy event, a "very handsome gentleman" escorting a "lovely, regal woman" kept sending her "smoldering signals ... I remember thinking, Whoo, this guy don't waste no time! ... Weeks later I discovered who he was: the young senator from Massachusetts."
LOVING MARLON
Moreno and Brando had a serious dalliance, "a crazy love that lasted for years. To say he was a great lover ... would be gravely understating." His infidelities drove her to attempt suicide shortly after the filming of West Side Story, yet "as much as Marlon could love any woman, I know that he loved me."
KISSING THE KING
Hoping to make Brando jealous, she dated Elvis in 1957-and was underwhelmed. He was "like a baby brother who couldn't make interesting conversation," and his lovemaking never went beyond "a tender tussle on my living room floor ... Later, I discovered that my experience was typical. Natalie Wood stormed out on him when he refused to 'do it.'"
-KRISTEN MASCIA
People PICK
Advertisement
Today's Photos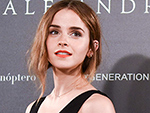 Treat Yourself! 4 Preview Issues
The most buzzed about stars this minute!