People Top 5
LAST UPDATE: Tuesday February 10, 2015 01:10PM EST
PEOPLE Top 5 are the most-viewed stories on the site over the past three days, updated every 60 minutes
Picks and Pans: Music
Hot Ticket
The 20/20 Experience |




POP
Let's get right to it: Does Justin Timberlake's comeback album live up to the near-impossible expectations? Yes and no. If you are looking for this to be another Justified or FutureSex/LoveSounds, it's not. While those albums were more about instant-gratification pop, The 20/20 Experience is the more challenging vision of an artist creating a cohesive work rather than a collection of singles. Most songs stretch out for more than seven minutes, taking interesting twists and dissolving into cool codas that wouldn't make the radio edits. With lush, layered arrangements-producer Timbaland is again behind the boards—topped off by Timberlake's falsetto-kissed vocals, this is maybe the best sounding album you'll hear all year. It finds JT delving deeper into R&B: Just check out the Stylistics-style balladry of "Pusher Love Girl," the Al Green moves of "That Girl" or the "Wanna Be Startin' Somethin' "-tinged funk of "Let the Groove Get In." But he hasn't gone totally retro, also exploring electronica on headphones-ready tracks like "Tunnel Vision" and the beautifully sung "Blue Ocean Floor" that dip into Radiohead and, more recently, James Blake territory. Declarations like these reveal a newly married man in a state of wedded bliss. This time he's bringing romance back.
David Bowie The Next Day |




ROCK
Ten years after his last album, David Bowie is back-and so is his swagger. Forget the moody musings of "Where Are We Now?"-the reflective comeback single that he dropped seemingly out of nowhere on his Jan. 8 birthday. The Next Day, produced by longtime collaborator Tony Visconti, represents much more of an emphatic, energetic return from the 66-year-old. "We'll never be rid of these stars/But I hope they live forever," sings Bowie, sounding every bit the immortal rock god on "The Stars (Are Out Tonight)," a glittering highlight that is one of many guitar-charged tracks here. You can just imagine Ziggy Stardust getting his groove on to the bouncy beat of "Dancing Out in Space," while "(You Will) Set the World on Fire" is a rocking, fist-pumping anthem for today's young Americans. On another standout, "I'd Rather Be High," the album takes a political turn with Bowie's antiwar message: "I'd rather be dead or out of my head/ Than training these guns on those men in the sand." It's moments like these that make The Next Day a triumphant comeback from a much-missed icon.
Bon Jovi
What About Now |




ROCK
"I ain't checking out, I still got my dreams/ Does anybody want what's left of me?" sings Jon Bon Jovi, his defiance tinged with middle-aged doubt on "What's Left of Me." Clearly, the desire for Bon Jovi albums ain't what it used to be, but the band keeps plugging away on What About Now, showing that they are more than a nostalgia act. Indeed, their latest finds the New Jersey rockers on the upswing after 2009's The Circle. Highlights include "That's What the Water Made Me," a guitar-drenched anthem, and "The Fighter," a folkie ballad about the everyday warrior that packs a quiet power.
COMMENTS? WRITE TO CHUCK: chucksreviews@peoplemag.com
MY TOP 5 BOWIE SONGS
1. 'CHANGES'
(1971) From the king of reinvention.
2. 'HEROES'
(1977) Super-powered romance.
3. 'ZIGGY STARDUST'
(1972) Alien rock.
4. 'REBEL REBEL'
(1974) His glam anthem.
5. 'FAME'
(1975) At his most soulful, a funk throwdown.
ERIC CLAPTON
Old Sock
Slowhand puts his touch on oldies like "All of Me" and "Our Love Is Here to Stay." Sometimes, though, it becomes too-easy listening. The best of two new tunes is "Gotta Get Over," a bluesy groove funked up with background vocals by Chaka Khan.




THE REPLACEMENTS
Songs for Slim
The garage-rock gods reunite for this five-track EP benefiting former bandmate Slim Dunlap as he recovers from a stroke he suffered last year. Hearing them kick it up again, one can't help but hope for a full-blown comeback.




MINDLESS BEHAVIOR
All Around the World
On their second album, the R&B-pop boy band continues to woo the girls who are too innocent for Chris Brown. Their vocals can be so overprocessed they sound like Munchkins, but fans probably won't care.




THE MAVERICKS
In Time
After an eight-year hiatus, the genre-bending band shows that time hasn't eroded any of their country and Tex-Mex charms. The epic ballad "(Call Me) When You Get to Heaven," soaring on Raul Malo's vocal, is over eight minutes of pure bliss.




SMASH'S MEGAN HILTY
FIRST ALBUM I BOUGHT
Snoop Dogg's Doggystyle. My dad was horrified when I brought it home. That album cover is pretty graphic!
SONG THAT PLAYED DURING MY FIRST KISS
"Oom-Pah-Pah." It was in [the musical] Oliver! I was 8 and had to kiss Harper, who played Oliver.
MY ALL-TIME FAVORITE SHOW TUNE
"Diamonds Are a Girl's Best Friend." That song doesn't get enough credit. The lyrics are incredible.
MY DOWN- IN-THE-DUMPS SONG
"Firework" by Katy Perry. When I'm down, I don't want down songs.
SONG I PUMP IN THE DRESSING ROOM
Beyoncé's "Love on Top." My boyfriend and I saw her perform it in Atlantic City very early in our relationship. Now it's our song too!
WORKOUT SONG
"Nightwork" by Scissor Sisters. You can run to that whole album [Nightwork].
MY GIRL-POWER ANTHEM
Kelly Clarkson's "Stronger (What Doesn't Kill You)" is the ultimate.
MOST EMBARRASSING THING ON MY IPOD
Me! A recording from when I was a high school freshman.
-CARLOS GREER
ALL-STAR PRINCE TRIBUTE!
They were partying like it was 1999 at New York City's Carnegie Hall for a concert celebrating the music of Prince and benefiting music education. Although the Purple One himself didn't show up, there were plenty of stars taking the stage, from D'Angelo and Elvis Costello to Chris Rock and Maya Rudolph. But who got me most delirious? Neo-soul singer Bilal, backed by house band the Roots on a freaky "Sister" that climaxed with a Prince-worthy scream.
Justin Timberlake
Advertisement
Today's Photos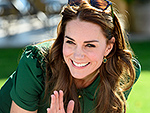 Treat Yourself! 4 Preview Issues
The most buzzed about stars this minute!