People Top 5
LAST UPDATE: Tuesday February 10, 2015 01:10PM EST
PEOPLE Top 5 are the most-viewed stories on the site over the past three days, updated every 60 minutes
Picks and Pans Main: TV
Vikings' Clive Standen
Bates Motel
A&E, March 18, 10 p.m. ET/PT |




DRAMA
When last we saw crazy Norman Bates's mother, she was long dead, with a face like a shrieking coconut: Her son and murderer, as the ending of the 1960 thriller
Psycho
suggested, hadn't done his best work preserving her corpse.
Bates Motel
, a half-baked attempt at a prequel to this matricidal fun house, presents us with the widowed Mrs. Bates in her prime: As played by Vera Farmiga (
Up in the Air
), she's a wily, seductive sociopath who teaches her twerpy boy (
Charlie and the Chocolate Factory
's Freddie Highmore) a thing or two about carrying out a killing. I expected Farmiga to do something grandly evil, in the manner of
American Horror Story
's Jessica Lange, but her approach is actually subtle and, to the extent that the plot allows, believable. The malice in her runs deep, surfacing in her eyes as an unhealthy glint.
Otherwise, though, the show is overworked and overthought: Why is it set in the modern day? Why does Norman have a no-good half brother (Max Thieriot)? And Highmore, at least in the first episodes, is miscast. There's no hint of Anthony Perkins's fine-grained, psychotic allure from the film: Highmore seems less like a young Norman—or Dexter—than a panicked lollipop.
Top of the Lake
Sundance, March 18, 9 p.m. ET/PT |




DRAMA
This haunting New Zealand miniseries boasts a strong, tense performance from
Mad Men
's Elisabeth Moss as a detective, but it's very much the work of director Jane Campion (
The Piano
). What matters isn't so much the mystery—a 12-year-old pregnant girl goes missing—as Campion's vision of a masculine, primally brutal society. The girl comes from a sprawling, terrifying family of male criminals. Meanwhile a colony of troubled, battered women has formed under the protection of Holly Hunter (hidden under a wig that makes her look like a thimble-size Patti Smith). If Lake gives off a chilly remoteness, that's because the actual feelings here are too frightening to unleash.
COMMENTS? WRITE TO TOM: tomsreviews@peoplemag.com
YOU'VE GOTTA SEE THIS ...
SPLASH
The reality show that dares to be all wet: Olympian Greg Louganis coaches Kendra Wilkinson, Louie Anderson and other stars in a diving competition. ABC, March 19.
REAL HUSBANDS OF HOLLYWOOD
In the season finale for Kevin Hart's hit comedy, he goes on a dream date—while his buds and their wives don't. BET, March 19.
DANCING WITH THE STARS
Bravo reality doyenne Lisa Vanderpump joins what instantly becomes a must-see season. Please bring Giggy! ABC, March 18.
Season 2 of Lena Dunham's cutting-edge HBO comedy
Girls
has had moments of real brilliance, and maybe the March 17 finale will make up for the notorious episode that can be summed up with the phrase "naked ping-pong." But if the first season was a flawless novella, this one was a wildly uneven collection of short stories. Dunham, the show's star and creator, sent her characters further out into the world—or at least a few extra blocks of Brooklyn—and they seemed as whimperingly lost as puppies. On to a better season 3!
HOT AND HEAVY
YOU HAVE AN ONSCREEN FLING WITH JENNIFER LOVE HEWITT'S CHARACTER. WAS THAT A DREAM COME TRUE?
Oh yeah! It's surreal. Starting out, you never think you're going to meet these people, let alone work with them. But I've had kissing scenes with her; it's not as sexy as you might think. It's awkward and more clinical.
DID YOU HAVE A MAN-TO-MAN WITH HER ONSCREEN HUSBAND (AND RUMORED BEAU), BRIAN HALLISAY?
No. I had that on
All My Children
. I had sex scenes with women when I was friends with their husbands. It is awkward, but they know it comes with the territory.
YOU JUST TURNED 40!
I'm at a great place in my life but I'm not married. I've started thinking about settling down and starting my own family.
– PATRICK GOMEZ
MOTHER MARY
YOU WERE AN ANGEL ON
TOUCHED BY AN ANGEL
. NOW YOU'RE MARY!
I didn't expect to play her, but it was a humbling and profoundly moving experience. The best I could do was to bring a mother's heart to the role.
YOU WERE ALSO A PRODUCER. WHY THIS PROJECT?
I was raised on The Ten Commandments, and I wanted to share that with my kids, but I could feel their attention drifting. Kids today are so used to seeing CGI. I just felt a calling to bring the Bible to the screen with new visual images.
HOW WAS IT WORKING WITH YOUR HUSBAND, SURVIVOR PRODUCER MARK BURNETT?
There were moments we didn't see eye to eye, and we just worked through that like anybody would. We joke the real miracle is that we're still speaking to each other.
– PATRICK GOMEZ
On the miniseries Battleground:
Rhino Wars
(Animal Planet, Thursdays), American commandos add muscle to a South African unit dedicated to stopping the poaching of rhinoceroses. The market for its horn has decimated the species, with many rangers killed as well. The show is informative—and useful—about this conservational crisis, but the gruff, dusty swagger of the American crew, who bear nicknames like "Saw" and "Oz," is a bit much. It can feel like Rhino Dark Thirty.




NORDIC TRACK
HOW MUCH FUN IS IT TO PLAY THIS PART?
I get to live out all my fantasies. I'm sword fighting, I go horse riding and row long boats. When I was 13, I grew up near Sherwood Forest and worked with a live-action guided tour where I did jousting. It's come full circle!
HOW DID YOU LIKE YOUR VIKING LOOK?
I wore hair extensions for six months. I have a newfound respect for women. I'd wake up with hair stuck to my face and spend the next 20 minutes taking out the tangles. I don't shout at my wife when she's taking forever to get ready anymore.
WHAT DO YOU DO DURING DOWNTIME?
I shoot in Ireland, so whenever there's free time, I'm on a plane to London to see my wife and kids [Hayden, 10, Edi, 6, and Rafferty, 2]. It's great to get down on the carpet and play cars with them.
– PAUL CHI
Advertisement
Today's Photos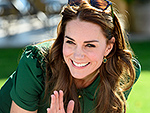 Treat Yourself! 4 Preview Issues
The most buzzed about stars this minute!