People Top 5
LAST UPDATE: Tuesday February 10, 2015 01:10PM EST
PEOPLE Top 5 are the most-viewed stories on the site over the past three days, updated every 60 minutes
Tina Fey's Life After 30 Rock
After More Than Six Years, the Star Says Goodbye to Her NBC Sitcom and Hello to the Silver Screen (and Life on the Playground)
Tina Fey
's stint as cohost of the Golden Globes was memorable for all the right reasons: Her one-liners killed; her chemistry with her former
Saturday Night Live
colleague Amy Poehler was palpable; and she looked fantastic. "We did a total of nine minutes of material, probably," Fey says of her onstage time with Poehler. "But people were so nice to us about it. I'm gonna ride that to the grave. I'm gonna be like, 'Remember that time me and Amy told jokes for seven minutes?'" But for one viewer-the comedian's 7-year-old, Alice-her appearance on what the little girl dubbed the Trophy Awards didn't exactly resonate. "She drew a picture of me and Amy in our gowns," recalls Fey. "It's a pretty good drawing, but she did these dialogue bubbles with big question marks in them. She was like, 'They're because I didn't understand any of your jokes!'"
These days Fey's littlest critic (her other child, 19-month-old Penelope, isn't quite as articulate yet) is becoming more of a constant companion since the series finale of
30 Rock
aired earlier this year. Now that she's not logging 17-hour days on-set, Fey, 42, has more time for herself-"I've been turning back into a person who is like, 'I can go to the gym sometimes!'"-and, more importantly, for her kids and husband, composer Jeff Richmond, 52. "We took a vacation to Disney World," she says. "That was really good. My older daughter is past the age of complete obsession with the princesses, but my little one loved meeting Winnie the Pooh, Tigger and Mickey and Minnie. Anything with a big furry head."
Now costarring with Paul Rudd in the romantic comedy
Admission
, in which she plays a Princeton University admissions officer, Fey says the film's subject matter hit close to home. "My mom, for whatever reason, really wanted me to apply to Princeton," she says. "I was a good student, but there was no way I was getting in. I went to my interview, and from the get-go was like, 'Yeah, I don't got this.' I was just a shy kid from the suburbs." Years later it was Fey's turn to be the mom with big dreams. "We took our older daughter to one preschool interview, and there was wallpaper in the waiting room with animals on it," she recalls. "And the lady came out and said to my then not even quite 3-year-old, 'What animal is this?' and pointed to a giraffe. And my daughter said confidently, 'A zebra!' The lady was like, 'Time to go to the zoo.'" But Fey is unfazed: "It all worked out. She continues to be educated."
At home and, now, abroad. This month she'll be in London to begin working on the Muppets sequel and plans on bringing her brood. Hitting up all the major tourist sights is on the agenda. "I hope I can really wear [the kids] out," she says, noting that she and her husband are always "back-timing-that's a live-TV term. We're like, the baby is going to be up at six, so the goal is to be asleep by 10. Luckily nothing gets you passed out in bed by 9:30 like a toddler."
She's going to need all the rest she can get. In addition to developing her 2004 cult-classic film
Mean Girls
into a stage musical with her husband, Fey says she has two more films on the horizon. (Those wondering if she would consider applying her Globes-hosting prowess to an Oscar gig shouldn't get their hopes up: "Just the sheer amount of dresses you'd have to try on? No way. I'd have to try on 400 dresses to get to the 60 needed," she says.) She's also confronting new fears every day. Though learning a Russian accent for
The Muppets ... Again!
has been nerve-racking-"Thank goodness it's a comedy, because if I was trying to learn this accent for a war movie, I'd be so stressed," she says-nothing can compare to the angst caused by her love scenes with Rudd in
Admission
."It was a terrifying nightmare," she says. "To clarify how much I like this stuff: I had a long-standing agreement with my hair and makeup people that when we shot the last romantic scene, we'd get McDonald's. That's what kept me going. My goal was to get through the scenes without apologizing, like, It's all going to be fine, and then I'll get a double fish filet. Then I got one and immediately regretted it." In the future she may have to try a different type of motivation. M&Ms, perhaps? Not a bad idea, she muses: "That's how they got Osama bin Laden ultimately."
Advertisement
Today's Photos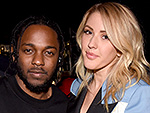 Treat Yourself! 4 Preview Issues
The most buzzed about stars this minute!