People Top 5
LAST UPDATE: Tuesday February 10, 2015 01:10PM EST
PEOPLE Top 5 are the most-viewed stories on the site over the past three days, updated every 60 minutes
Picks and Pans Main: TV
Why I Love Kid President
HBO, April 14, 1O p.m. ET/PT |




COMEDY
You don't need a poll to gauge how little confidence the public has in its government. Just watch TV. The Washington, D.C., in Scandal is I, Claudius without togas and daggers, House of Cards is Richard III minus the hump, and The Americans has us rooting for Soviet spies. At least Veep, which depicts a leadership so incompetent it should be sequestered in a steamer trunk and dumped in the Potomac, is funny. Very funny. The second season is pretty much like the first—profane, frantic - but Vice President Selina Meyer (Emmy winner Julia Louis-Dreyfus) is demanding a more prominent political role from the West Wing. (After disastrous midterm elections, it turns out that her presence on the stump actually led to fractional improvements in the numbers.) Louis-Dreyfus's performance - which, like Congress, can be divided into two houses, Crackling Charm and Hysterical Ego—still drives the show, but we're getting a more realistic sense of political gamesmanship. The President's pollster (Gary Cole, superbly dry) constantly checks Selina's ambitions, and other disgruntled power players are starting to share in Selina's unsteady limelight. "The White House would work so much better if there wasn't a President," grumbles one staffer. "But there is."
Nurse Jackie
Showtime, April 14, 9 p.m. ET/PT |




COMEDY
Starting season 5, Edie Falco's excellent Nurse Jackie is, regrettably, getting tired. Maybe it's physics: A hospital gurney, no matter how fast it's pushed, will inevitably come to rest. Jackie, sober after her battle with pills, is divorcing and fighting over custody of her daughters, one of whom suffers from serious emotional issues. New doctors arrive: tough, smart Ike Prentiss (Morris Chesnut) and Carrie Roman (Betty Gilpin), who has the small, taut face of a Barbie doll and not much more medical skill. The ensemble remains perfect, but the show's matter-of-fact crispness has been dulled. Stick out your tongue and say blah.
Hemlock Grove
Netflix, available for streaming April 19 |




HORROR
Hemlock Grove, Netflix's second series to be created for digital streaming, is a horror story in no rush to spill the beans or even the innards. In the three episodes shown to critics, we learn we are in a far from idyllic town plagued not only by a werewolf but a much worse variant—a werewolf with a mental illness. Who knew, right? There are presumably other monsters, plus a towering, shuffling Goth girl with one deformed eye. She's like a giant's rag doll. The acting is good, especially Bill Skarsgard and Landon Liboiron as two teens who function as Hemlock Grove's Hardy Boys. I like the show's languid, dreamlike beauty, but horror fans may be less patient. Imagine True Blood directed by Sofia Coppola.
COMMENTS? WRITE TO TOM: tomsreviews@peoplemag.com
YOU'VE GOTTA SEE THIS...
THE '80S: THE DECADE THAT MADE US
Rob Lowe narrates a look at an age we cherish for Pac-Man, the Jane Fonda Workout - and Rob Lowe. National Geographic, April 14.
TOP OF THE LAKE
Finale of director Jane Campion's eerie, unsettling New Zealand mystery starring Elisabeth Moss. Sundance, April 15.
MTV MOVIE AWARDS
Ted, the aggressively uncute comedy about a bad-mannered toy, is up for best movie. Oscar so dropped the ball. MTV, April 14.
BROADWAY'S HOT MAMA
How was it coming back to
Glee
?
It's like being with family! My character has moved to New York, so it was great to be reunited with
Lea Michele
. We get to sing a great song together.
Congrats on your 10-year anniversary with Taye Diggs!
I'm not going to glamorize it. We really work at our marriage. We go through tough times like everybody else, but we love each other.
How do you balance work and being a mom to Walker, 3?
He's potty training and he's handled it like a champ. He still has his pacifier. It bothers me, but we travel so much. I don't like to throw him off in too many ways at once!
He's pals with POTUS and cute as a flippin' button. But what I love most about Robby Novak, 9, the pint-size star of the YouTube viral video "A Pep Talk from Kid President to You" and the White House's April Fool's Day spoof, is his infectious can-do spiel. "What will you create that will make the world awesome? Nothin' if you keep sittin' there!" he says in "Pep Talk," which got 17.7 million views. You've got a point there, Kid Prez.
Veep
Advertisement
Today's Photos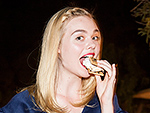 Treat Yourself! 4 Preview Issues
The most buzzed about stars this minute!