People Top 5
LAST UPDATE: Tuesday February 10, 2015 01:10PM EST
PEOPLE Top 5 are the most-viewed stories on the site over the past three days, updated every 60 minutes
Picks and Pans: Books
Jennifer Garner
by Meg Wolitzer |




REVIEWED BY HELEN ROGAN
NOVEL
It's a ritual of childhood—that solemn vow never to lose touch, no matter what. And for six artsy teenagers whose lives unfold in Wolitzer's bighearted, ambitious new novel, the vow holds for almost four decades. "The Interestings," as they call themselves, come together at a New England summer camp in 1974, worrying about Watergate, bursting with adolescent delight in their shared creative brilliance. But after college they end up in New York City at a time when financial success means everything, and the choices that two couples make in love and career threaten to pull them apart. Jules, an actress turned social worker, lives with her husband in a cramped walk-up apartment, while her eccentric friend Ethan develops an animated TV show that makes him rich and powerful. As the years go by, one of the six has a brush with the Moonies, a gay couple learn to live with AIDS, and a pair of new parents worry about autism. The cultural checklist can get a little wearying; Wolitzer pulls in everything from LSD to sushi to Skype. Still, Boomers in particular will identify with these anxious, engaging people who struggle to live differently from their parents while coming to terms with their own limitations.
Does Jesus Really Love Me?
by Jeff Chu |




REVIEWED BY ROSS DRAKE
NON-FICTION
Disturbed that so many churches deny gay, often-conflicted believers like himself the solace of a place to worship, Chu spent a year exploring the gay Christian experience in America. Many religious groups evade the issue, and for that Chu finds them guilty of moral cowardice and accuses pastors of behaving less like shepherds and more like sheep. His faith in God is secure; less so his willingness to be told whom He loves.
The Mothers
by Jennifer Gilmore |




REVIEWED BY SUE CORBETT
NOVEL
Desperate to have a baby after in vitro treatments fail, Jesse, a cancer survivor, and her husband, Ramon, pursue open adoption, an emotionally exhausting process. The bad hand Jesse's been dealt makes her abrasiveness understandable but hard to bear; Gilmore has a defter touch with Ramon, who wants a child as badly as his wife does but is quieter in his despair. A wrenching examination of parenthood that ends on a hopeful note.
COMMENTS? WRITE TO KIM HUBBARD: bookseditor@peoplemag.com
THE WORLD WITHOUT YOU
by Joshua Henkin
After a war correspondent dies in Iraq, his wife, parents and siblings grapple with the loss in this deeply moving novel.
ANOTHER PIECE OF MY HEART
by Jane Green
A sweet, poignant novel about a woman struggling to earn the affection of her tetchy teen stepdaughter.
MAKING BABIES
by Anne Enright
From one of Ireland's most talented novelists, a brutally candid, savagely funny memoir about the joys and pains of motherhood.
Your second cookbook advocates a strict "elimination diet," including no sugar and dairy. Why?
I had some health problems and had to eliminate allergens. I wanted to create dishes that are so delicious, you don't know they're healthy.
Do your kids (Apple, 8, and Moses, 6) eat it?
They're normal kids; they love pasta. They don't like steamed kale but will eat it in stir-fry if it tastes good.
What's your favorite mom-on-the-go meal?
I love my smoothies. But I'll do Amy's gluten-free frozen pizza for the kids when I'm in a pinch.
Do you have a vice?
Anything fried. I could eat a fried shoe and be like, "This is the best thing I've ever had."
—JULIE JORDAN
Makes 2 dozen meatballs
1 lb. ground chicken
½ tsp. coarse sea salt
½ tsp. black pepper
1 garlic clove, finely minced
1 tsp. freshly grated ginger
1 tbsp. soy sauce
2 tsp. maple syrup
2 tbsp. neutral oil (like canola or safflower)
1. Thoroughly mix the chicken with the salt, pepper, garlic, ginger, soy sauce and maple syrup.
2. Roll the mixture into golf-ball-size meatballs. Grill, roast, broil or fry the meatballs until cooked through.
WHAT I'M READING WITH MY KIDS
Mrs. Biddlebox
by Linda Smith and Marla Frazee
"Marla is our favorite. We love her illustrations; we talk about them as much as we talk about the text."
A Series of Unfortunate Events
by Lemony Snicket
"My daughter [Violet] is so into the series. She talks about the Baudelaire kids like they're part of our family. It's a blast."
The Interestings
Advertisement
Today's Photos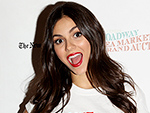 Treat Yourself! 4 Preview Issues
The most buzzed about stars this minute!