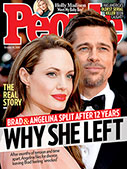 This Week's Issue!
People Top 5
LAST UPDATE: Tuesday February 10, 2015 01:10PM EST
PEOPLE Top 5 are the most-viewed stories on the site over the past three days, updated every 60 minutes
What Have You Learned to Love About Yourself?
Stars Reveal Which Body Parts, Personality Traits and Other Quirks They've Grown to Embrace
—
Amanda Seyfried
"I used to not like my hands, but now they make me smile and I love getting manicures"
—Kerry Washington
"I'm pretty pale. In high school I was insecure and thought it'd be cool to go to a tanning bed. Now I just let it look the way it looks."
—
Taylor Swift
"My persistent nature. I refuse to allow my passion for artistic expression, living a full life or finding the spark in other people, to ever die."
—
Usher
"I've spent a fair share of money on creams and makeup to help minimize my scars. Then I met Mike Fisher. He made me feel loved and beautiful ... scars and all."
—
Carrie Underwood
"I used to wear minidresses with jeans, but I get my legs out now."
—
Adele
told
Vogue
"Other than my ears? I finally grew into them"
—
Justin Timberlake
"I've always been someone who overly prepares for everything ... to a fault. Finally in motherhood I'm glad that I do."
—
Drew Barrymore
"I've found that no matter what I'm feeling, confronting it head-on and accepting who I am makes everything a little less frightening."
—Emilia Clarke
"My insatiable thirst for finding the truth."
—
Pink
"I've learned that my instincts are usually pretty good and to trust them."
—
Tim McGraw
"I'm a naturally pretty shy person, which I'm cool with now. I used to think it was this affliction I had to overcome."
—
Kristen Stewart
"I was always and still am the tallest in the room. It was hard when I was younger, but now I love it"
—
Charlize Theron
"The fact that I'm a serious geek."
—Henry Cavill
"I've learned to love my curves, my womanliness. I used to hide it, downplay it ... but now I revel in it."
—
Alicia Keys
"My hair was always too dark, too long, too kinky. Now I've been known for my hair for so long. It's a big compliment."
—
Jennifer Aniston
"That my competitive nature can actually be used to push myself to higher levels of achievement in all areas of my life."
—
Hugh Jackman
"My ears. I think they're pretty well-proportioned, but for a long time they weren't."
—
Beyoncé
"I'm a bit of an extremist. If I'm working, I work hard. If I'm on vacation, everyone better look out"
—
Channing Tatum
"I'm a total klutz, but now when I make a fool of myself, I've learned you gotta laugh to keep from crying."
—
Michelle Williams
"I used to have a problem with my skinny wrists and ankles. Then a makeup artist told me that because of how delicate they were I'd be a really big star."
—
Jennifer Lopez
"I eat like a caveman.... I keep waiting for one role to come along that scares me enough into dieting, and it just can't happen."
—
Jennifer Lawrence
told
Elle
"Being pigeon-toed makes me focus on walking straight, which is actually useful because it usually keeps me from tripping. Usually."
—
Jessica Biel
"I'm embracing the fact that with each new year comes a new line on my face, and that just makes me more of who I'm evolving into."
—
Halle Berry
Advertisement
Treat Yourself! 4 Preview Issues
The most buzzed about stars this minute!