People Top 5
LAST UPDATE: Tuesday February 10, 2015 01:10PM EST
PEOPLE Top 5 are the most-viewed stories on the site over the past three days, updated every 60 minutes
The Hot List
Summer Heat Has Nothing on These Guys! Meet the Men Who Make Country Sizzle
Staying in shape so he can shake it onstage in those skinny jeans means Bryan keeps a close eye on the scale. "Part of this job is to look good, and I weigh myself every morning," he says. But you're more likely to find him mending fences on his 169-acre farm south of Nashville than pumping weights in a gym: "I'd rather work eight hours outside than go on a treadmill for an hour. After any time in the outdoors, you feel like you've rebooted the computer. You come out here, see turkeys and deer, do a little fishing, and it makes me feel like I'm getting back to me and how I grew up."
For the 36-year-old native of Leesburg, Ga., that means not being afraid of a little dirty work. "Last week I slipped into the river and had mud all over me," he says. "But I think that's fun—moving rocks around, playing on your equipment and making your place a little prettier every day you're working."
BLAKE SHELTON
As if that cheeky humor, smooth voice and dimpled grin weren't enough, here are three more reasons you'll fall even harder for Blake:
1. At 37, he's older but wiser:
"I'm not interested any more in partying all night. I just want to be at home. I've become that guy! It's nice to wake up without a pounding headache and not go, 'I wish I hadn't said that.' "
2. He doesn't believe the hype:
"I still look in the mirror and think of all the ways I can be better. I don't go, 'Hey buddy, you're a badass.'"
3. He's got the husband thing down:
"I've learned to shut up and listen and not always have a comment or suggestion about every statement. It's more about understanding and being a shoulder to lean on."
KIP MOORE
Any potential suitors of the single "Hey Pretty Girl" singer should take warning: His heart already belongs to another. "I have never fallen in love with something so much as I have with the ocean," says Moore, 33. "Usually I'm always thinking about my career and what's next, but surfing just completely shuts my mind off. It brings me peace. The simplicity of it all is beautiful, you jump on a board and into the water, and you're in God's land." In fact his passion for the waves is so great that before heading to Nashville, the Georgia native cashed in his bank account for a one-way ticket to Hawaii to hone his surfing skills. "I lived in a tent for six months, surfed all day, worked odd jobs and wrote songs - and I had the time of my life. There's nothing like solitude for finding out who you are," he says. Though when he looks into the future, Moore doesn't see himself alone. "I see myself settling down with a little honey on the coast. I can take her surfing, and we'll make little surfer babies."
BRETT ELDREDGE
In matters of the heart, the "Don't Ya" singer isn't afraid to fall hard: "If it's someone I really, really care about, I'll do anything. I've searched the Internet to find the perfect flower to send - which one means love, which means joy." Should Google fail him, who's his trusted source for how to get the girl? "My mom," says the Paris, Ill., native, 27. "She's the sweetest lady in the world. There's nobody like Momma, but if I can meet a girl who's close, that would be all right."
DUSTIN LYNCH
The 28-year-old "Cowboys and Angels" singer may be single at the moment, but he knows how to win a heart. "Once I took a girl-friend to watch the sun set over the Nashville skyline and left a trail of roses in her house that led to the bathtub," he says. "That was pretty good. But I can beat it!" In fact Lynch comes from a long line of romantics: "My grandparents and my mom and dad were high school sweethearts. For me it's about treating somebody like they're the love of your life."
JOSH TURNER
Turner's been known to add a little stubble to his clean-cut good looks, but here's a look we'll likely never see: "I'd love to grow out my beard like the guys on Duck Dynasty, but I think I'd lose female fans!" On days off, however, "I'll let myself go—mainly for emotional purposes!"
DIERKS BENTLEY
Bentley is a problem solver. After realizing he was spending too much time on a tour bus and not enough at home with wife of seven years Cassidy and daughters Evie, 4, and Jordan, 2 (baby No. 3 is due this fall), he decided to take matters into his own hands. "I got my pilot's license. I was trying to get more time with my girls, but I couldn't afford to get in the back of a private jet, so now I sit in the front of a prop plane!" says Bentley, 38, who often flies himself to and from shows in his Cirrus four-seater, single-propeller airplane. "Getting back home, that is my life. I open the door and get down on my knees, and it's full-speed hugs—the girls come at me like linebackers taking me out!"
JAKE OWEN
He's a newlywed and a new dad, but the singer still finds time to indulge his inner surfer dude!
Why he loves the water: Growing up in Florida made me a saltwater rat. I was always on some kind of board - surfboard, knee board, boogie board ...
The downside of being a daredevil: Some fans on Twitter offered to take me wake-boarding, so I went out with them and fractured a joint in my lower back. Showing off was definitely to my demise, but you can't disappoint your fans!
On the new 2013 Jake: This year has been a big change for me. Having a little girl and being married, it's not just about me anymore. I've really cracked down on what I put in my body and staying fit. I used to enjoy entertaining a cold beverage after a show, but now I come off stage to a nice big bottle of water and some salmon and veggies!
GARY ALLAN
At 45, Allan is in no danger of letting himself go. "Too many 20-year-olds want my job," he jokes. "I push myself harder to keep fit now." That means an hour and a half of hot yoga daily, plus running or CrossFit, and when he gets back to his native California, surfing. "I like getting my ass beat," he says of his intense workouts. His diet is equally disciplined: "I eat like a robot - a protein and a carb every three hours." But Allan isn't all about fighting the clock. "As you age, you get confidence," he says. "You're happier with what you've got 'cause you've had it for so long!"
KEITH URBAN
Urban refuses to put much stock in his smolder. "If I sent you a photo right now, people would wonder how I ever made any of these lists," laughs the singer, 45, who admits for a time, he tried too hard. "I've gone through some crazy, experimental stages of not having a clue what my 'look' was." These days it's simple: a T-shirt and worn-in jeans. "I don't think I'll have to look back and go, 'What was I thinking?' A T-shirt is classic."
CHRIS YOUNG
He's sexy, successful and, more important, single - and despite a little ribbing from his family, the 28-year-old singer is exactly where he wants to be. "I'm the only grandchild that isn't married with a kid, and my family gives me hell, but I'm in a good spot right now," says Young. "It will happen when it's meant to." So what's he looking for in the future Mrs. Young? "Self-confidence is the sexiest quality a woman can have," he says. "I want someone who has their own goals." And when she comes along, the Tennessee native will know just how to woo her. "A nice, quiet dinner will always be my ideal date. With a little wine to help the conversation along. I'm more of a Cab guy, but I'll drink a Merlot or Riesling if that's what she wants. There's a reason you hear a lot about wine in songs - it works!"
Advertisement
Today's Photos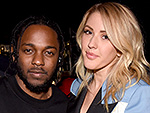 Treat Yourself! 4 Preview Issues
The most buzzed about stars this minute!