On Newsstands Now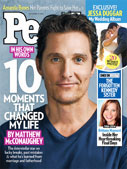 Matthew McConaughey: In His Own Words

Jessa Duggar's Wedding Album

Brittany Maynard's Final Days
Pick up your copy on newsstands
Click here for instant access to the Digital Magazine
People Top 5
LAST UPDATE: Tuesday February 10, 2015 01:10PM EST
PEOPLE Top 5 are the most-viewed stories on the site over the past three days, updated every 60 minutes
New Jersey Governor Chris Christie: A Work in Progress
'I Am Who I Am,' Insists Chris Christie. He's Loud, Impatient And, Yes, Overweight. But in An at-Home Interview, He Talks About Getting the Storm-Battered Jersey Shore Open for Summer, His Lap-Band Surgery, Those 2016 Presidential Rumors - and Even His Romantic Side
Not now, and not seven months ago, when Superstorm Sandy ravaged the state and tested Governor Christie's leadership and endurance. "He was working 18-hour days," says Mrs. Christie, sitting for a joint interview with People in their cozy family room. In the early days, "I couldn't get my head around how much damage there was," the governor says. "I walked along the beach from Mantoloking to Bay Head and saw one house after another gone. I knew we were in for a long haul." It isn't over: A quarter of the area needs another 12 to 18 months of rebuilding. The storm could have brought political disaster, but along with his blustery keynote speech at the 2012 Republican convention, Christie's response to Sandy put him on the national map. Well beyond the Garden State's borders, there he was on TV—always in that personalized fleece jacket—surveying damage with President Obama, comforting residents whose homes were, he recalls, "sitting in the middle of the interstate," verbally smacking down reporters for asking "stupid" questions and then mocking his own short temper (and smelly wet fleece) on Saturday Night Live.
Now, with the satisfaction of getting most of the Jersey Shore open for Memorial Day weekend and a 30-point lead going into his November reelection race, Christie is riding high atop the GOP presidential shortlist for 2016. A popular Republican in a mostly Democratic state, Christie is "able to be real, talk straight, and people respond to that, even if they disagree with him," says Ruth Mandel, director of Rutgers' Eagleton Institute of Politics. "He's one of the most gifted politicians I've ever seen."
But privately, Christie has struggled. "When you're somebody who's had a great deal of success in your life, like I've been fortunate to have, it's incredibly frustrating when you try to do something and you're not successful," he says. For Christie, 50, that something has been losing weight. After years of trying to get to a healthy size, he underwent lap-band surgery on Feb. 16 (see box).
He didn't do it, he says, to stop the fat jokes. (Just last night, he tells Mary Pat with an eye roll, "Letterman was on me again in his Top 10: How do you know you're in a bad science-fiction movie? The title is Journey to the Center of Chris Christie.") Nor to quiet critics who say his size might impede his way to the White House: "It has nothing to do with the performance of my job." Instead, he says, "I did it for myself, for Mary Pat and the kids. I've never been embarrassed about being overweight. I've been angry about it at times, but never embarrassed. I don't think anybody should be."
But his children worried. Mary Pat says that the kids—Andrew, 19; Sarah, 17; Patrick, 12; and Bridget, 9—shared their concerns about Dad's health with her. But Christie himself didn't know until Sarah blurted it out in a 2011 TV interview. They didn't want to hurt his feelings, says Mary Pat, lacing her fingers through her husband's. "It's a sensitive topic for all of us." Adds the governor, an involved dad who helps with homework: "For me it was a little sad they wouldn't tell me."
The lap band, placed on his stomach in an outpatient procedure, seems to be working, though he won't share numbers. "I've had past success that has lapsed back," he says. "So I'm leery of victory laps. But this seems, at least for the first 13 weeks, to be getting at the root of the problem, which is that I was hungry all the time." The picked-at crumb cake he leaves on the car dashboard while heading to Patrick's baseball game is testimony: "I'm not nearly as interested in food as I used to be. But it hasn't all of a sudden made me a huge vegetable fan. No matter what they do to me," he adds, with a laughing reference to one of his wife's rare cooking mishaps (she mistook chard for rhubarb), "I don't think strawberry-Swiss chard pudding is going to be on my list."
If he can slim down, says GOP strategist Steve Schmidt, his battle with weight may wind up being a political asset: "People will be rooting for him. And there's not too many politicians that people are actually rooting for."
No matter how much he ultimately loses, Christie says, "I don't want to be a proselytizer about this: Look at me, I've defeated it, why can't you? The only reason I've answered questions about my weight is because I don't want people to feel self-conscious about whatever challenge they have." And being big, he notes, hasn't held him back. "I've never felt discriminated against," he says. "Just the opposite. I've had amazing opportunities. If you give off the vibe of 'I'm content with who I am,' then people don't really care."
Born in working-class Newark to a reserved Irish-American accountant father and a feisty office-worker mom with Sicilian roots, Christie says he inherited his unguarded mouth from his late mom, whose motto was "Leave nothing unsaid." He is the oldest. Brother Todd is a director at Ernst & Young, and sister Dawn, adopted in 1974, is a mom. "The social worker came on a Friday with a picture of this little girl in a Raggedy Ann dress. On Sunday my father said, 'We need to vote on this.' We picked up my sister on Monday." He remembers the social worker noting that Dawn was half Puerto Rican. "There was a different sensitivity back then. My mother just said, 'I want her. This is our daughter.' It's just my brother and sister."
Christie has lived in New Jersey all but the four college years he spent at the University of Delaware, where Mary Patricia Foster from Paoli, Pa., deemed him "a student government geek" before falling for him; they wed in 1986. He returned to New Jersey for law school and served in local politics. Now a Wall Street bond trader, Mary Pat, 49, took off work last November and December to launch what became a $34 million Sandy storm-relief fund. Jon Bon Jovi is on the board, and the couple count the rocker and his wife, Dorothea, as friends. Christie is an unabashed music fan who was thrilled when a diplomatic trip to Jordan included a chance meeting with U2's Bono, and who has saved (in a shoebox) many of the tickets from the 132 Bruce Springsteen concerts he's attended. As for his friendship with the Boss, "what were some at-a-distance political tensions between us have broken down now. Not that we agree on stuff, but I think he's gotten to know me a bit more as a person, and that's helped."
Christie hit his own big time after raising more than $500,000 for the GOP and George Bush's 2000 presidential campaign. Bush appointed Christie a U.S. attorney, his stepping-stone to the governorship. Politics Christie-style is something to behold. As Hurricane Irene loomed in 2011, he bellowed to unworried residents, "Get the hell off the beach!" and YouTube is cluttered with footage of his even less P.C. language with voters and reporters. As Christie says repeatedly, "I am who I am."
"He's a big personality at home too, and gets better and faster results with the children than I do," Mary Pat says. Sitting on the floor to listen in, daughter Sarah interjects with a laugh that, unlike with the press, "he doesn't call us idiots or tell us to shut up!" Christie nods. "Sometimes it's going to Sarah's room, sitting on her bed, rubbing her back and saying, 'I know you're under a lot of stress, but you really need to do this,' " he says. "Other times, where Patrick's being a beast, the only way to deal with him is raise your voice, grab him close and say, 'I'm serious about this, man.' Most people have a broad spectrum to their personality, and I do too." There's also a romantic side. For Mother's Day he arranged a surprise date night at a New York City hotel before getting back home. A massage for her, then room-service dinner, Governor Christie reports, adding, "The hotel didn't rent hourly, which was the awful part of it!"
Should he decide to run for President, the kids will certainly have a vote, but not final say. "Sarah didn't want me to run for governor, so it's not like the kids get veto ability," Christie says. "She said it was going to ruin her life. It hasn't. After meeting
Prince Harry
[during his recent Jersey tour], she's doing fine!" Finding himself discussing the Presidency again, Christie demurs: "I have a job to finish here." But following his mom's advice to leave nothing unsaid, he adds, "Another thing that my mother used to say was, 'Do the job you have now well, and your future will take care of itself.' She knew I was ambitious. She could tell from the time I was a little kid I was always thinking about the next thing."
Advertisement
Today's Photos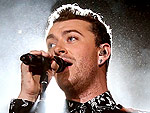 Treat Yourself! 4 Preview Issues
The most buzzed about stars this minute!