On Newsstands Now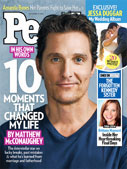 Matthew McConaughey: In His Own Words

Jessa Duggar's Wedding Album

Brittany Maynard's Final Days
Pick up your copy on newsstands
Click here for instant access to the Digital Magazine
People Top 5
LAST UPDATE: Tuesday February 10, 2015 01:10PM EST
PEOPLE Top 5 are the most-viewed stories on the site over the past three days, updated every 60 minutes
Picks and Pans Main: TV
Jane Lynch
HBO, May 26, 9 p.m. ET/PT |




DRAMA
Director Steven Soderbergh's Candelabra is one of the smartest, tartest examples I've ever seen of that soupy genre, the Hollywood biopic. Michael Douglas—simply great—plays Liberace, once upon a time billed as Mr. Showmanship. Wikipedians probably know him as a closeted Vegas piano act who performed under staggering amounts of fur, jewels and sequins—with his thick toupee, he looked like Bob Mackie's idea of a snow owl—and who died of complications from AIDS in 1987. The Liberace we see here is an obligingly (and cagily) pleasant creature who lives within the confines of a sparkly little kingdom he has forged from wealth and talent. He has appetites—for bling, sex, kitsch—and he satisfies them because he can. There's not much that connects him to existence as understood by non-celebrities: Liberace is Liberace, much as Sinatra was Sinatra. Only campier. (As to music, he expresses little interest in it.) Into this world Liberace carefully, methodically introduces a new, younger lover, Scott Thorson (
Matt Damon
, gamely playing brick-stupid). Liberace just as methodically excretes him after he becomes a drug addict and threatens to upset the gilded apple cart. Douglas, whose performances can suggest a reptilian cool beneath the skin, brings a touch of that here, even when flirtatiously batting his eyes. He's Mr. Soullessness.
Save Me
NBC, May 23, 8 p.m. ET/PT |




COMEDY
Anne Heche is a clever, somewhat briny actress, distinctive enough to always be a welcome presence, but there's nothing she can do with Save Me. She plays a miserable homemaker who, sodden after a night of partying, chokes to death on a sandwich. At least she thinks that's what happened when she comes to, full of joy to be granted a second chance and able to channel glimmers of insight directly from the hand of God. Save Me is like one of those quirky comedies that Showtime develops for fortysomething actresses, except it's all way too broad. Consider it dead on arrival.
Motive
ABC, May 20, 10:01 p.m. ET/PT |




DRAMA
A Canadian import, this crime drama comes with a gimmick: At the start of the hour, we learn not only who's been killed but who killed them. Then, in steps dots-connecting Detective Angie Flynn (Kristin Lehman). The framing device doesn't really generate any unusual tension or excitement—how often in a conventional police procedural do you throw your hands up at the end and say, "I never guessed that special guest star did it"?—but I like Lehman. She looks and sounds like Uma Thurman toughened by years stuck at the precinct, and her interaction with fellow detective Oscar Vega (Louis Ferreira) is casually believable. Motive isn't ingenious enough to motivate imitations or spinoffs, but it's smooth and diverting.
North America
Discovery, May 19, 9 p.m. ET/PT |




NATURE
Discovery's epic wildlife documentaries barely change, wherever the cameras happen to turn: They're just predictably awesome. This exploration of our continent is spiced with a little pop-rock and country music on the soundtrack—meh—but that doesn't diminish the impact of the gorgeous panoramas or deadly encounters between species (never, ever underestimate the pack intelligence of killer whales). Someday Instagram will be advanced enough to capture fine strands of light-streaked mist feathering a mountaintop. Until then, there's this.
COMMENTS? WRITE TO TOM: tomsreviews@peoplemag.com
YOU'VE GOTTA SEE THIS ...
AUDRA McDONALD IN CONCERT
A fine actress and fabulous singer, she performs at Lincoln Center to debut her album Go Back Home. PBS, May 24 (check local listings).
ARRESTED DEVELOPMENT
The cult comedy classic about the frantic Bluth family finally gets revived—15 new episodes! Netflix, streaming beginning May 26.
NASHVILLE
It's Country Music Academy awards night, but Connie Britton may wind up in no mood to party. Season finale. ABC, May 22.
BECOMING JUNE CARTER CASH
You transformed for this role, with dark hair and prosthetic teeth!
I didn't want people just looking at me going, "Is that Jewel wearing a wig?" And that meant wearing the prosthetic dentures. My snaggle[tooth] is so identifiably me.
What kind of reaction did your husband, rodeo cowboy Ty Murray, have?
He was real supportive. One of the reasons I took the role was because I was able to do it as a mom when Kase was 9 months old. When the baby saw me for the first time in the wig, with those blue eyes, it was like he thought I was in a mask.
Any recent milestones for Kase?
On the [tour] bus I have a shower back there with a little training potty in it. Nothing like potty training on the road. It's been hilarious, actually.
Do you and Ty think more kids are on the horizon?
I'm torn. I feel like I have one handled. Two is a whole new thing. But they say you have your first kid for you and your second kid for your first kid. So we'll see if that compels me or not!
BROADWAY SHOWSTOPPER
The Glee star sheds Sue Sylvester's sweatsuits for her Broadway debut, as orphan-hater Miss Hannigan in Annie
Were you excited to have the chance to be on Broadway?
It's one of those preposterous fantasies I thought would never come true, but when I was asked, I said, "No." But then I realized I was just scared to death.
Were you a fan of musicals growing up?
My family was very into musical theater. Even though we didn't perform, we sang all the time. My dad always did the soft-shoe. My parents harmonized together. They'd sit at the kitchen table with their Manhattans, and then they'd sing. My sister said something to me recently - that she listened to [Annie song] "Little Girls" and thought, "Our parents are having a little party in heaven to celebrate this."
Did you start out doing theater?
I was given the role of the king in The Princess and the Pea when I was 14. I went to one rehearsal and I quit. I found my old scrapbook from back then, and I had written, "I quit because I couldn't get my character." I probably read that somewhere. I didn't get the huge laughs that I [thought I would], so I said, "I can't do this." I was afraid of failure.
Will Sue Sylvester be singing more on Glee next season?
[Laughs] I haven't asked that yet! Hopefully I'll get some fun solos. [Show creator] Ryan Murphy loved the play. He even put "Little Girls" in our show.
So you've terrorized teens and now orphans!
This makes the kids love me even more. I think I need to play a saint next.
Behind the Candelabra
Advertisement
Today's Photos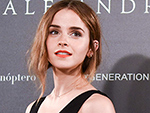 Treat Yourself! 4 Preview Issues
The most buzzed about stars this minute!