On Newsstands Now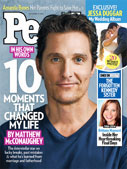 Matthew McConaughey: In His Own Words

Jessa Duggar's Wedding Album

Brittany Maynard's Final Days
Pick up your copy on newsstands
Click here for instant access to the Digital Magazine
People Top 5
LAST UPDATE: Tuesday February 10, 2015 01:10PM EST
PEOPLE Top 5 are the most-viewed stories on the site over the past three days, updated every 60 minutes
A Love That Heals
After Dallas Wiens Lost His Face in a Horrifying Accident, He Decided to Give Up on Love. Then He Met Burn Survivor Jamie Nash


On March 30, at Ridglea Baptist Church in Fort Worth, Texas, two people who had given up on love swore their eternal bond. Dallas Cole Wiens, 28, kissed his bride but could not see her: Blind beneath his dark glasses, Dallas is the nation's first full face transplant patient, a living medical miracle after a freak electrocution accident in 2008 almost killed him. Jamie Kaelyn Nash, 30, had the French lace on her wedding gown designed to blend into the ropey, pink scars that cover her arms and back; her sandals reveal only one manicured toe on her right foot, the results of life-threatening injuries from a fiery 2010 car wreck. "Jamie and Dallas have chosen each other," pastor Scott Cox tells the gathering, "but they believe God chose them for each other."

The horrible, disfiguring accidents that caused Dallas's and Jamie's injuries brought them together, two scarred survivors healing each other. "It was providence," says Dallas simply. "She is my beloved, my soulmate."

A Life-Changing Moment

There was nothing extraordinary about Thursday, Nov. 13, 2008, the day Dallas should have died. He was helping his brother and uncle finish painting the exterior of the Ridglea Baptist Church, which he'd attended as a boy. A strip of wood right beneath the roof needed repainting, and someone had to go up in a boom lift. "They brought me in because I wasn't afraid of heights," Dallas recalls. As he ascended, his forehead hit a high-voltage power line; electricity coursed through his body. His face was burned to the bone. Three months later, he awoke in Parkland Memorial Hospital in Dallas from a medically induced coma. Gone was the handsome face with soulful brown eyes and chiseled features that all his life had gotten women, Dallas says, "to give me whatever I wanted." In its place: a flap of skin, with a 2½-in. slit where his mouth used to be. His left eye was gone; his right, useless. "Well," he recalls thinking, "I guess I won't have to worry about love anymore because I won't have a face. I was fine with that. All love had done was hurt me."

A Fateful Meeting

Dallas was already a kind of celebrity by October 2011, when he spoke to a group of burn patients at Parkland. In the audience was Jamie, a bubbly optimist despite the life-changing events of June 27, 2010, when she was driving on a Texas road and texting. She can still hear her own screams as the car skidded, flipped over and burst into flames. "I remember patting my hair down because it was on fire," says Jamie, who suffered third- and fourth-degree burns on 70 percent of her body, including her arms, stomach and legs.

That day, when Dallas entered the room, dark glasses shading his reconstructed face (see box), "I was intrigued," Jamie says. "The way he sauntered in. I'm looking at my scars thinking, 'I don't know if I could deal with something happening to my face.' He hit pretty deep with me. He gave me hope with everything I was going through." Afterward she sent him a Facebook message: "I was so glad to meet you today." He didn't respond. Two months later a nurse urged her to try again. "I texted him around 6 p.m. We kept texting until 4 a.m.," talking about their children, music and what had happened to them. Two weeks later, she sent another text: "I want to go out on a date."

He accepted, but only to let her down gently. He was done with love. He describes his childhood as violent and chaotic, turning him into an angry teen who got into scrapes with the law. His first marriage quickly went down the tubes. He was finally getting over a nasty custody battle over the one bright spot in his life, his daughter Scarlette, now 6. "I was sick of the drama and the BS. I did not want a relationship. I'd been stabbed in the heart emotionally so many times."

Falling in Love

They went out to dinner at Applebee's. Despite himself, Dallas got drawn in by Jamie's playful humor and nonstop chatter. "It was her personality, her spirit," he says. "She was so happy regardless of her injuries." Later that night, at the movies watching Sherlock Holmes: A Game of Shadows, they held hands. "We'd agreed I would touch her face to see what she looked like," Dallas recalls. "I touched her forehead, her cheeks, her eyes. Then I stopped. She said, 'Why didn't you touch my lips?' So I kissed her." He later discovered one of his prosthetic eyes had popped out.

Soon the two were inseparable. For Jamie, Dallas's honesty and compassion sealed the deal. "His heart really shone through," she says. "First I fell in love with him emotionally. Then I fell in love with him physically." But, she says, looks were never a sticking point: "I always thought he was handsome," she says. It was her own appearance she worried about, so his blindness made things easier. "I was nervous," she says. "I wanted him to want me, and I was self-conscious about my scars." But Dallas found her beautiful - A woman's body is a work of art," he likes to say. On a cruise in the Bahamas, he says, "I knew I wanted to marry her." On Nov. 20, 2012, the day Jamie regained enough mobility to move the third finger of her left hand, she excitedly texted Dallas the news. "Get home now," he texted back. He proposed outside a jewelry store, placing a platinum-plated band with a diamond on Jamie's finger. "He got down on one knee and said, 'Will you marry me?'" she recalls. "I said, 'Of course I will!'"

'You Can't Die!'

Getting ready for the wedding last winter, Dallas and Jamie had hit their stride as a couple. Whether at their two-bedroom apartment in Garland or having lunch at the Applebee's where they'd had their first date, they were constantly touching and affectionately teasing. "The fact that she deals with me," says Dallas, whose dry sense of humor comes through his sometimes-slurred speech, "is a testament to her character, not my good looks." Despite their jokiness, they've both had dark days, and each has been there for the other. "After I have a surgery, and I'm in so much pain, the depression sets in," says Jamie, who is divorced and shares custody of her two daughters. "He holds me and lets me cry. Then he says something to make me laugh."

Their love was put to the ultimate test in January. Dallas's face had begun to reject the transplant, a potentially fatal condition. He spent more than three weeks in a local hospital before being flown to Brigham and Women's Hospital in Boston. "I thought," Dallas says, " 'God hadn't brought me this far to take it all away.'" At his bedside, Jamie began to cry. "You're supposed to marry me. You can't die!" she said. "If you lose your face or not," she said, "I'm going to marry you." So on Jan. 30, with their pastor present in Dallas's hospital room, they took their marriage vows.

A Day to Remember

Dallas recovered, and the big wedding was back on. The perfect venue had always come down to one place: Ridglea Baptist Church. "It's where I was injured," Dallas says. "It's where I was reborn. It's where the greatest part of my new life will begin." Says Jamie: "We're going back to start over."

When it was time to kiss the bride, Dallas smooched Jamie so long and passionately, Pastor Cox had to break it up. "Okay, that's enough," he said with a big grin. Then, turning to the gathering of 200 - including doctors, nurses and fellow burn survivors - he said, "I now present to you Mr. and Mrs. Dallas and Jamie Wiens." The crowd broke into wild applause. After the ceremony Jamie took Dallas's arm and guided him back up the aisle and out of the church. At the reception at the Flying Saucer restaurant, the newlyweds entered the room to Bruno Mars's "Just the Way You Are." Dallas, says Dr. Jeffrey Janis, who treated him at Parkland, "has found the love of his life. It's a fairy-tale ending."

As in any good fairy tale, love conquers all. "He makes me feel like I'm the most beautiful person in the world," Jamie says. "I just love him so much." And Dallas? He wouldn't take his old face back if he could. "It was worthless," he says. "My life was empty. Now I'm happy. I'm satisfied. I've got Jamie."


Advertisement
Today's Photos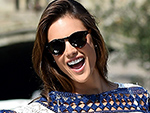 Treat Yourself! 4 Preview Issues
The most buzzed about stars this minute!