People Top 5
LAST UPDATE: Tuesday February 10, 2015 01:10PM EST
PEOPLE Top 5 are the most-viewed stories on the site over the past three days, updated every 60 minutes
The PEOPLE Interview: Oprah On...
Her Life with Stedman, the Joys of Sleeping in & What Nearly Led Her to 'a Nervous Breakdown'
Oprah Winfrey
for a daily dose of inspiration and calm in a crazy world. Yet last summer, embroiled in turning around her struggling Oprah Winfrey Network while filming her first movie in more than a decade, the most powerful woman in entertainment felt beyond weak. After she flew from her New Orleans film set to San Diego to interview Kony 2012 founder Jason Russell, Winfrey recalls, "Jason was talking about having a nervous breakdown, and I was thinking, 'I have those symptoms.'" A few days later she was preparing to record voice-overs for a couple of her shows on OWN when she hit a breaking point. "I remember closing my eyes while I was reading," she says. "I thought, 'I cannot have another thing enter my brain.' I needed to pull back."
Oprah
being
Oprah
, of course, she didn't exactly pull back - instead she took a deep breath, did some soul-searching and found another route to success. Now, almost a year later, OWN's fortunes are on the rise and Winfrey is earning Oscar buzz for her emotional turn in Lee Daniels'
The Butler
. (See review, page 31.) And the talk show empress is ready to talk - about facing unexpected setbacks and how her life has evolved since ending her signature show in 2011. Lounging on a sofa in her New York City hotel suite, she's earthy and candid, admitting to self-doubt after the bumpy OWN launch, opening up about how she leaned on longtime beau Stedman Graham during that turbulent time and declaring that any decent day begins after 7:24 a.m. "After 25 years of being No. 1, I had become accustomed to success," she says. "I didn't expect failure. I was tested and I had to dig deep."
Winfrey's talk show made stars out of regular guests like doctors Phil and Oz, sent book sales soaring and made her one of the world's richest self-made women. So when she quit and started her own cable network, everyone expected Winfrey's devotees to tune in. When that didn't happen, the network's problems became a hot topic: "O don't know cable," the
New York Post
blared. By last summer, Winfrey says, it felt like everyone was a critic. Leaning forward on the sofa, she says slowly, "People were counting me out." After a deep breath, she softens. "The schadenfreude was very painful for me, because I had never experienced it. I thought, 'Do I not get credit for the 25 years? What have I gotten myself into?'" After years of advising viewers how to face a crisis head-on, "this forced me not to just talk the talk. Failure is a great teacher—I knew this intellectually. But it's another thing if you're living it."
Fortunately Winfrey leaned on her inner circle, including best pal Gayle King. Her secret weapon was Graham, 62. "He was amazing," she says. "He said, 'You can't even think about quitting.'" He also delivered some tough love, telling her, "You have been in cruise control. It's gonna turn around, but you've gotta do the work."
Despite their famously long engagement (21 years!), it's clear Graham is a rock in Winfrey's life. She chuckles and recalls their first date three decades ago. "We went waterskiing. Stedman tried 28 times [to get up] and wouldn't give up. I thought, 'What is wrong with him? Good lord, this is exhausting!' He would not quit." Now, she says, "we're like an old married couple." A successful marketing consultant and motivational speaker, Graham is also a graceful companion to his powerful partner. When they're out together, "I've seen people crawl over him, push him aside," Winfrey says. "He's learned how to navigate that. That takes a confident man. That embodies who he is."
For
The Butler
's Manhattan premiere on Aug. 5, Graham flew in from Chicago to be by Winfrey's side. Winfrey confesses she was petrified at returning to the screen for the first time since 1998's
Beloved
. "I didn't embarrass myself!" she trumpets, throwing up her arms in triumph. "I was so worried I would." In fact, she initially turned director Lee Daniels down when he offered her the role of Gloria, the wife of butler Cecil Gaines (Forest Whitaker), who serves eight Presidents in the White House. She worked with an acting coach to get over her fear of crying scenes and spent time bonding with Whitaker: "We would walk hand in hand and talk," he says. "It led to the magic of us being able to connect.... I was reacting off of some of the powerful moments she was giving." Winfrey loved that the film, inspired by a true story, told an important part of African-American history. "I come from a long line of domestic workers," she says. "My mother was a maid, her mother was a maid, her mother was a maid, her mother was a slave. My grandmother's dream for me was that I would be not just a maid, but a maid for some good white folks."
Winfrey thinks back on her past movie roles as emotional turning points in her life. While making
The Color Purple
in 1985, the then-Chicago morning host had to ask director Steven Spielberg for a day off so she could sign the contract to start her talk show. "I told him, 'It's kind of like Phil Donahue, but it's me,'" she recalls. She was Oscar-nominated - and seeing Spielberg at work inspired her to start her own studio for creative control. Later, though, she produced and starred in
Beloved
, which fizzled at the box office and "sent me into a depression. I thought, 'Okay, this is not what I'm supposed to do.' So the instrument got put into the closet."
Fortunately, that talk show thing was working out. "I gave the show everything I had," she says. In the offices at Harpo by 6:30 a.m., she usually worked until at least 8:30 p.m. "That was my life for 25 years," she says. "Stedman was a saint." Winfrey credits Jerry Seinfeld for planting the seed for her exit. She was about to start her 20th season and was lamenting the end of summer vacation. "He said, 'You need to stop whining. You are one of the few people in the world who has the great opportunity to design your own life.' That became my mantra. What did I want next? I didn't want to get to the point of, 'You know, she should have quit that show, 'cause now you can tell she tired.'"
Two years have passed since her last show, and what does Winfrey miss the most? "I miss the people in the room. Many times I loved the after show more than the show itself." What does she not miss? The early hours. "Now the most exciting thing is to be able to wake up when my body naturally wakes up. Lately that's 7:24 a.m." She has a ban on alarm clocks. "I hate them!" she says. "I don't want to be jarred. It ruins my day." After she wakes up - with Graham, or, when he's away, her five dogs beside her - "I meditate. I don't look at my mobile device. The greatest days are where I take the time to be silent."
As she prepares to turn 60 next January, Winfrey hasn't begun to think about true retirement. But, as with her talk show, she says she'll know when to hang it up. "I never want to be less than passionate," she says. "I never want to go to work going, 'Do I have to show up?' I want to leave while I feel, 'Wow, I can't believe I have this.'"
Contributors:
With Sydney Berger/New York City,
Michelle Ward/New York City.
Advertisement
Today's Photos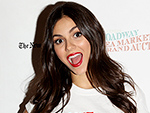 Treat Yourself! 4 Preview Issues
The most buzzed about stars this minute!