On Newsstands Now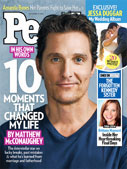 Matthew McConaughey: In His Own Words

Jessa Duggar's Wedding Album

Brittany Maynard's Final Days
Pick up your copy on newsstands
Click here for instant access to the Digital Magazine
People Top 5
LAST UPDATE: Tuesday February 10, 2015 01:10PM EST
PEOPLE Top 5 are the most-viewed stories on the site over the past three days, updated every 60 minutes
Tom Cruise: Father Under Fire
Questioned About His Relationship with Daughter Suri, the Star Sees His Private Life Made Public in a Legal Battle
Tom Cruise
found himself playing in an L.A. law office on Sept. 9 was likely one of the hardest of his life: that of a divorced father answering tough questions about his relationship with his 7-year-old daughter. Admitting that miles and months had separated him from Suri, his child with ex-wife
Katie Holmes
, 34, the star defended himself as a working dad juggling an intense schedule and all too often making do with long-distance phone calls to his kid. Last week portions of his deposition went public in a court filings - putting his life since his divorce on vivid display. "I know how much Tom loves his kids," says a source who worked with the actor. "My heart is breaking for him."
But Cruise is also determined. Sources say the star has no intention of backing off a $50 million libel lawsuit against Bauer Publishing, owner of
In Touch
magazine, over a cover saying Suri had been "abandoned by daddy" in the wake of his 2012 split from Holmes. Cruise demanded a retraction, arguing that child abandonment is a crime and that his relationship with his daughter is a very close one. His opponents argue his long absences for work make the parenting criticism fair. So far no one is giving an inch. More of the deposition and other evidence could be released soon, with the suit set to go to trial in 2014 if the two sides don't settle. Cruise "certainly knew that by filing this lawsuit, personal matters would become public," says L.A. entertainment lawyer Larry Stein, who is not involved in the case. "Tom filing this lawsuit was a very calculated decision. It seems highly personal." It is. "Saying I abandoned my daughter ... I find it appalling," Cruise declared.
In the wide-ranging, often heated deposition, Cruise, 51, with his longtime attorney Bert Fields by his side, clashed with Bauer lawyer Elizabeth McNamara about his role as a father to Suri, his Scientology faith, his career choices and whether on-set life compares with military combat. McNamara grilled Cruise about how he could maintain a close relationship with Suri despite months apart from her. While Cruise's older kids, Bella, 20, and Connor, 18, have seen their father on sets, attending events and spending time together, Cruise admitted that he didn't see Suri in person for more than 100 days after Aug. 4, 2012, when they wrapped a week-long vacation at Disney World and Cruise headed to London to film a movie. Agreeing that Suri missed him when they were apart, he pointed to their frequent phone calls as evidence the two are very much a part of one another's lives. "I've gotten pretty good at communicating," he said. "Suri ... is a very happy child and confident and has a good sense of herself."
McNamara, a veteran media lawyer who has worked for clients such as AP, NBC and PEOPLE publisher Time Inc., quizzed Cruise about how he could fly a private plane for a day from a set in Pittsburgh to a Scientology event in London two years ago, yet not fly from London to his daughter's first day of school in New York last fall. Cruise responded that job commitments made before the divorce and concerns about added media scrutiny on Suri played a part in his decision, adding that his daughter didn't bring it up. "If she had asked me to be there, I would have been there," he said. "I would have worked it out in any way I could."
Despite the exes' commitment to work together amicably as parents, Cruise admitted to there being challenges: visitation dates with Suri that he and Holmes, who has primary custody, couldn't make work. When he wasn't able to come to New York to see Suri in September 2012, Holmes suggested an October date, but it conflicted with his work schedule. "When a divorce occurs, things change," he said. "And it's more complicated, as everyone knows ... you have to ask for permission and organize schedules to make things happen. It's not an ideal situation."
One of the tensest exchanges was over Scientology and its role in the breakup of his marriage, as well as its effect on his relationship with Suri. Cruise was asked to address whether his wife left him to "protect" Suri from his religion. "I find that question offensive," he shot back. "There is no need to protect my daughter from my religion." At one point Cruise seemed to agree with McNamara that Scientology was a factor in his breakup, saying "that was one of the assertions," during his divorce. But he later clarified that "Katie never told me" it was a factor. Cruise did acknowledge, though, that Holmes and Suri are no longer Scientologists. McNamara then brandished a printout from a Scientology website, asking whether they would be declared "suppressive persons" who would "lose fellowship" with current Scientologists. "That is a distortion and simplification of the matter," Cruise said. "I don't want to just give an oversimplification of religious doctrine." Cruise also reacted strongly to a suggestion that his behavior mirrored that of his own absentee father. "My father didn't pay money," he said. "He didn't call."
Another exchange provoked controversy. In a letter to Bauer, Cruise's attorneys argued that claiming the star "abandoned" Suri meant that any parents - including soldiers - separated from their families overseas "could be charged with child abandonment." McNamara asked Cruise if he was aware that his legal team had likened his absences to someone fighting in Afghanistan. Part of Cruise's response - "that's what it feels like" - was widely reported and according to Fields, "a gross distortion of the record. Tom is a staunch supporter of our troops and would never say that making a movie was even remotely comparable to fighting in Afghanistan." Later in his deposition, asked if the situations are the same, Cruise answered, "Oh, come on."
Holmes hasn't commented on the case. Legal experts say either side could have sought to depose her, but for now, she and Suri are busy exploring South Africa, where Holmes is shooting The Giver with Meryl Streep. Holmes "has been focusing on Suri and work," says an industry source who knows her. "She seems pretty happy." The pair have visited a game lodge and a local playground in Cape Town, where "they blended right in," says a witness. Suri is expected to return to her New York City home and school in about a month, but for now, Cruise (who was last photographed with her Sept. 15 in Lake Placid, N.Y.) is 9,976 miles away from Cape Town in L.A., where he's been planning his next films and spending time with his older kids. "He's so close to [all of] them," says the source who worked with him. "He adores his children." Which is why he's determined to see the lawsuit through. Says the source: "He can't back down now."
Contributors:
Mary Green/New York City,
K.C. Baker/New York City,
Ken Lee/Los Angeles,
Elizabeth Leonard/Los Angeles.
The audience was rapt, and the camera was rolling. But the role
Advertisement
Treat Yourself! 4 Preview Issues
The most buzzed about stars this minute!