On Newsstands Now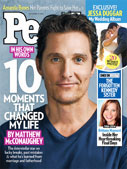 Matthew McConaughey: In His Own Words

Jessa Duggar's Wedding Album

Brittany Maynard's Final Days
Pick up your copy on newsstands
Click here for instant access to the Digital Magazine
People Top 5
LAST UPDATE: Tuesday February 10, 2015 01:10PM EST
PEOPLE Top 5 are the most-viewed stories on the site over the past three days, updated every 60 minutes
Picks and Pans: Books
Fall Cookbooks
by Anjelica Huston |




REVIEWED BY MARY POLS
MEMOIR
A caution: The star of The Addams Family and Prizzi's Honor (and, famously, Jack Nicholson's ex-girlfriend) writes only about her first two decades in this memoir. So no dish on Jack or her recent TV outing Smash. A promise: You won't mind, because this slim, plainspoken book is so evocative. Huston details her entitled yet uncertain youth, much of which was spent on her family's Irish estate, where she romped with dogs and dreamed up fictions to share with her father, movie director John Huston. His lime cologne and gruff voice almost waft off the page, as does the sadness left by his many absences and lack of fidelity to her neglected, beautiful mother, Ricki. But when he returned, often with mistresses (including the novelist Edna O'Brien) and the likes of John Steinbeck in tow, "like a sleeping beauty awakened, the house would come alive." Huston cuts short her story not long after her first serious role in her dad's film A Walk with Love and Death. But a second installment is planned; a good thing, since this sleeping beauty of a memoirist has clearly awakened.
Double Down
by Mark Halperin and John Heilemann |




REVIEWED BY JUDITH NEWMAN
NONFICTION
This compulsively readable follow-up to Game Change isn't just gossip. (Does Obama really like Clinton? Did Michelle Bachmann say that?) A chronicle of the freak show that was the 2012 presidential election, the book illustrates how profoundly personality shapes history. And it shows too that, love or hate Obama's policies, it's hard not to admire him as a man. At one point Joe Biden, aware that he and Obama are utterly different, notes a similarity: "He doesn't pretend to be what he's not, and I don't pretend to be what I'm not." Double Down amply demonstrates how our 44th President earned every one of those brand-new gray hairs.
Stella Bain
by Anita Shreve |




REVIEWED BY HELEN ROGAN
NOVEL
Shreve's spare, elegant novel unravels the mysterious past of a wounded army nurse in World War I. Regaining consciousness in a hospital tent in France, Stella Bain has amnesia but senses that something terrible has happened to her. Her pursuit of the truth—in England, in America and on the battlefield—reveals the bitter sacrifices she has made to survive. While the story sometimes feels a little rushed, Shreve's many fans will appreciate her keen understanding of women's struggles to live life on their own terms.
COMMENTS? WRITE TO KIM HUBBARD: bookseditor@peoplemag.com
LIES YOU WANTED TO HEAR
by James Whitfield Thomson
An unequal attraction has devastating repercussions in this delightful, assured debut novel from 68-year-old Thomson.
HAVISHAM
by Ronald Frame
Just in time for the new Great Expectations film, a novel imagining Miss Havisham's young life. Hint: There were fewer cobwebs.
ACCUSED
by Lisa Scottoline
After some rockin' stand-alones, Scottoline returns to her popular series about feisty all-female law firm Rosato & Assoc. Nice to have them back.
Almost two years after Ben Breedlove's heart stopped for the last time, his sister Ally has written a book about the boy whose YouTube video touched the world.
Ben's video was about not fearing death. Did he know he didn't have much time left?
I think he had a premonition.
Why do you think he made the video?
He'd had a vision, and he thought God wanted him not to be afraid, that Heaven is worth it. I think he wanted to share that message.
Do you think about death differently now?
Ben believed everything's for a purpose and there's a much bigger picture that hopefully we all get to see someday. I don't think I'm as afraid as I used to be.
Can you match the quote to the memoir?
1 We usually have a Crock-Pot full [of Merry Christmoose Chili] on the counter all throughout the holidays.
2 His smile had the glint of a pirate with treasure in the hull. There was a profound sadness about him that drew me in.
3 You really can't fault women for being irrational. Blood drips out of them willy-nilly and there's nothing they can do about it.
4 Eating red meat gives one character ... I eat a bunch of spinach, but only to clean out my pipes to make room for more ribs, fool!
THE ANSWERS
1. Good Tidings and Great Joy by Sarah Palin
2. The Bite in the Apple by Chrisann Brennan
3. Let Me Off at the Top! by Ron Burgundy (a.k.a. Will Ferrell)
4. Paddle Your Own Canoe by Nick Offerman
ONE GOOD DISH
by David Tanis
This eclectic mix from a New York Times writer comprises mainly one-dish recipes for, he writes, "the way I cook and eat day-to-day." Stale bread becomes spaghetti with bread crumbs and pepper. Warm French lentil salad can feed a crowd on a cool day. Tanis also includes desserts (espresso-hazelnut bark, tangerine granita) with pleasingly short ingredient lists.
THE NEW MIDWESTERN TABLE
by Amy Thielen
Having toiled in the kitchens of A-list N.Y.C. chefs like Daniel Boulud, Thielen, host of Food Network's Heartland Table, comes home to Minnesota to celebrate her varied and inviting native cuisine: lake fish, roasted chicken, turnips with greens and bacon, peach jam. A chapter solely devoted to potatoes and onions? Yes, please.
KEEPERS
by Kathy Brennan & Caroline Campion
This made-for-harried-parents book promises "tried-and-true" dishes you'll want to return to often. The authors aren't breaking new ground with their takes on meat loaf, broccoli-and- cheddar quiche or turkey Bolognese. But they thoughtfully include tips for menu planning and shopping (with or without kids) and gently remind you that taco night is always an option.
MOOSEWOOD RESTAURANT FAVORITES
by the Moosewood Collective
If you need reading glasses to peruse this 400-plus page tome, I will bet that you already have a Moosewood cookbook in your past. Lentil burgers made in your dorm room, perhaps? To mark the 40th birthday of the mostly vegetarian Ithaca, N.Y., restaurant, the owners have gathered its greatest-hit recipes, allowing a new generation to discover the pleasures of confetti kale slaw and vegan chocolate cake.
THE FOUR & TWENTY BLACKBIRDS PIE BOOK
by Emily Elsen & Melissa Elsen
Brooklyn bakers by way of South Dakota, these sisters share a year's worth of beautiful pies from the simple (skillet stone fruit streusel) to the exotic (green chili chocolate).
Salty Honey Pie
1 stick unsalted butter, melted
¾ cup granulated sugar
1 tbsp. white cornmeal
½ tsp. kosher salt
1 tsp. good-quality vanilla
¾ cup honey
3 large eggs
½ cup heavy cream
2 tsp. white vinegar
1–2 tsp. flake sea salt
1. Have ready 1 frozen 9-in. piecrust. Preheat oven to 375º.
2. In a bowl, stir together the melted butter, sugar, cornmeal, salt and vanilla. Stir in the honey, and add the eggs 1 at a time, then cream and vinegar.
3. Place the frozen pie shell on a baking sheet, and strain the filling through a fine-mesh sieve directly into the pie shell. Bake on the middle rack of the oven for 45 to 50 minutes, rotating 180º after about 30 minutes. The pie is finished when the edges are set and the center is no longer liquid but looks set like gelatin and is golden brown on top. Cool completely on a wire rack. Sprinkle with flake sea salt and serve.
A Story Lately Told
Advertisement
Today's Photos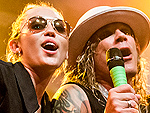 Treat Yourself! 4 Preview Issues
The most buzzed about stars this minute!