On Newsstands Now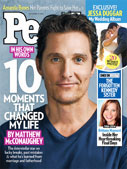 Matthew McConaughey: In His Own Words

Jessa Duggar's Wedding Album

Brittany Maynard's Final Days
Pick up your copy on newsstands
Click here for instant access to the Digital Magazine
People Top 5
LAST UPDATE: Tuesday February 10, 2015 01:10PM EST
PEOPLE Top 5 are the most-viewed stories on the site over the past three days, updated every 60 minutes
Amy Robach's Breast Cancer Battle" 'I Have a Lot to Fight For'
After a Simple TV Segment Led to a Devastating Diagnosis, the ABC News Anchor Chose a Double Mastectomy - And a Positive Outlook


In many ways, it was like any other Thanksgiving at Amy Robach's house. The turkey was in the oven. Family was there for dinner. There was just one tradition Robach would have to sit out: the annual touch football game. Having undergone a double mastectomy just two weeks before, the Good Morning America correspondent was still under doctor's orders to avoid physical activity. ("Baste the turkey. Don't lift it," read her surgeon's text that day.) So on Nov. 28 she let her energy out a different way: whipping up a pumpkin cheesecake for dessert. And as Robach, her husband, former Melrose Place actor and entrepreneur Andrew Shue, her parents and her two young daughters sat down to dinner, "we all held hands and everyone said what they were thankful for," she recalls. When it was her turn, Robach uttered something "I never would have said before," she explains. "I said I was thankful to be alive."

Having reluctantly undergone an on-air mammogram on GMA on Oct. 1, Robach was stunned when she learned weeks later that she had a malignant tumor in her right breast. Swiftly, Robach made the decision to have the most aggressive surgery she could to treat her breast cancer: a double mastectomy. "I just had a visceral, immediate gut feeling that this is what I wanted to do," says Robach, 40, sitting down in her Garrison, N.Y., living room just 16 days after surgery. "I said, 'I'm young. I don't want to live with anything hanging over my head.'" Now she's focused on the battle still ahead, which will include chemotherapy. "I told my kids, 'You know Mommy is a fighter,'" she says.

And Robach insists she is ready to keep fighting, though it's already admittedly been difficult. With virtually no family history of breast cancer, Robach had no plans to get a mammogram (and some current controversial guidelines suggest it's not necessary before age 50). But her producers and GMA cohost Robin Roberts, herself a breast cancer survivor, urged her to get tested live for a segment. "I had a false sense of security. I run every other day. I eat well. I take care of myself," she says. "I never imagined that this would happen." In fact, when she initially got called back for a further scan, "I didn't think anything of it," she says, and waited weeks to go back.

But on Oct. 30, when Robach went in for the follow-up, she grew alarmed when doctors wanted to biopsy her breast. With her husband out of town and her panic rising as more and more tests were ordered, Robach reached Shue, 46, just as a doctor walked in to deliver the results. Robach put Shue on speakerphone, "and the radiologist said, 'Mr. Shue, are you driving?'" Robach recalls, tearing up. "Suddenly I knew this isn't going to be good. The next sentence out of her mouth was, 'The tumor is malignant.' I burst into tears hysterically."

Shocked and devastated, Robach thought of having to break the news to her two little girls, Ava, 10, and Annalise, 7, from her marriage to ex-husband Tim McIntosh, as well as Andrew's sons Nate, 17, Aidan, 15, and Wyatt, 10, from a previous marriage. "I don't have a poker face. I knew I couldn't go home and not tell them," says Robach, who consulted a psychiatrist for guidance as Andrew and her parents, Mike and Joan Robach, flew in to be by her side. She broke the news to her kids as gently as she could: "I assured them I'm not going to die," she says, and while there were tears, "we actually try to have a few laughs about it," Robach explains. "I said, 'If Mommy loses her hair, who is shaving their head with me?' And they're like, 'We're not!'" But while Robach tried to return her girls' lives to normal by going trick-or-treating that next night, it wasn't as easy to reassure herself. "They were laughing again and had forgotten that Mommy had breast cancer, and all of a sudden I had my first full-on panic attack," she recalls. She had Shue pull over and let her out of the car. "I was hyperventilating," Robach says. "The reality of it all fell on me, the weight of it: Now you've got this devastating news and making these unbelievable decisions."

A greater sense of calm came once Robach settled on having a bilateral mastectomy (see box). "I was just resolute," she says. "For me, given my age, given the fact that I have young children, I was going to be aggressive." Before her surgery, Robach says her surgeon remained cautious about her decision not to get the more conservative treatment option of a lumpectomy and radiation. "She said, 'I want you to understand that this is a much more difficult surgery and you will feel like hell when you wake up,'" Robach recalls. "I went into a bit of a depression after that. Some uncertainty did sweep over me. I was in my room for hours by myself that day, and I just cried. But I realized I'd made up my mind. And no one was going to make me reconsider it." Adds her oncologist Dr. Ruth Oratz: "I often say to my patients there's more than one right answer to this question. For Amy, this was a personal choice."

Ultimately, says her brother Eric Robach, 39, an internist whom she relied on heavily for advice, "For her, the peace of mind far outweighed the idea of retaining her breasts." And after the surgery, which included an initial phase of reconstruction (she will go back for implants in a few months), it was clear Robach had chosen the right course of treatment for herself. Classifying her cancer as stage 2, doctors removed another previously undetected tumor in that same breast; abnormal cells were also discovered in her left breast. They also found that the cancer had spread to a sentinel lymph node; ultimately 13 lymph nodes were removed. "That was the most pain. The breast surgery was painful, but there was nothing like the pain that my arm felt," Robach recalls. "Then you start thinking, 'If I had gone to get that mammogram last year, it might not have gone to my lymph nodes. I might not be looking at chemo. A year could have made a big difference."

In the days that immediately followed, "I'll be honest: There have been a couple of nights where I've sobbed myself to sleep," Robach says. The first week after her surgery, husband Shue says, "was almost more painful because she couldn't do anything, and she had to ask everybody to do things. By the second week, she's like, 'I'm doing it!'"

Even as she faces a future of uncertainty, Robach is trying to keep a positive outlook. "They're telling me the prognosis is good," she says. "It's going to be a crappy year, and then I'll be on drugs for probably the next 10 years, and there are other issues down the road that we're discussing and we're dealing with. It's about being vigilant and taking care of myself." And while Robach and Shue admit the entire family has dealt with anger at the situation ("With any of these life-changing events, you just ask, 'Why?'" says Shue), Robach is choosing to see the positive after so much negative. "I'm really proud of my scars," she says of the "Frankenstein-like" incision mark under her right arm and less obvious ones under both breasts. "Look what I did, and look what I've been through, and I'm still here," she says. "I can look in the mirror and see that. And remember how strong I really am."


Advertisement
Treat Yourself! 4 Preview Issues
The most buzzed about stars this minute!