People Top 5
LAST UPDATE: Tuesday February 10, 2015 01:10PM EST
PEOPLE Top 5 are the most-viewed stories on the site over the past three days, updated every 60 minutes
Torn Apart for 44 Years: The Last Photo Her Mother Saw
The Movie Philomena Uncovers Ireland's Past of Forced Adoptions. How One American Fought to Find Her Mom


The story seems too sad to be true. But as shown in the Oscar-nominated film Philomena starring Judi Dench, this part of Ireland's history is all too real. The film chronicles Philomena Lee and her son Anthony, torn apart by Ireland's long-standing practice of institutionalizing single mothers and putting their children up for adoption. Films such as 2002's The Magdalene Sisters and now Philomena are helping expose the truth about the country's painful past. From the 18th century until 1996, thousands of Irish women were held in institutions known as Magdalene Laundries. Women deemed "fallen" would labor for the Church's laundry business without pay or access to the outside world. "The Irish government considered these laundries less punitive than prison," says Susan Lohan of Ireland's Adoption Rights Alliance. "But they could be much worse. Most of the women had no finite sentences."

This could mean years, sometimes decades, of incarceration. But it was the practice of forced adoption that dealt the heaviest blow. "My mother was told nobody wanted her and it was best she live out her days and repent for her sins," says Deasy. She remembers being taken from the iron-gated compound and put on a plane at age 4: "I was frightened and crying." She landed in New York City wearing a name tag. There she met her new mother and sister, from an Irish Catholic family. "I had a lot of emotional baggage as a kid," says Deasy, who wasn't used to being shown affection. Though her adoptive mom was "marvelous," doting and supportive, "I had low self-esteem. I never felt like I belonged." In 1987 Deasy set out to uncover her history. Backtracking from the little information given to her adoptive parents, Deasy reached out to Sacred Heart. "For years I wrote back and forth with Sister Sarto. She'd ask for money to aid in her search and once even suggested my mother was probably dead."

As in Philomena Lee's case, Church officials would deny any knowledge. Some institutions even burned records to keep the adoptions hidden. "There was a code of silence," explains Lohan. But in 1996 Deasy saw a 20/20 segment featuring the convent where she was born, which reenergized her search. "I saw women crying, looking for their babies," she says, growing tearful. "It gave me hope my mom might be alive."

In 2002 her dream came true. New laws had allowed Deasy to track down her birth certificate, and an Irish volunteer at last found a nun who knew where Sheehy was. Deasy traveled to Ireland and saw her birth mother for the first time in 44 years. At their reunion Sheehy, then 90, "just kept looking at me," says Deasy. "It was like a reflection." For hours they talked, trying to make up for stolen decades with the help of a relative translating Sheehy's thick accent. "She told me the whole story of my father and how she'd been sent away," says Deasy. Sheehy had worked as a hired hand on a farm, and when a brief relationship with the owner's son resulted in pregnancy, his mother had Church officials take her away. She had only left the laundries in 1993. As she talked, "I noticed her hands," her daughter says; the weathered fingers proved her hard life. Sheehy died in 2009, but not before Deasy visited her 15 more times. "We beat the odds," says Deasy, who continues to visit her extended family in Ireland and campaign for victims' rights. "Through all of the lies and threats," she says, "I have a family - a forever family."


One night in 1954, Johanna Sheehy snuck into the nursery of Sacred Heart Convent, Bessboro mother and baby home in Cork, Ireland, hoping to deliver a tiny pair of crocheted booties to her baby daughter Catherine, who had been taken from her by the nuns as soon as she was born. As a ward of Sacred Heart - one of Ireland's many institutions where unwed mothers were forced to live and toil - Sheehy had been declared an unfit mother and warned to keep away from her child or face brutal consequences. For Sheehy that was a risk worth taking. As she tried to steal a glimpse of her child, she was caught by the nuns on watch, who transferred her to another convent miles away. Four years later she received a photo of Catherine accompanied by a devastating message. "They gave her my picture saying, 'This is your daughter waving goodbye. She's gone to the United States and you're never to contact her again,'" says Catherine Deasy, now 59. "It broke her heart."
Advertisement
Today's Photos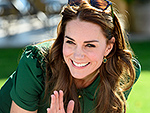 Treat Yourself! 4 Preview Issues
The most buzzed about stars this minute!