On Newsstands Now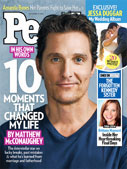 Matthew McConaughey: In His Own Words

Jessa Duggar's Wedding Album

Brittany Maynard's Final Days
Pick up your copy on newsstands
Click here for instant access to the Digital Magazine
People Top 5
LAST UPDATE: Tuesday February 10, 2015 01:10PM EST
PEOPLE Top 5 are the most-viewed stories on the site over the past three days, updated every 60 minutes
People.com
PEOPLE EXCLUSIVE
AMANDA BYNES
HOW SHE'S REALLY DOING
Amanda Bynes
wants you to know she's doing okay. For her 28th birthday, the former child star took off to sunny Los Cabos, Mexico, for a 10-day beachside getaway. But there was nothing wild and crazy about the trip. Bynes came with her parents, lounged poolside and tweeted photos of herself looking happy and healthy. The message was clear: Her worst days are behind her. Now, for the first time, the actress is addressing just how she's healing from her public breakdown and subsequent hospitalization last July. "There has been much speculation about Amanda's medical condition," her attorney Tamar Arminak tells PEOPLE exclusively. "She has remained silent because she believed it was best to keep her mental-health diagnosis private." But the star is keen to "dispel certain rumors" about her health. "Amanda does not have schizophrenia, nor has she ever been diagnosed with it," says Arminak. (The actress was widely reported to have suffered from the disease and bipolar disorder.) Since leaving a facility in December, a family source adds, Bynes's treatment is ongoing, and she's making good progress: "Amanda continues to undergo outpatient therapy several times a week." She also draws support from her mother, Lynn, and father Rick, who have been a constant presence in her life since she underwent treatment.
Bynes is also drug-free. "Amanda currently is on zero medication," adds Arminak. "She's devoted to living her life as healthy as possible." Although the actress exhibited alarming behavior in the months leading up to her hospitalization - including an arrest for throwing a bong out of a 36th-floor window in Manhattan last May - Arminak says, "she's never had a history of abusing alcohol or hard drugs, and she's proud to say she's been marijuana-free for the past nine months."
As for the future, Bynes has chosen a new path. At the Fashion Institute of Design & Merchandising, where she has been studying since January, she "is doing extremely well," says Arminak. "She hopes to one day design her own line." Her parents, who were estranged from Bynes during the depths of her illness, couldn't be happier. "Her primary focus is bonding with her family [and] being a fashion student," adds Arminak. Through at least September, she and her finances will remain under her mother's legal control, but those closest to her stress she's allowed plenty of freedom. "Her family is closely involved with her day-to-day life, but they try to give her as much autonomy as possible," says Arminak. And they're thrilled with how well she is doing. Says Bynes's mother, Lynn: "We're so proud of how far Amanda has come."
Her Cabo Trip
It was a tame spring break to say the least, but a smiling and healthy Bynes certainly enjoyed some rest and relaxation with her parents at the Zoetry resort in Los Cabos, Mexico. The actress was spotted taking dips in the pool and sunning on a lounge chair. "She seemed to be happy and enjoying herself," says an observer, who notes they didn't see Bynes drinking anything but bottled water.
Her Life Now
FOCUSED ON FASHION
"She's enjoying her studies so much," says Lynn Bynes of aspiring designer Amanda, who posed with her proud parents at a party for the Fashion Institute of Design & Merchandising.
HEALTHY AND HAPPY
Bynes has been hitting the gym regularly.
EXPRESSING HERSELF
The star deleted offensive tweets and replaced them with positive statements and this sketch.
DAVID LETTERMAN
LEAVING THE LATE SHOW
At first members of the audience at the taping of the
Late Show with David Letterman
in New York City's famed Ed Sullivan Theater thought it was an April Fool's prank. But when the acerbic Indiana-bred talk show host announced he was hanging it up after more than 32 years on television during his opening monologue on April 3, he was being dead serious. "It's been great," Letterman said, maybe even sounding a little wistful. "But I'm retiring." The decision to leave his chair next year ends a 22-year CBS run and sent fans - and a generation of comedians who grew up idolizing the gap-toothed host - into despair. But behind the scenes, few were shocked. "This decision has been a long time in the making," says a
Late Show
insider. "When he signed his last deal in the fall, he really started to think long and hard about it." A friend adds that "Dave's spent half his life behind that desk. Usually show business tells you when to leave. He's had the rare opportunity to choose."
Friends say shifts elsewhere in late night - Jay Leno was replaced by Jimmy Fallon as the host of
The Tonight Show
in February - weren't a factor for Letterman, who made Larry "Bud" Melman, stupid pet tricks and irony late-night staples. "Dave has his own personal barometer," says the insider. And while CBS execs figure out the changing of the guard (see box), Letterman is looking forward to spending time with family - and tucking in early. "He's a doting father [to son Harry, 10]," says another pal. "This was the right time for him and his family."
Who Will Succeed Him?
Letterman won't sign off until 2015, but a slew of top TV comics are already rumored to be heirs to his throne.
Chelsea Handler
Her E! show ends this year - making her the buzzy pick.
Stephen Colbert
Insiders like his wit but wonder if he can play it straight.
Jon Stewart
He's a natural, but he loves his current
Daily Show
job.
Conan O'Brien
Another late-night vet, his TBS contract ends in 2015.
Louis C.K.
Spoofed vying for the job on his HBO show. Was he serious?
Craig Ferguson
The
Late Late
host is the logical CBS heir ... or is he?
KIRSTIE ALLEY
'I'VE GAINED 30 LBS.'
THE OUTSPOKEN ACTRESS RETURNS TO JENNY CRAIG TO FINALLY GET HER YO-YO DIETING UNDER CONTROL
When Kirstie Alley recently tried to wriggle into her favorite LBD, the actress knew something was up - she just didn't think it was her weight. "It looked great when I wore it around Christmas, but I was like, 'Who took this to the dry cleaner and shrunk it?' " says Alley, 63. But the culprit wasn't the cleaner. For the past six months, "I wasn't monitoring myself as much as I should," she admits. "When I get thin and people tell me I look amazing, I think, 'So what if I eat this or that?' It's fine for about three months, and then it starts to shift." Before her waistline got out of hand, Alley decided to team up (again!) with Jenny Craig, which helped her shed 75 lbs. from 2004-07. Her new goal? Drop the 30 lbs. she gained while she was in "holiday mode," she says. "My weakness was chicken and noodles. I could eat huge mixing bowls of that." Along with using her Organic Liaison supplements, the
Dancing with the Stars
alum now goes on hour-long walks. In the end "I would prefer everyone to say, 'Oh, she looks pretty' instead of 'Oh, look at her ass!' "
Valerie: No Shame in Weight Gain
When Valerie Bertinelli, 53, showed off a curvier figure, the buzz began that she let herself go. Not so, says the star. Since she broke her foot in December, "I've gained a few pounds," she said on
The Talk
. The extra weight "started to panic me," but Bertinelli now realizes "we need to take the shame out of it." Adds a source: "She probably gained about 10 lbs. but looks beautiful! She has a healthy outlook and isn't caught up in speculation about her body."
FORMER DWTS HOST SAMANTHA HARRIS
MY BREAST CANCER BATTLE
ACCORDING TO HER DOCTORS, EVERYTHING WAS FINE. After all, Samantha Harris had a clean mammogram just a few months earlier, and even after she found a lump in her right breast during a self-exam in October, doctors didn't appear to worry. When she saw a breast cancer specialist, a biopsy found a typical ductal cell proliferation, though it wasn't cancerous. Out of an abundance of caution, she and her doctor agreed she would have a lumpectomy "just to be safe." That's when Harris, just 40, got the news she had feared the most: It was, in fact, breast cancer. "It felt like an elephant was sitting on my chest," she says of the diagnosis. When she told her husband, Michael Hess, 44, a financier, "my knees gave out," she recalls, tearing up. "We just cried together." But despite the horror of the news, the former
Dancing with the Stars
host insists she feels lucky. "I might not have found it until much further down the road," she says. "But I didn't take no for an answer."
At first she grappled with the choice of a double mastectomy or a less radical second lumpectomy and radiation. "That would have been simpler. I would be able to pick up my kids," says Harris, who is mom to Hillary, 3, and Josselyn, 6, and has not yet shared the news with her girls. But she decided instead to have the double mastectomy: "Once I made this decision, I felt so much calmer." With her surgery scheduled for the end of April, at which point doctors can classify the cancer's stage, "it feels daunting and overwhelming," she says. "But getting to the other side will feel great."
Contributors:
Reported by Ken Lee/Los Angeles,
CONTRIBUTORS Liza Hamm,
Janine Rayford Rubenstein,
With Mary Green,
Elizabeth Leonard,
Jen Lombardo,
Elizabeth McNeil,
Elliot Stokes,
Emily Strohm,
Henry Yung.
FOR BREAKING CELEBRITY NEWS EVERY DAY
Advertisement
Treat Yourself! 4 Preview Issues
The most buzzed about stars this minute!