On Newsstands Now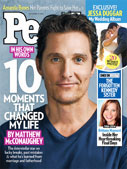 Matthew McConaughey: In His Own Words

Jessa Duggar's Wedding Album

Brittany Maynard's Final Days
Pick up your copy on newsstands
Click here for instant access to the Digital Magazine
People Top 5
LAST UPDATE: Tuesday February 10, 2015 01:10PM EST
PEOPLE Top 5 are the most-viewed stories on the site over the past three days, updated every 60 minutes
Queen Latifah, Caring for Her Ailing Mom: A Daughter's Love
The Entertainer Opens Up About Taking on Her Most Meaningful Role Ever - As Her Mother's Primary Caregiver
Queen Latifah
scrolls through her iPod playlist to find just the right melodies to get her and her mom, Rita Owens, into the groove. Getting ready for a photo shoot with her daughter, Owens is quick with suggestions - "How about B.o.B?" - and Latifah obliges. As the music begins to play, mother and daughter simply hold hands and sing along. "Oooh, this is nice," Owens coos, gently swaying back and forth as Latifah, standing behind her, caresses her shoulders. But just a little later, after the first set of photos has been taken, a frail Owens links arms with Latifah, who slowly escorts her to a comfortable chair where she can adjust the nasal tube that delivers oxygen to her from a portable tank."I love that lady," Latifah says adoringly of her mother, whose vibrant smile and sparkling eyes are those of a woman relishing every bit of joy life has to offer. "We've gotten so close this year, with everything we've been going through."
They've certainly gone through a lot. While mother and daughter have always been close, they've formed an even deeper bond since Owens, just 64, was diagnosed last year with scleroderma (see box), an incurable autoimmune disease that may cause scar tissue to build up in the lungs, resulting in pulmonary hypertension and/or scarring of the lung tissue (pulmonary fibrosis). "A majority of the people with scleroderma will have either the scarring process or a pulmonary hypertension. But Rita has both - that's what makes it a double whammy for her. It affects her ability to breathe on a regular basis," says Dr. Rajan Saggar, director of the Medical Intensive Care Unit at the David Geffen School of Medicine at the University of California, Los Angeles. "We need to treat her very aggressively."
Facing her mom's faltering health just as Latifah, 44 (born Dana Owens; her mom still calls her "Day"), was ramping up production on her new syndicated talk show The
Queen Latifah
Show last spring, the star saw only one viable solution. "I wasn't going to do the show unless she came to live with me in L.A.," she recounts. "I have a master bedroom in my house that's my mom's room. I have to keep her close to me. I actually sleep better knowing she's there."
The immensely popular Grammy-Award-winning singer, who nabbed a Best Supporting Actress Oscar nomination for 2003's Chicago, says her attitude toward caring for her mother is pretty simple. "There's nothing Hollywood about me when it comes to my family. I didn't hire people. I'm very involved with Mom's care," she says. "I talk to the doctors, I talk to the nurses, we discuss the findings, we discuss options." Since Latifah took charge of her mother's care and enlisted the help of family members, friends and a team of specialists at UCLA Medical Center, Owens's health "is stable. She's doing okay," Latifah says. "It's not 100 percent, but we're treating it and having some results."
They're also having as much fun as they can with the precious time they're sharing together. Friday nights at Latifah's sprawling Los Angeles-area home include dinner with family and friends, spontaneous entertainment that can be as wacky as wearing sombreros and singing Mariachi music, making silly home movies with her iPhone and having "jam sessions with cowbells, shakers and bongos," Latifah says, laughing. "That's how I grew up. There was always music in the house. It's one of the things that we know always brings us through." Already close, the pair formed an even tighter bond when Latifah's brother Lance - Owens's only son, named after his father, who was divorced from Owens when Latifah was 9 - was killed in a tragic 1992 motorcycle accident. Now, no matter how long the day has been, "we always end the night with a prayer," Latifah says. "It allows us to take the tension away and decompress."
For Owens, living under her daughter's care has been a blessing. "Words can't express what it's like to see this," says Owens. "What you put into your child is like planting a seed that will grow and end up feeding you its fruit." Now, with Owens often facing unsettling news about her health, she is grateful for the kind of woman her daughter has become. "She'll fight for the underdog," Owens points out, adding, "She has a love for God and a love for people."
Owens's health issues first cropped up 10 years ago when she mysteriously passed out while teaching art at Irvington High School in New Jersey. Over the years symptoms developed, including shortness of breath and inflammation in her joints. "She'd be okay for a while, and then everything would erupt again," Latifah says, noting that pinpointing a diagnosis was tricky because "my mom is a rare case. She has a combination of things. It was a cyclical smack every once in a while, and we couldn't totally figure it out." Last spring "things got really bad, and I had to bring her out here to UCLA to be treated," Latifah recalls. "It was the best choice for where I am and where everyone could be supportive."
Last October the family was dealt an unpleasant blow when a tabloid reported that a frail Owens was dying of lung cancer. For the family the incorrectly reported diagnosis was particularly insensitive. "When you're dealing with someone who's not feeling well, you want to protect them," says Latifah, admitting that she was inclined to keep the matter private. Owens, however, felt that coming out with the truth about her ailments "would be a help to other people dealing with these illnesses, especially in combination with one another," Latifah says. As for the more grim possibilities in Owens's prognosis, "we don't stop to think about if things really go wrong," Latifah insists. "I don't allow that to get in my head too much, the 'what-ifs.' It would be too devastating to consider. We stay in the here and now."
Like many adult children who suddenly find themselves caring for a family member, Latifah admits it has been a lifestyle adjustment. Spontaneous activities are a thing of the past these days, she says. "If I want to do something, it has to be planned out because the bases have to be covered." Latifah, her cousin Tina and her half sister Raven "work in shifts" to make sure Owens's needs are being met. "I couldn't do it by myself. The people that are involved with Mom's care are people that love her and are willing to do anything to be helpful. We all have our different strengths." For Latifah that includes the ability to diagnose her mother's well-being at a glance. "I can tell when she's pretending to be strong and something's not right," she says. "We know each other too well. I was not the kind of kid that could ever lie to my mother. It was pointless, because she could read me. Now the tables are turned."
With her talk show hitting its stride - with more than 2 million viewers on average tuning in each day (it has already been renewed for a second season) - the balancing act has, at times, been difficult to maintain. "Anyone who has a job and then has a family member at home who is ill, it's 24 hours. You have to be there. They need you," she says of her mother's care. "Her mom comes first. Celebrity doesn't matter," says Shakim Compere, Latifah's manager and business partner and a former student of Owens's. "Whether we have a show or an appearance or a movie, everything takes a backseat to her mom." But it's a sacrifice Latifah says she is all too willing to make. "Sometimes I can't wait to get home so I can see that smile. And the soothing things you get to do, like back rubs and massages, cups of tea—those simple things make her days brighter."
Despite a few recent setbacks (she was treated at the hospital for complications earlier this year), Owens often gets out of the house to take care of simple tasks like shopping, hitting the post office and grabbing some Jamaican food for lunch. ("She needs her 'me' time too," Latifah says.) She also makes regular trips back to her home state of New Jersey so she can visit with friends and family and spend time with someone very special: Bobby Wise, a New Jersey-based security specialist who recently proposed to her. (She will continue to live in California after the wedding so she can remain close to her doctors.) Latifah, who often uses humor to keep things light when they otherwise seem bleak, jokes, "I'm down with a shotgun wedding!" Indeed, nuptial planning is front of mind for Latifah, who was temporarily deputized to perform a mass wedding for 33 couples at the Grammy Awards in January. "They should have taken advantage of my professional abilities when they had the chance," she quips. "I think they'll do it this year. I have to hook it all up, maybe get a Vera Wang gown." Adds Owens: "I feel better than blessed."
When times get tough, the family takes a cue from Owens's consistently sunny outlook. "She manages to keep a positive attitude and still be there for people," Latifah says, tearing up. And, in the end, she realizes that when it came to watching over her mom, there was never really a choice to be made. "I can't imagine anyone else doing this," Latifah says simply. "She takes care of me. And now I can take care of her. I'm really thankful I can be there."
Advertisement
Today's Photos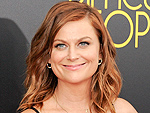 Treat Yourself! 4 Preview Issues
The most buzzed about stars this minute!