People Top 5
LAST UPDATE: Tuesday February 10, 2015 01:10PM EST
PEOPLE Top 5 are the most-viewed stories on the site over the past three days, updated every 60 minutes
Medical Miracle: The Girl Who Lived
Doctors Told Rep. Jaime Herrera Beutler Her Baby Would Die. But a Surprising Treatment Has Made Her the First to Survive a Rare Syndrome


Shortly before that picture was made, Beutler, a Republican congresswoman, and her husband, Dan, received devastating news: Their unborn child had Potter syndrome, a prenatal condition affecting 1 in 3,000, in which neither the kidneys nor lungs develop. "The doctors said, 'It's 100 percent fatal,' " recalls Jaime. "She will either be stillborn, you'll miscarry, or she will suffocate in your arms after she's born."

Instead Abigail became the first person to survive with Potter's, a milestone that Max Muenke, chief of medical genetics at the National Human Genome Research Institute, calls "a big success—unusual and wonderful."

In her 20th week of pregnancy, however, that outcome was impossible to imagine. A lot of women, her doctor told her and Dan, "would be scheduling a termination now," says Jaime, who opposes abortion. But this wasn't a political vote; it was a deeply personal decision. "As the doctor is saying these things, I could feel her moving," says Jaime, 35. "To me, that was a sign I was not going to be the one that ends this pregnancy." Though she was barely showing, she felt she had to share her story. "I didn't want everybody saying, 'Congratulations!' while inside my heart's breaking."

When a D.C. man whose son had been diagnosed with a similar condition read an article about Beutler, he got in touch. Treatment was possible, he told her; his son was now 7. Beutler rescheduled her flight home and called the man's wife's doctor—Jessica Bienstock, a perinatologist at Johns Hopkins Hospital.

The technique seemed shockingly simple: an infusion of saline injected by a needle into the womb. In a normal pregnancy, a fetus's kidneys help produce the amniotic fluid needed for overall development and, crucially, for lungs to grow. Because Potter's babies have no kidneys, their lungs don't develop normally and they cannot breathe after birth. Saline in the amniotic sac might allow lungs to grow, but Bienstock was not optimistic. In an ultrasound, the baby's "head was misshapen, her feet looked clubbed and her chest looked small." Still, she told them to return in a week. This time "the head was shaped normally; the chest looked like it might have grown."

That hint of hope was enough. "The difference between 0 percent hope and .00001 percent hope is enormous," says Dan, 32, a law student. Jaime fit the weekly treatments around her congressional schedule, rising at 4 a.m. to drive to Baltimore and return to D.C. in time for votes, sometimes staying on the House floor until 11 p.m. She was there July 11 when, two months premature, she felt the first pains of labor.

Four days later Abigail was born at a Portland, Ore., hospital. Weighing only 2 lbs. 12 oz., she arrived with a cry—her lungs worked just fine. Jaime recalls thinking, "That's our miracle."

Abigail remained in intensive care before coming home at 5 months. She gurgles and squeals happily and, like any kid, provides her parents with plenty of opportunity to make dirty diaper jokes. Still without kidneys, she is on dialysis and will need a transplant - Dan, on leave from school, is a potential donor. (The procedure and ongoing drug therapy costs about $260,000.) Since January, Jaime has been back to work, traveling across the country. "There were days Jaime was exhausted," says Rep. Cathy McMorris Rodgers, a close friend. "But she was doing what she had to." Not that the new mom is complaining. Seeing Abigail "happy and growing," says Jaime, "we're so grateful. She continues to beat the odds."


Among the family photos in Jaime Herrera Beutler's Camas, Wash., home is an ultrasound, an early image of her daughter Abigail. "I framed it," she explains of the grainy black-and-white square, "because I didn't know how many pictures of her I was going to get."
Advertisement
Today's Photos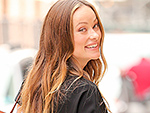 Treat Yourself! 4 Preview Issues
The most buzzed about stars this minute!