On Newsstands Now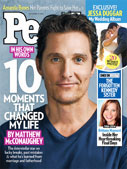 Matthew McConaughey: In His Own Words

Jessa Duggar's Wedding Album

Brittany Maynard's Final Days
Pick up your copy on newsstands
Click here for instant access to the Digital Magazine
People Top 5
LAST UPDATE: Tuesday February 10, 2015 01:10PM EST
PEOPLE Top 5 are the most-viewed stories on the site over the past three days, updated every 60 minutes
People.com
RYAN GOSLING
&
EVA MENDES
HOW THEY HID THEIR BIG BABY SECRET
Eva Mendes and Ryan
Gosling have always strived to keep their relationship under wraps, but in the past few months they've taken extra steps to keep their personal life out of the public eye. For good reason: According to a source, they're expecting their first child in October. "This has been a long time coming," says a pal. "He and Eva definitely discussed children before. She knows how much he wants to be a dad, and he's going to be an amazing father."
While those near to them aren't surprised by the joyous development, everyone else is pretty shocked. After all, the pair is rarely photographed together in public - the last time was in March 2013. "The secrecy comes more from Eva, but Ryan is certainly private and always has been," says an insider who knows both. "She just hasn't ever wanted anyone beyond her close friends and family knowing more than they had to."
But in this world of cell-phone cameras and social media, how were they able to nest in private for so long? The simplest way possible: by staying indoors. Mendes, 40, was conspicuously absent from this year's Cannes Film Festival, where their film Lost River premiered May 20, and has kept a low profile in Los Angeles. "Their lives completely changed as soon as Eva got pregnant," according to a source. "They used to travel all over the place together and go on hikes with their dogs. [But in the past few months] she barely left the house." Not that she had any reason to leave. "Ryan has been taking care of her, picking up food and running errands," adds the source. "He has been very supportive about keeping things a secret."
Their current baby bliss hasn't always been a foregone conclusion. The couple—who began dating in 2011 and played parents together in their 2012 film
The Place Beyond the Pines
- have had a bumpy ride, breaking up in March 2012 before reuniting that May. However, as time went on, "they found a good formula together," says the insider. "They just work." One possible source of friction: their vision for the future. "She's been a skeptic about the whole 'forever' thing," says the insider. "With Ryan, things are different. Sure, the first year and a half was rough, but she has finally found the person she really wants to be with." Likewise for Gosling. The actor, 33, who previously dated
Rachel McAdams
, his costar in
The Notebook
, "has always been into women who are more mature than him," says the insider. "He finds that very attractive in Eva."
Currently living together in Gosling's modest two-bedroom Studio City home, they are house hunting for a place for their growing brood, which also includes their dogs George and Hugo. Their life now, says a Gosling pal, "is a dream come true."
Low-Key Love
GAME ON
The two confirmed their rumored romance with a trip to Disneyland in September 2011.
REAL-LIFE ROMEO
"Ryan is an incredibly sweet boyfriend," says a pal of the actor (with Mendes in Paris November 2011).
PUPPY LOVE
Mendes (in August 2012) often walked Gosling's dog George, while he wore a necklace of her dog Hugo's name in May.
Nothing to see here!
EXPECTANT CELEBS HAVE LEARNED A THING OR TWO ABOUT BLOCKING THOSE BUMPS
GRACE KELLY
The classiest of cover-ups: flowers.
NICOLE RICHIE
This pillow was made for blocking.
MILA KUNIS
Channing Tatum
is the ideal diversion.
HALLE BERRY
Hello Kitty, goodbye pregnancy rumor.
KATHERINE HEIGL
CLEARING HER NAME
They say your reputation precedes you, and in
Katherine Heigl
's case, she's ready to put the rumors to rest. "I certainly don't see myself as difficult," she told reporters while promoting her new show
State of Affairs
, which premieres on NBC this fall. "If I ever disappointed somebody, it was never intentional." Her perceived prima donna behavior dates back to 2007, when she called her film
Knocked Up
"sexist" and incited the ire of costar Seth Rogen. The next year, the Grey's Anatomy star opted out of the Emmy race, claiming she wasn't given good enough material to warrant a nomination. (Creator Shonda Rhimes later told
Oprah
the comment "stung.") Yet some say she is a victim of a Hollywood double standard. "A lot of the antagonism is about 'How dare this pretty girl voice a contrarian opinion,' " says Jennifer Pozner, executive director of Women in Media and News. "With male actors we let those things go." Even so, the actress now admits she has grown up, thanks to her husband, singer Josh Kelley, 34, and their daughters Naleigh, 5, and Adalaide, 2. "I'm absolutely a neurotic actor," she tells People. But now "I'm less defensive.... I have a deeper understanding of whose opinion really matters."
PET FANCY
CELEBS' PETS WITH ENVIABLE LIVES!
PET: CHOUPETTE
OWNER: KARL LAGERFELD
The prissy feline has a makeup contract with Shu Uemura and two private maids, and eats from designer kitty dishes.
PET: LUPO
OWNER: WILL & KATE
The royal family's pooch not only stars as the hero in a children's book series but gets to snuggle up to the world's cutest baby.
PETS: OLIVIA BENSON & MEREDITH GREY
OWNER:
TAYLOR SWIFT
When they're not globe-trotting in a private jet, the cuddly couch potatoes wile away the hours watching TV.
PETS: SUNNY & BO
OWNER: THE OBAMAS
They indulge in White House perks like flying on Air Force One.
CHAT WITH MY FAMOUS COUSIN ...
A.J. JACOBS
DANIEL RADCLIFFE
Bestselling author A.J. Jacobs is tracing his family tree and he's inviting all of his newfound relatives - 77 million so far! - to a reunion on June 6, 2015. (Go to globalfamilyreunion.com to join.) Each month he's interviewing one of his famous cousins for PEOPLE.
Jacobs: As a cousin, my first question is always "Can I borrow some money?"
Radcliffe: If I had some on me, I'd be more than happy to lend some to you. I can give you anything else in my bag. There's some tobacco, nausea medication and this pen from Bobby Van's Steakhouse.
Jacobs: I'll take it.
Radcliffe: How are we related, exactly?
Jacobs: You are my first cousin once removed's husband's third great aunt's husband's fourth cousin twice removed's wife's second cousin's brother-in-law's sister-in-law's son-in- law's brother's great-grandson.
Radcliffe: So, in a word, cousins.
Jacobs: I know you have a crush on Katy Perry. Guess what - you're related. And Albert Einstein and a lot of the British royalty. I'm not British, so it doesn't resonate with me.
Radcliffe: It doesn't really resonate with me that much either. I'm more excited about Einstein, to be honest.
Jacobs: What is the best bit of family wisdom you've gotten?
Radcliffe: I'd come whine about something that happened on the set, and my dad would say, "You're not down in a coal mine." It's a very good way of putting things into perspective.
Jacobs: Do you want to make the family tree bigger by having little Radcliffes?
Radcliffe: Maybe because I'm an only child, I love the idea of lots of kids. But it will depend to a large part on who I end up having kids with. I think men would be a lot less excited about having kids if we had to actually do it!
Jacobs: What will you bring for the reunion's potluck?
Radcliffe: Cookies. I could make some good peanut butter and chocolate cookies.
Jacobs: Any other requests?
Radcliffe: As creepy as this sounds, if you find out how I am related to my girlfriend, please e-mail me.
SILLY QUESTIONS
WITH Julie Bowen
The Modern Family actress, 45, voices a spunky aircraft in Planes: Fire & Rescue.
PLANES, TRAINS OR AUTOMOBILES?
"Planes because you can get farther, faster. But I do love a good car trip."
THOUGHTS ON THE MILE-HIGH CLUB?
"Gross! I'm not a germaphobe, but I've changed diapers that have ended up on the ceiling in a plane bathroom."
WHO'S CLAIRE DUNPHY'S FAVORITE CHILD?
"Alex reminds Claire of all that she isn't. You want your kids to achieve more than you did, but you also don't want them to look at you with disappointment! So probably Luke, just because he's so simple."
WHAT DO YOU REALLY THINK OF SOFIA VERGARA?
"When I won an Emmy, I said I wanted to be her even though she's younger than me. She loves being a woman and thinks it's a powerful thing to be. I didn't always grow up feeling that way, so I love that about her."
ONE to WATCH
"I get to travel the world and make people happy with my music," says Garrix, who just released his EP Gold Skies. "That's the best feeling."
18–YEAR–OLD PHENOM
DJ MARTIN GARRIX
THE DUTCH TEEN IS KNOWN AROUND THE WORLD FOR HIS HIT SONG 'ANIMALS'— BUT HE STILL HAS TO KEEP HIS ROOM CLEAN
Most teenagers only dream of getting into trendy nightclubs, but Martin Garrix is no regular 18-year-old. Just four years after he began posting his amateur tracks online, Garrix is now an in-demand star, playing at hot spots and music festivals worldwide. However, just because he gave Top 40 radio its first instrumental hit in years, don't think club bouncers bend all the rules for the electronic-dance-music wunderkind. "They clear out all the booze and give me just a few minutes to pack up and leave after my set," says the baby-faced DJ about playing for the 21-plus crowd.
Garrix (known offstage as Martijn Garritsen) grew up in the Netherlands and was turned on to electronic music after watching überdeejay Tiësto's performance during the 2004 Summer Olympics. It took a few years for Garrix to save up enough chore money to buy his own DJ equipment. By 11, he was making his own tracks. "It didn't sound good at all at first," he says. "But I just kept on doing it."
Though he now spends his days working side by side with Tiësto and playing to sold-out crowds, at home he's just a regular kid. "My mom says that if my room isn't clean, I have to take care of it," says Garrix. As for turning 18 in May, he kept it surprisingly low-key, staying home with family and friends. "I just wanted the most important people around me," says Garrix. "I party enough."
Contributors:
With Pernilla Cedenheim,
Jennifer Garcia,
Aili Nahas,
CONTRIBUTORS Katherine Foreman,
Janine Rayford Rubenstein,
With Scott Huver,
Jen Lombardo,
Elliot Stokes,
Henry Yung.
FOR BREAKING CELEBRITY NEWS EVERY DAY
Advertisement
Today's Photos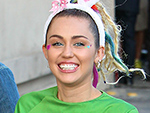 Treat Yourself! 4 Preview Issues
The most buzzed about stars this minute!