Famous Feuds
Catfights! Name calling! Mudslinging! Revisit the memorable squabbles among the rich and famous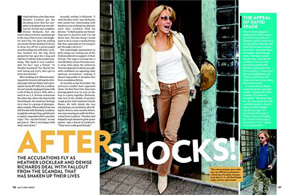 Advertisement
"Whatever happened when we were young. It's over! She's really fun."
– Hilary Duff about ending her feud with Lindsay Lohan
"To be exact, [she] said, 'Working with [you] is like living in hell.'"
– Donald Trump in a letter to Rosie, implying that Barbara was lying in her insistence that she had no problem with Rosie
"I sincerely regret my actions and the unfortunate use of words during the recent incident on-set"
– Isaiah Washington apologizing after an argument with costar Patrick Dempsey
Treat Yourself! 4 Preview Issues