Days before
a Watertown citizen
helped lead police to the second suspect in the Boston Marathon bombing, another ordinary civilian provided a photo that helped identify the most wanted man in America.
In the chaos immediately after the Boston Marathon blasts, David Green took a picture with his smartphone before helping those who had been injured in the second blast.
It wasn't until three days later, when officials released video of the two suspects, that Green realized that he had a clear photo of
suspect Dzhokhar Tsarnaev
walking away from the scene.
Green, the CEO of a sportswear company who ran the marathon, immediately understood the importance of taking the picture. "I was in New York during 9/11," he tells PEOPLE. "You just have to document something, [so] I pulled my phone out and took one picture."
"Then I ran into the crowd to help whoever was there. I got back to the hotel, called the FBI and said I had the photo, then I posted it on Facebook."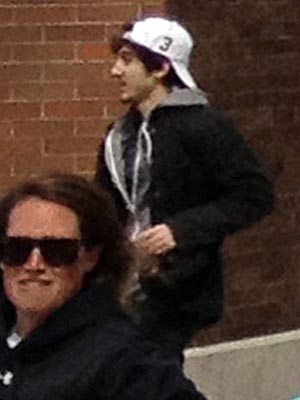 Three days later, he saw the first videos of the suspects, and realized what he had done. "A buddy of mine said, 'You need to check your photo.' And sure enough I had a high res photo that showed [the suspect]. You could see the bag that carried the bomb was gone." The photo, he adds, "caught a pretty interesting moment in history – this guy walking away."
"I called the FBI [again]," Green says. "Within 30 minutes, I spoke to half a dozen agents. I think they knew we had ... the best photo of suspect number two. So they told me I could circulate that photo. I re-posted it on Facebook, said 'This is a photo of suspect two, please get this out.' And between 7 and 11 p.m. on Thursday night, it went viral."
Now home in Jacksonville Beach, Florida, Green is thankful that he thought to take the photo. "It certainly can't make up for the tragedy," he says. "But it felt really good to be able to help."