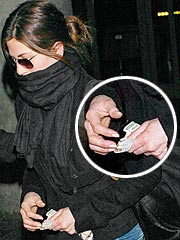 So what went wrong exactly? According to several sources, it became increasingly difficult for the couple to balance work and family. Ever since they exchanged lavishly romantic wedding vows in July 2000, they have been dogged by the Baby Question. As recently as last month, Pitt told Diane Sawyer of his hopes for the near future. "God, I'm going to say it: Kids. Family. I'm thinking family. Yeah. I got family on the mind."
Sorry! This poll has closed.
Although Aniston has expressed similar desires in the past, one source who recently spoke to the actress notes, "She has been resisting having a child for a number of reasons. One was her career. Also, she wanted to make sure that [the marriage] would last. There was a little doubt that crept in. He was much more interested in having a child. I think it was Jen that broke it off. He was a half step behind her."
To read more about Brad and Jennifer, pick up PEOPLE's Jan. 24 issue, on newsstands now.
• By MICHELLE TAUBER, TOM GLIATTO, SAMANTHA MILLER, BROOKE BIZZELL STACHYRA and ALEX TRESNIOWSKI. TODD GOLD, JULIE JORDAN, KWALA MANDEL, BRENDA RODRIGUEZ and PAMELA WARRICK in Los Angeles, K.C. BAKER and AMY LONGSDORF in New York City, KATE KLISE in Springfield, Mo., PETER MIKELBANK in Paris and STEVE HELLING in Anguilla