• "I start with the bra. If the bra's right, everything falls into place."
–
Eternal Sunshine of the Spotless Mind
actress
Kate Winslet,
on how she gets into character
• "The last marriage that was televised was Prince Charles and Lady Di, and that didn't work out too well."
–
Donald Trump,
on why he decided against airing his Jan. 22 nuptials to Melania Knauss
• "I find the whole Beyonce thing really mystifying. She's not sexy, she hasn't got a great body and she's not a great singer."
–
American Idol
judge
Simon Cowell,
to
Esquire
magazine
• "He had it all. A little bit of devil, a whole lot of angel, wit, charm, good looks, superb timing and great, great class."
–
Bette Midler,
on Johnny Carson
•"All of us who came after are pretenders. We will not see the likes of him again."
–
Late Show
host
David Letterman,
on Carson's legacy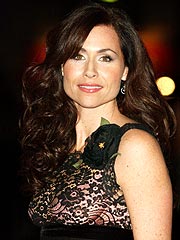 Jeff Spicer / ALPHA / GLOBE
• "I liquefied a donut once. I pureed it ... and then sucked it through a straw."
–
Minnie Driver,
to Ellen DeGeneres, on not being able to eat while wearing a corset for
Phantom of the Opera
• "I wanted to play guitar, but my hands weren't big enough. So my parents said, 'Start on piano,' which sucked. I appreciate it now, but back then, ugh."
– Green Day frontman
Billie Joe Armstrong,
whose rock band is up for six Grammys, mainly for its No. 1 album
American Idiot
• "Robert De Niro and Martin Scorsese are talking about making a sequel to the '70s classic
Taxi Driver.
It will be called,
You Talkin' to Me, Focker?
–
Saturday Night Live'
s
Tina Fey